2016's Biggest Apple Leaks: iPhone, Macs, Apple Watch, iPad, and More
Apple's product lineup has expanded over the past couple of years with the addition of the Apple Watch, a third notebook line, and most recently AirPods, and while 2016 turned out to be a bit of a disappointment for some with the Mac in particular seeing many models go the entire year without an update, there were still a number of significant updates.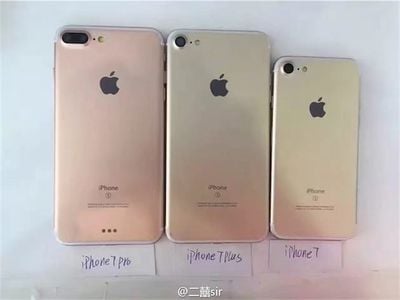 July 2016 mockups showing iPhone 7 and two variations of iPhone 7 Plus
As we reach the end of the year, it's worth a look back at some of the more notable and accurate rumors and leaks from 2016 to see how the sometimes long and winding road of rumors led to the product launches we eventually saw.
iPhone 7
As always, the iPhone rumor cycle starts early, although this year seemed to have a smaller than usual number of part leaks beyond the usual casing leaks, most of which were physical mockups based on circulating design specs.
The most controversial change in the iPhone 7 was the removal of the headphone jack, a rumor that first surfaced in November 2015 courtesy of Mac Otakara. As the calendar flipped over to 2016, additional sources came out in support of the claim, although many observers remained skeptical even as additional rumors and case leaks poured in throughout the first half of the year.
One of the other key changes in the iPhone 7 is the dual rear camera found on the larger iPhone 7 Plus model, and KGI Securities analyst Ming-Chi Kuo was the first to report that rumor back in January. At the time, it wasn't clear if the dual camera modules would be available in sufficient supplies to be included on all iPhone 7 Plus models, so Apple also protoypted a single-camera iPhone 7 Plus, but the company was indeed able to offer the dual cameras across the board on the iPhone 7 Plus.

March 2016 leak of iPhone 7 Plus dual rear camera module
By March, we started seeing our first part leaks in the form of the
dual camera
for the iPhone 7 Plus and an apparent mockup of the
iPhone 7 Plus rear shell
, showing the dual camera and an integrated camera bump.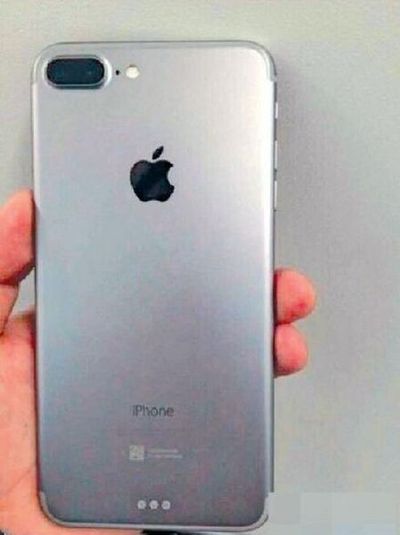 Leaked iPhone 7 Plus shell mockup from March 2016
That rear shell leak also depicted three dots near the bottom of the case, leading to speculation about an iPad Pro-like Smart Connector. Rumors about an iPhone Smart Connector persisted for months afterward, but became quieter as we got closer to launch, and it's unclear whether this rumor was unfounded from the very beginning or if it's something Apple toyed with but ultimately decided against including.
AirPods
Rumors about Apple's AirPods wireless earphones date back to October 2015, when we discovered a trademark application for the name that bore the hallmarks of being registered by an Apple shell company. As rumors of Apple removing the headphone jack from the iPhone 7 increased, speculation about potential wireless earphones from Apple followed suit, including a specific claim in January that Apple was working on premium wireless earphones to be sold alongside the iPhone 7.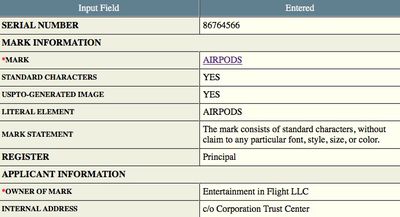 September 2015 trademark application that first revealed the "AirPods" name
By July, we had increasing confidence that
Apple was indeed behind efforts
to trademark the "AirPods" name, and soon after we began hearing about Apple's
custom Bluetooth chip
that would arrive in the AirPods and new Beats headphones in the form of the W1 chip.
Heading into Apple's September iPhone 7 event, Apple began registering for product certifications for the AirPods, while trademark investigation further confirmed Apple's efforts to protect the AirPods name, along with other terms such as AirPod Case.

iPhone SE
Apple's iPhone SE debuted in March, and by the time the calendar flipped over to 2016 the rumor mill was in full swing on this device after several years of rumors about a new 4-inch iPhone to satisfy more budget-minded customers and those unhappy with Apple's 2014 move to larger devices with the iPhone 6. Those rumors picked up in earnest with a December 2014 report claiming Apple was aiming for a late 2015 launch of the new 4-inch phone.
The biggest question about the iPhone SE that wasn't resolved until relatively close to its launch was just what the device would look like, with rumors split between an iPhone 5s-like design and a more iPhone 6-like design with rounded edges.

February 2016 drawing showing an iPhone SE design based on iPhone 5s but with a bit of iPhone 6-style rounding
Ultimately, the iPhone SE turned out to be essentially identical to the iPhone 5 and 5s in terms of design, but with internal specs
on par with the iPhone 6s
in many respects.
One of the other details about the iPhone SE that remained unclear heading into 2016 was what its name would be, with the official name surfacing from 9to5Mac just under a month before the device's unveiling. Rumors from January had suggested the device could carry an "iPhone 5se" or iPhone 5e" name, while earlier rumors had pointed toward "iPhone 6c" as a possible name, a moniker which had previously been attached to a rumored colorful budget version of the iPhone 6.

9.7-Inch iPad Pro
Given that the iPad Air 2 had debuted in late 2014, rumors of an "iPad Air 3" naturally ramped up heading into late 2015 and the launch of the 12.9-inch iPad Pro.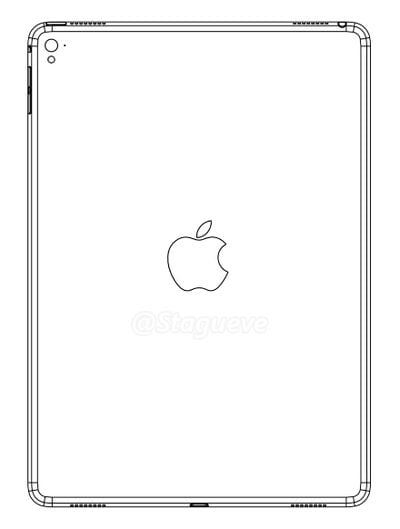 January 2016 drawing showing four speakers and rear flash on 9.7-inch iPad Pro
As we continued to wait for a new 9.7-inch iPad into 2016, rumors began hinting at a more iPad Pro-like device, with rumors starting to point toward a
four-speaker setup and rear camera flash
in January and ultimately including a
Smart Connector
and Apple Pencil support and even the
same "iPad Pro" name
.
Apple Watch
Early rumors about the second-generation Apple Watch suggested it could include a significant upgrade such as a camera, GPS, and cellular connectivity, but as we moved into early 2016, rumors began indicating we'd actually be seeing an update focused on internal upgrades with a launch in late 2016. By August, the specs for the Apple Watch Series 2 were pretty well nailed down, including GPS, a barometer, better waterproofing, and a larger battery, but not cellular connectivity.

August 2016 photos of Apple Watch Series 2 battery, 35% larger than original generation
One of the more intriguing rumors came in early August and addressed the possibility of Apple selling
"upgraded" Apple Watch 1 models
alongside the second-generation models. There was considerable skepticism about the rumor, as it was unclear why Apple would not just sell price-reduced original models alongside the Apple Watch 2, but the rumor indeed proved to be true, with Apple offering Series 2 models alongside new Series 1 models that were nearly identical to the first-generation models but with a faster processor to address performance issues.
MacBook Pro
Rumors of redesigned MacBook Pro models have circulated for quite some time, although some of the early rumors out of Apple's supply chain either confused the MacBook Pro and MacBook Air or were ambiguous about which line they were addressing, which made for some uncertainty in the early months of the rumor cycle. One of the most widely covered early rumors actually came in November 2015, when it was reported Apple was working on new 13-inch and 15-inch MacBook Air models with "fully redesigned" internal components. In hindsight, it seems clear this rumor referred to the MacBook Pro, and this became clearer in subsequent months as additional rumors surfaced.
The "new 13-inch and 15-inch" notebook rumor appeared again in March, and this time the machines were simply referred to as "MacBooks" and said to be thinner than the existing MacBook Air. Again there was confusion about which notebook line this rumor referred to, but it does once again appear to have been referring to the MacBook Pro, which is indeed thinner than the thickest portion of the MacBook Air. The rumor suggested the new notebooks could arrive in the June or July timeframe, hinting at a potential introduction at WWDC in early June, but we had to wait several more months before we finally did see the new MacBook Pro in October.
By late May we saw our first rumor about the MacBook Pro's Touch Bar, with reliable analyst Ming-Chi Kuo accurately describing the Touch Bar, Touch ID, USB-C, Thunderbolt 3, a new "thin and light" design, and a fourth quarter launch. His description of a new 13-inch MacBook was confusing, however, and in retrospect it appears he was talking about the non-Touch Bar MacBook Pro that also appeared in October.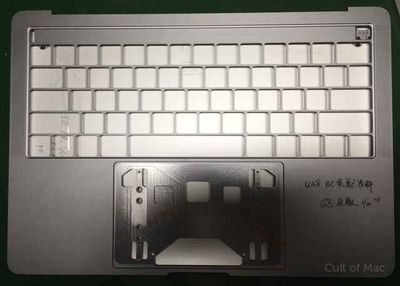 May 2016 of MacBook Pro top case with space for Touch Bar
Just days after Kuo's report, the first (and only) true part leak for the MacBook Pro we saw appeared when
photos of a top case from the 13-inch model
leaked out of Apple's supply chain. The photos clearly showed blank space replacing the traditional row of function keys, giving some strong support to rumors of the OLED Touch Bar that was indeed included on the new models. The photos also showed the larger trackpad on the new MacBook Pro, while side views showed the machine's four USB-C ports and a headphone jack.

macOS 10.12.1 graphic from Apple leaked the Touch Bar and Touch ID
Subsequent rumors about the MacBook Pro generally reaffirmed what we'd already heard, with questions continuing to circulate about timing until Apple officially announced its October media event. In a bit of a surprise, Apple ended up spoiling its own unveiling a bit by including information on
keyboard layouts with function keys
, Apple Pay and Touch ID, along with
graphics showing the MacBook Pro's Touch Bar
, in the macOS 10.12.1 update that was released several days prior to the event.
MacBook
In early 2016, DigiTimes indicated Apple was planning to begin production on updated MacBook models with Skylake processors around March or April, which seemed reasonable given it would mark an approximately one-year interval since the machine was initially introduced.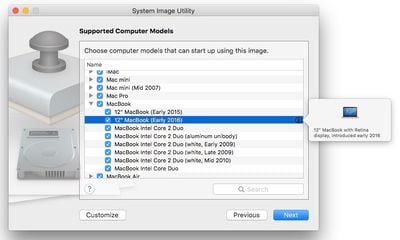 March 2016 OS X reference to 12" MacBook (Early 2016)
In late March, it was discovered that Apple had
inadvertently leaked its own secrets
by including references to an "Early 2016" MacBook within OS X, suggesting a launch before the end of April. Apple followed through with a launch of updated MacBooks in late April.
MacBook Air
Rumors on the MacBook Air were quite sparse in 2016, and in fact Apple did not update the machine other than quietly bumping the standard RAM to 8 GB on the 13-inch models in April and then discontinuing the 11-inch models in October. The only persistent rumor for the MacBook Air was a shift to USB-C that may have resulted from confusion with the MacBook Pro.
Even as the MacBook Pro detail began to firm up, however, reports of USB-C MacBook Air models continued, with mainstream media picking them up by August and other sources continuing to mention them almost until Apple's October event. It now seems apparent, however, that Apple has no plans for significant MacBook Air updates, and the machine will likely be phased out as Apple consolidates its notebook lineup into the MacBook Pro and MacBook.

iMac
Several rumors in the latter part of 2016 indicated Apple is working on new iMacs with USB-C and AMD graphics chips. Bloomberg had indicated the updated iMacs were part of a wave of new Macs, some of which could launch "as soon as October," but the MacBook Pro was the only Mac to see an update in that timeframe. Just ahead of Apple's October media event, Ming-Chi Kuo reported that the new iMacs won't be ready until the first half of 2017, a claim echoed by Bloomberg in late December.

Displays
An August report from Bloomberg claimed Apple was working with LG on a new 5K external monitor, some two months after Apple discontinued the Apple Thunderbolt Display and said it was getting out of the display business. That turned out to be correct, with Apple and LG introducing the new LG-branded 5K display (and a smaller 4K sibling) at Apple's MacBook Pro event in October, and the new display began shipping just before the end of the year.


LG's UltraFine 5K displays alongside new MacBook Pro
Ming-Chi Kuo
addressed the topic
of a new "Cinema Display" from Apple ahead of the October media event, indicating the display would likely ship in the first half of 2017 as the "shipping schedule [was] not imminent," but it is unclear whether he was referring to the LG 5K display that just barely began shipping before the new year.
Wrap-up
Despite some confusion and conflicting rumors, the rumor mill was fairly accurate at predicting Apple's product plans for 2016. As usual, some very early rumors on the various products turned out to be correct, but it took time for additional reports to corroborate the claims and increase confidence in them.
Among the most notable uncertainties were details on the iPhone SE, which varied significantly between iPhone 5s-like and iPhone 6 or 6s-like characteristics both internally and externally. Part of the uncertainty may have arisen from an extended development timeline that initially pointed toward a 2015 release but as it was pushed into 2016 Apple may have opted to increase the hardware capabilities of the device.
With Apple's product launches done for 2016 and the calendar turning to 2017 this coming weekend, attention will soon turn toward a new batch of rumors as consumers look forward to the next iPhone, new iPads, more Mac updates, and perhaps some additional surprises.