References to 2016 12-Inch MacBook Spotted in OS X System Image Utility [Updated]
An updated 12-inch Retina MacBook may be launching before the end of April, according to information discovered in Apple's System Image Utility feature and in the OS X Server application by a source that shared details with 9to5Mac.
System Image Utility lists the existing early 2015 Retina MacBook and an early 2016 Retina MacBook, which has yet to be released. Given that it's earmarked as an "early" 2016 device, the next-generation Retina MacBook should be coming soon, as Apple refers to "early" for devices that launch during the first four months of the year. The same 12-inch early 2016 MacBook is listed the OS X Server application.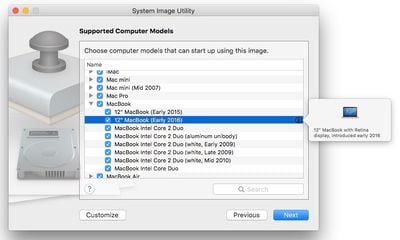 The Retina MacBook first launched in April of 2015, so an April 2016 update at the one year mark makes sense. A refresh will likely be minor, leaving the overall design unchanged but introducing upgraded internals, such as one of Intel's Skylake chips.
Skylake chips appropriate for the Retina MacBook have been available since the later months of 2015. The new Core M Skylake processors offer 10 hours of battery life and 10 to 20 percent faster CPU performance compared to the Core M Broadwell processors used in the first-generation Retina MacBook, along with 40 percent faster graphics performance.
There are no mentions of new Retina MacBook Pro or MacBook Air models in OS X Server or System Image Utility, and it continues to remain unclear when exactly we might see refreshes for those machines.
A rumor yesterday suggested Apple is working on "ultra-thin" 13-inch and 15-inch MacBooks, but it is not known if those machines are in the MacBook, MacBook Pro, or MacBook Air family. Apple is said to be targeting a June or July launch date for the mystery MacBooks, which lines up with a potential debut at the Worldwide Developers Conference.
Update: Additional investigation of OS X 10.11.4 by Pike's Universum has led to details on the low-power Skylake processors Apple will likely use in the 2016 12-inch MacBooks, which are in line with expectations.
References to the Core m3-6Y30, Core m5-6Y54, and Core m7-6Y75 have been found.
The low-end Core m3-6Y30 succeeds the Core M-5Y31 and will likely be used in the entry-level 12-inch MacBook, which Apple sells for $1,299. The middle tier Core m5-6Y54 replaces the Core M-5Y51 and is likely to be used in the higher-end 12-inch MacBook Apple sells for $1,599, while the high-end Core m7-6Y75 replaces the Core M-5Y71, the chip used in high-end 12-inch MacBook custom configurations.