Apple Granted Product Certifications for 'AirPods', New iPhones and Apple Watch Models
The Eurasian Economic Union (EAEC) has issued new certificates for Apple products that suggest the company is set to release wireless earphones and multiple new versions of Apple Watch alongside the iPhone 7 and 7 Plus.
Manufacturers are required to certify electronic devices for sale in countries that are signed up to the EAEC treaty (ratified last year), which includes Russia, Belarus, Kazakhstan, and Armenia. Russian website iPhones.ru found a reference to "AirPods" along with other Apple certificates added to the regulatory body's digital products registry yesterday.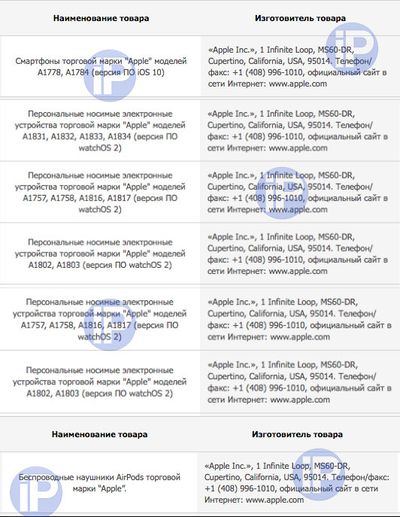 Last month, MacRumors revealed that an "AirPods" trademark filing discovered last October seemingly confirmed Apple's work on upcoming wireless earphones in lieu of a headphone jack on the iPhone 7. This latest regulatory certification appears to cement that finding, although whether Apple plans to bundle the AirPods with its new phones or sell them exclusively as a separate accessory is still unclear.
Elsewhere, the documents list several new certificates for Apple Watch (although oddly these are labelled as running watchOS 2, not watchOS 3, as would be expected for new models) and two certificates for products running iOS 10, likely indicating Apple's upcoming iPhone 7 and 7 Plus expected to be announced in a special event next week.
Apple may use the same event to debut its second-generation Apple Watch, said to include better waterproofing, better battery life, an improved processor, and a built-in GPS chip – but no cellular. Design changes are not expected for the next-generation Apple Watch, but new materials and new bands are always a possibility.