Sketchy Rumor Claims Apple Planning New 4-Inch iPhone for 2015
Apple is reportedly planning to expand its 2015 iPhone lineup to include a new 4-inch model, according to Asian sources [Google Translate] cited by G for Games. The smaller form factor would bring back the ease of one-hand usage that was lost when Apple introduced its larger iPhone 6 and iPhone 6 Plus handsets. The supply chain sources suggest the new phone may debut in the second half 2015 with female users as the targeted audience for the smaller phone.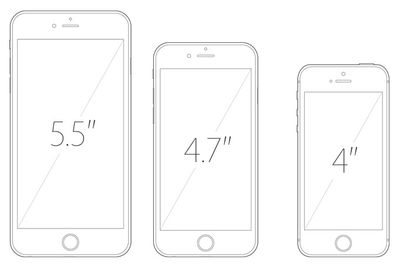 Even without a new 4-inch model, Apple's history of product lineups suggests the 4-inch iPhone 5s would remain in the lineup in 2015 as the low-end offering once the current models slide down and the iPhone 5c is presumably discontinued. But if Apple wants to maintain a 4-inch option beyond the 2015 lineup, it would make sense to invest in an updated version of that size as the iPhone 5s ages.
Still, the sourcing on today's rumor is not entirely clear and a track record is unknown, so it is difficult to assess the potential validity of the claim. As a result, we would not put too much stock in it for the time being until or unless additional information surfaces in the coming months.
Even without a new 4-inch model this year, iPhone sales have been strong for the new 4.7-inch iPhone 6 and the 5.5-inch iPhone 6 Plus, with Apple setting a new sales record in the first weekend of availability. While the iPhone 6 is outselling the 6 Plus, the larger handset is holding its own in the phablet market, accounting for 41 percent of large-screened smartphone sales in the past three months.