New macOS Virtual Keyboard Layouts Confirm Rumors of MacBook Pro OLED Touch Bar
A collection of new assets within the system resources for the virtual keyboard on macOS 10.12.1 essentially confirms Apple will be releasing new notebooks that include a touch-based OLED bar in lieu of the physical function key row seen on all current Macs, as has been rumored for the upcoming MacBook Pro.
On 10.12.0, the System Preferences assets for Apple's virtual keyboard - which lets users type on a Mac without a physical keyboard - include a number of different keyboard image files covering the physical key layouts used across Apple's product lineup, including full-height versus half-height function rows and different international layouts. Each file represents an image of macOS Sierra's virtual keyboard that mirrors the user's current physical keyboard layout, including a row across the top for function keys, Escape, and a power or eject key.
In yesterday's 10.12.1 update to Sierra, a new set of assets was discovered by MacRumors reader Gabriel Lorin, revealing an updated physical keyboard layout coming for machines supporting the new operating system version. Three additional sets of layout files are included in system resources on macOS 10.12.1, with each image depicting a virtual keyboard that lacks the standard tactile row of function keys.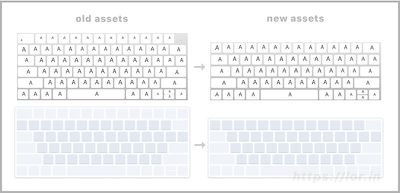 The image files do not directly represent the OLED touch bar and its functionality, which will likely be managed using separate preferences, but the omission of the function row entirely in these new layouts leaves no other reasonable explanation beyond those key functionalities being moved to a separate location such as the rumored touch bar.
The significantly redesigned MacBook Pro, which is expected to be at the forefront of Apple's Mac event on Thursday, has been expected to include an OLED touch bar for some time now, so today's discovery is just another piece in a long line of rumors and evidence leading up to Apple's announcement later in the week. The panel is rumored to include Touch ID so users can gain easy access to a locked MacBook and perhaps direct Apple Pay functionality, and the remainder of the OLED keys will change contextually depending on which app is active on the computer.
Besides a 13-inch and 15-inch MacBook Pro, Apple is believed to be launching a new 13-inch MacBook Air at the event, but recent reports suggest that users may have to wait until 2017 for a refresh to the iMac and a new standalone 5K display.