Apple to Release New MacBook Pro and Air as Early as October, AMD iMacs and 5K Display With LG Also in Works
Apple is planning to refresh its Mac lineup, including the MacBook Pro and MacBook Air, as early as October, according to Bloomberg. The report also claims Apple is working on a standalone 5K display in partnership with LG Electronics, while it plans to update iMac models with an option for new graphics chips from AMD.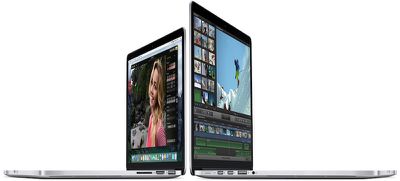 The report reiterates that the new MacBook Pro will be thinner and include an OLED-based touchscreen strip along the top of the flatter keyboard, which will present functions that dynamically fit the current task or application, as well as integrate Touch ID to enable users to quickly log in using their fingerprint.
For example, if a user is on their desktop, the screen will show a virtual representation of the standard function row, which includes brightness and media controls. When in an application, the virtual row will show options specific to the task at hand, but volume controls and a switch to show the default functions will always be present.
Apple has reportedly named the feature "Dynamic Function Row" internally, but its official name may differ when announced.
The tweaked MacBook Air models, meanwhile, are said to include multipurpose USB-C ports, which makes the inclusion of Thunderbolt 3 a possibility. No other details were shared about the planned MacBook Air and iMac refreshes.



Apple's plans to work with LG on a standalone 5K display surface two months after it discontinued the five-year-old Thunderbolt Display. It remains unclear if the monitor will be based upon the Retina 5K iMac, and it is also unclear if the report's broad late 2016 timeframe for "some of the new Mac products" includes the display.
The report makes it nearly certain that the focus of Apple's just-announced September 7 media event will be on the iPhone 7 and the second-generation Apple Watch, the latter of which has now been confirmed for the event. Apple will also provide updates about its software, including iOS 10, macOS Sierra, watchOS 3, and tvOS 10.