iPhone 7 May Ship With Lightning-Connected EarPods, New Wireless Earphones Also Under Development
Apple's upcoming iPhone 7 is rumored to feature a thinner body with no headphone jack, with Apple instead planning to rely on the Lightning port and Bluetooth as ways to connect headphones to the device.
It was not clear if Apple would continue to ship EarPods along with the iPhone 7, and whether those EarPods would use Lightning or Bluetooth, but a new report from 9to5Mac suggests Apple will indeed ship Lightning-connected EarPods with the iPhone 7. Apple is also working on a new set of wireless Bluetooth earphones that would be sold alongside the iPhone 7 as a premium accessory and alternative to the Lightning-connected EarPods.
While traditional Bluetooth headphones, including Apple's own PowerBeats, have a wire that connects the left and right ear pieces to each other, Apple is said to be designing earphones that do not include a connective cord. These earphones would be similar in design to the Bragi Dash, an upcoming set of earphones that features individual ear pieces for each ear. Charging would be done through a battery case.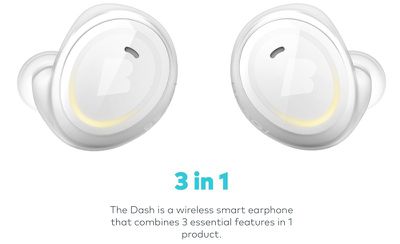 The latest version of the new wireless Apple/Beats headphones in development do not include any ports for charging, in contrast to the mini-USB port on the current wireless Beats. Instead, the new headphones are likely to come with a carrying case that doubles as a rechargeable battery to juice up the headphones when they are not in use.
A recent rumor suggested Apple would use new audio technology in the iPhone 7 to improve noise-cancelation techniques for better sounding music and phone calls, and this appears to be technology that may also extend to Apple's prospective wireless earphones.
In October, trademark filings for an audio accessory by the name of "AirPods" were linked to Apple, so it's possible Apple's rumored wireless earphones will eventually be named "AirPods" and sold alongside the existing EarPods.
According to 9to5Mac, while the earphones are currently under development in preparation for a fall launch, there's a possibility the technology could be delayed due to battery life concerns. The earphones are said to have a battery life under four hours.
Today's report also suggests Apple is finalizing the design for the iPhone 7, testing three designs that range from a thinner model to a device that looks much like the iPhone 6s.