Apple Likely Trying to File for 'AirPods' Trademark
Apple may be taking steps to protect the name "AirPods," based on recent trademark filings in a number of countries. While Apple itself is not directly linked to these applications, the pattern of filings is consistent with Apple's usual strategy and MacRumors believes Apple is indeed responsible for them.
A trademark application for "AirPods" was made in the United States on September 22 by a company called Entertainment in Flight, LLC, a Delaware firm housed at the Corporation Trust Center, a strategy Apple has used a number of times in the past to hide its trademark work. The company was created in early September and appears to have no visible operations other than last week's trademark filing.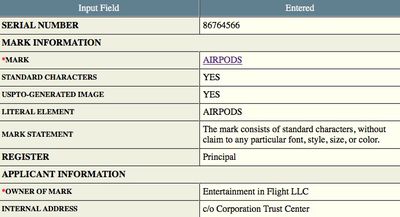 We have been unable to find a concrete link between Apple and the AirPods trademark, but the evidence we've gathered is highly suggestive that Apple is indeed behind the filing. Assuming this is indeed the case, speculation then turns to the reasons why Apple is interested in the name.

The trademark filing in International Class 9 includes mention of audio accessories, earphones, microphones, wireless communication devices, and similar types of products, and with Apple already calling its existing line of earphones "EarPods" it seems reasonable to speculate the "AirPods" name could be intended for a wireless version of the company's earphones.
Audio components and accessories; sound recording and reproducing apparatus; digital video recorders and players; remote control apparatus; audio speakers; earphones, headphones; microphones; voice recording and recognition apparatus; radios, radio transmitters, and receivers; handheld digital electronic devices and software related thereto; wireless communication devices for voice, data or image transmission; electrical and electronic connectors, couplers, wires, cables, chargers, docks, docking stations, interfaces, and adapters for use with all of the aforesaid goods
Apple of course already offers several models of wireless earphones and headphones through its Beats brand, but Apple has so far kept the Beats hardware brand separate from its own and may prefer to offer a wireless earphone option under its own brand and styling.
Other circumstantial evidence pointing toward Apple being behind the filing includes:
- Citing a March trademark application in Jamaica as a priority date for the registration. Apple commonly files first in Jamaica to establish its claim on a trademark, as the country does not maintain an online trademark database, making it easier for Apple and other companies to hide such filings.
- Use of a Gmail account on contact information. Apple's shell companies almost always use Gmail addresses based on the companies' names for their filings, and this is the case with Entertainment in Flight.
- International trademark filings made by known Apple-associated law firms. Alongside the U.S. filing, Entertainment in Flight made similar filings in a number of other countries around the world, and in each case used the services of law firms previously used by Apple and other known Apple shell companies to handle the filings: Locke Lord in the European Union, Bryn Aaflot in Norway, Baker & McKenzie in Australia and Canada, and attorney Pinar Arikan in Turkey.
The European filing covers two additional classes of trademarks: Class 38 for "transmission of digital audio, video and multimedia content" and Class 41 for "entertainment services" such as non-downloadable media and reviews and recommendations of entertainment content.