Leaked Photos May Show Upcoming MacBook Pro's Top Case With Space for OLED Touch Panel, Four USB-C Ports
Photos have leaked depicting alleged components destined for the rumored redesigned MacBook Pro, giving us a look at the thin body of the device, the space where a rumored OLED touch panel will be positioned, and its possible ports.
Shared by Cult of Mac, the photos came from an anonymous source who claimed to work for Apple's manufacturing partner in China.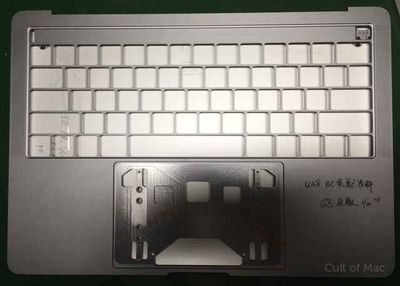 The images feature the body of what appears to be a MacBook Pro, which, based on size, seems to be the 13-inch model. The trackpad and the keys have not yet been put in place, but noticeably absent is a function row at the top of the keyboard, which rumors say will be replaced with an OLED touch panel.
Size wise, the MacBook model in the photos appears to be slightly thinner than existing MacBook Pros, and in pictures of the sides of the device, a total of four USB-C ports are available, with two on the left side and two on the right side. A headphone jack is also included, as are thin speaker grilles on either side of the keyboard.


Rumors have suggested Apple is working on completely revamped 13 and 15-inch MacBook Pro models with a thinner and lighter form factor and a dedicated OLED display touch bar that replaces physical function keys. A dedicated Touch ID button is expected to be built into the bar, as is support for USB-C and Thunderbolt 3.
According to KGI Securities analyst Ming-Chi Kuo, the new MacBook Pros will feature the "most significant upgrade ever undertaken by Apple," with the machines set to be released during the fourth quarter of 2016. Many were hoping for a WWDC launch, which early rumors hinted at, but if Kuo's information is accurate, we will need to wait until the fall months to see the launch of the new devices.