iPad Air 3 Could Feature Four Speakers and Rear-Facing LED Flash
The next-generation iPad Air 3 could adopt the iPad Pro's four-speaker design and gain an LED flash next to the rear-facing camera, according to leaked design drawings shared with French website Nowhereelse.fr. The website cannot fully guarantee the veracity of the sketches, but the report does mention its source has been reliable on two out of three occasions in the past.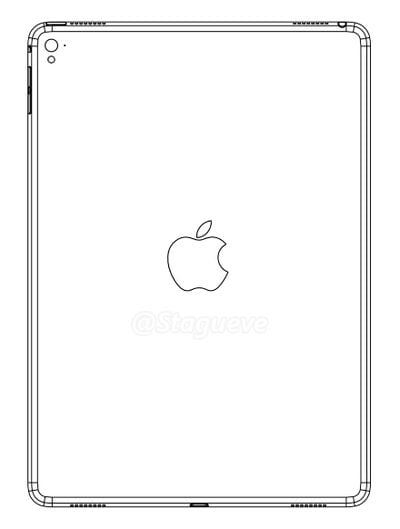 If the design drawings prove to be true, the iPad Air 3 would have two speakers on both the top and bottom of the tablet like the iPad Pro. The inclusion of rear-facing LED flash seems more trivial, since the iPad is not a camera device in the traditional sense, but some owners do use the tablet to take photos, and Apple may be looking for ways to combat declining iPad sales.
Apple is rumored to announce the iPad Air 3 at a March media event, possibly alongside a new 4-inch iPhone and Apple Watch updates. Little is known about the iPad Air 3, beyond a report saying it will lack 3D Touch, but plausible updates could include a faster A9 or A9X processor, Oxide TFT display, Smart Connector and improved cameras.
Oxide TFT display technology would allow for more uniform color and brightness, and improved contrast, on the iPad Air 3. The tablet could also adopt the iPad Pro's variable refresh rate technology to preserve power when static images are on the screen, enabling the iPad Air 3 to have longer battery life.
Apple has not updated its 9.7-inch tablet since releasing the iPad Air 2 in October 2014.