Images of New MacBook Pro With Magic Toolbar Leaked in macOS Sierra 10.12.1
macOS Sierra 10.12.1, released yesterday, includes hidden Apple Pay images that depict the brand new MacBook Pro with an OLED touch panel that's set to be announced by Apple on Thursday, October 27.
In addition to confirming that such a product is in the works, the images give us our first full look at the redesigned MacBook Pro ahead of its launch. An OLED touch panel is located on top of the keyboard, where the function keys would normally be placed, and it very clearly supports Touch ID, as it is seen used with Apple Pay.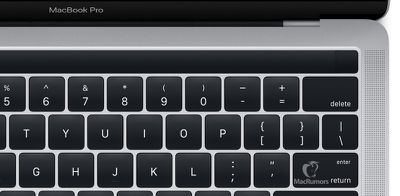 As has been rumored, the touch panel, which may be called the "Magic Toolbar," appears to be contextual, changing based on what's on the screen. In the images, Apple Pay dialog is depicted, asking a customer to confirm a purchase with a finger on the panel. It appears Touch ID is built into a nearly-invisible power button located next to the display.


Aside from the OLED touch panel, the new MacBook Pro looks similar in design to the existing models. It looks like the 13-inch MacBook Pro is used in the images, suggesting the machine will gain speakers located at the side of the keyboard.
Thickness can't be determined from the orientation of the MacBook Pro in the images, but rumors suggest the new machine is thinner and lighter weight than existing models. A redesigned hinge can be seen in the images, suggesting it is indeed quite a bit thinner. Also visible are much flatter keys, similar in design to the keys of the Retina MacBook, which use a new butterfly mechanism.
Ports are not visible, but based on past part leaks, we're expecting four USB-C ports and a headphone jack, with the HDMI port, MagSafe port, and SD card slot being eliminated.
Apple will announce the new MacBook Pro on Thursday, October 27 at 10:00 a.m. A new MacBook Air model is also expected, and new iMacs are a possibility. MacRumors will provide live coverage of the event both on MacRumors.com and on the MacRumorsLive Twitter account.
(Thanks, Richard!)