iPhone 6
Apple's 2014 iPhone.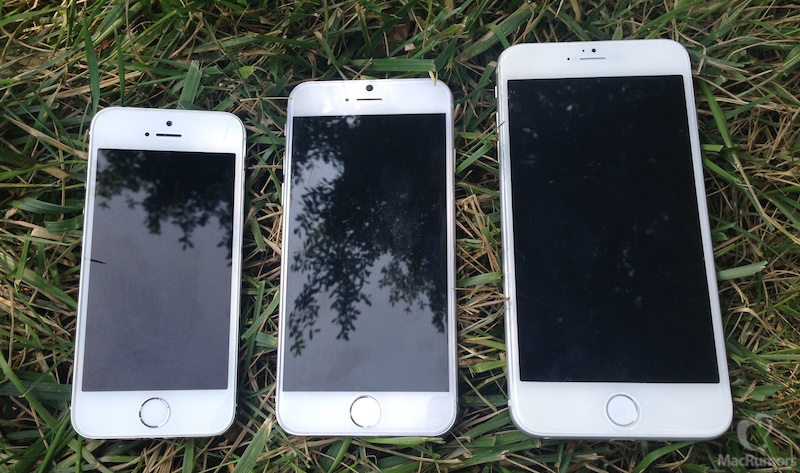 At a Glance
Release date expected in the Fall. Apple's 2014 iPhone is expected to include a larger redesigned form factor, with 4.7" and 5.5" diagonal screens. The 4.7" model will be introduced first around September, with the 5.5" model following later.
Specs
Release Date: September 2014
Larger screen: 4.7" (perhaps 1704x960 pixels) and 5.5"
Sapphire crystal screen
Faster and more efficient A8 chip
What We Expect
Rumors about the next-generation iPhone have been picking up over the course of the last few months, as suppliers gear up for a September launch date. The majority of rumors have been focused on the screen size of the device, which is expected to increase significantly. The size of the iPhone's display grew from 3.5 inches to 4 inches with the iPhone 5, and with the iPhone 6, the screen will grow even larger.
Apple has been experimenting with a wide variety of screen sizes, with the majority of rumors solidifying around a range of 4.7 inches and 5.5 inches, bringing the next iPhone in line with competing Android and Windows phones that have all adopted larger displays.
Apple acknowledged high consumer demand for phones with larger displays in one of its own internal presentations, and based on that evidence, it seems clear the company is planning to address the growing segment of market that desire bigger phones.

Rumored sizes of the new iPhone 6 compared to iPhone 5, iPad mini, iPad air
Apple is expected to release the 4.7-inch iPhone 6 around September of 2014, but there has been some disagreement about the launch date of the 5.5-inch iPhone. Due to production issues that may or may not be resolved, the larger 5.5-inch iPhone could launch alongside the 4.7-inch version, or at a somewhat later date.
Both the 4.7-inch and 5.5-inch iPhones will have an increased resolution due to their larger screens, possibly at 1704 x 906, a pixel-tripled resolution that would give the 4.7-inch model a pixel density of 416 and the 5.5-inch version a pixel density of 365.
Along with a larger screen, the iPhone 6 may feature a durable sapphire display in at least some models, and rumors have also indicated the iPhone 6 may adopt slimmer bezels and a thinner chassis. The larger 5.5-inch iPhone 6 might also incorporate Optical Image Stabilization as a differentiating feature from the 4.7-inch iPhone 6. It is also possible that the larger iPhone 6 will be the only model with a 128GB storage capacity.
Recent mockups, alleged schematics, and part leaks have suggested the iPhone 6 will be considerably thinner than the current iPhone 5s, possibly between 6mm and 7mm, and closer in thickness to the iPod touch. The existing iPhone 5s has a thickness of 7.6mm, while the iPod touch measures in at 6.1mm.
Part Leaks and Mockups
Possible Part Leaks
As of April 2014, several different alleged iPhone 6 parts have surfaced, with Apple reportedly asking Chinese police to crack down on the leaks. Full blown replicas of the iPhone 6 running skinned versions of Android have become available several months ahead of the launch of the actual iPhone 6.
What might be the front panel of the iPhone 6 first appeared on Chinese microblogging site Weibo in April, displaying a notably thinner bezel along with familiar cutouts for a front-facing camera, ambient light sensor, ear speaker, and home button. A second set of images more clearly depicting the front panel's glossiness, its slightly tapered edges, and relocated front-facing camera surfaced later, as did two videos that show the 4.7-inch front panel subjected to bending and scratching. These videos suggest the front panel of the iPhone 6 is highly durable, but tests with sandpaper indicate the panel may not be made of sapphire.
Possible iPhone 6 batteries have leaked, as have manufacturing molds that are said to be for the iPhone 6. The molds appear to depict a device that is approximately 4.7 inches in size when compared to an iPhone 4s, which is in line with the rumored size for the smaller of the two iPhone 6 models.
We've also seen iPhone 6 internal parts that include separate flex cables for the volume buttons/mute switch and top power button, and what may be the SIM card trays for the device, hinting at space gray, silver, and gold color options.

A possible backlight panel for the iPhone 6 surfaced in May from Chinese microblogging site Weibo, showing a part that looks like it is indeed from an iPhone. While the veracity of the image cannot be confirmed, it appears to correspond to the 4.7-inch iPhone 6. Along with the panel, images of Touch ID parts have also come from the Asian supply chain, as have images of the flex cable for the Lightning port and headphone jack.

4.7-inch iPhone 6 backlight panel
Though we saw some early images of the rear shell of the 4.7-inch iPhone 6, two separate sources recently shared high-quality images and videos of the part with MacRumors.
Made of thin metal with cutouts for the Apple logo and rear camera, the casing also features the same antenna breaks that have been previously seen in mockups. Some rumors have suggested the antenna breaks might not be as apparent on the final design, however. The shell is not entirely complete and some features, such as the full set of camera/mic/flash holes have not yet been punched out. A separate video depicts a rear shell alongside several iPhone 6 mockups and the iPhone 5s.
Most of the part leaks thus far have been from the 4.7-inch iPhone 6, but in June, a possible LCD backlight panel for the 5.5-inch iPhone 6 surfaced, as has a set of flex cables for the volume/power controls.
We've also seen images of two separate logic boards that appear to correspond to two new devices, likely the 4.7-inch and 5.5-inch iPhone 6. Sources who supplied photos of the logic boards suggested the iPhone 6 will include support for both NFC and faster 802.11ac WiFi, though those rumors could not be confirmed via the logic board images.

Logic board backs left to right: newly shown iPhone 6, iPhone 5s, previous iPhone 6
Concept Images, Mockups, and Cases
Mockups of the iPhone 6 have been surfacing in droves, with the large majority of the models appearing to be based on leaked iPhone 6 schematics from Japanese magazine MacFan. The mockups all show a thinner chassis, slimmer bezels, and redesigned pill-shaped volume buttons. Many also display a relocated sleep/wake button, which may move to the right side of the device for easier one-handed access, and some versions of the 5.5-inch model show a protruding camera lens due to the thin body of the device.
It is important to note that while there are a variety of cases and mockups available that all point in the same general design direction for the iPhone 6, most of the products have all been based on the same set of leaked design drawings and it remains unclear whether the true design of the iPhone 6 will resemble the flood of mockups that we've seen so far.
As time has gone on, physical mockups have gotten more and more detailed. Models surfacing in May showed a dual tone design with rounded corners, an aluminum backing, and antenna inserts in a separate color. A larger camera and a rounded flash are also visible, as is the relocated sleep/wake button. A May photo showed what could potentially be the three colors of the 4.7-inch iPhone in gold, space gray, and silver, and similar mockups and cases have been compared to phones like the Samsung Galaxy S5 and Google's Nexus 5.

A Taiwanese Apple blog measured the exact dimensions of one of the mockups, coming up with a height of 138mm, a width of 67mm, and a thickness of 7mm. In comparison, the iPhone 5s is 124mm tall, 58.6mm wide, and 7.6mm thick.
Italian Apple blog Macitynet published several photos of the a detailed physical iPhone 6 mockup compared to the current-generation iPod touch, showing several design similarities between the two devices. Both have curved edges on the rear shell and similar speaker holes along the bottom edge, as well as a body that's thinner than the existing iPhone. The iPhone 6 mockup is slightly thicker than the iPod touch version, at approximately 7mm vs the 6.1mm.

Using the iPhone 6 dimensions initially published in the March design drawings that have been used for many of the other available mockups, MacRumors created a 3D printed version of the upcoming 4.7-inch iOS device. We compared it to existing iPhones like the iPhone 4 and the iPhone 5, along with the Retina iPad mini.

Left to right: iPhone 3G, iPhone 4, iPhone 5, iPhone 6 mockup, Retina iPad mini
Designer Martin Hajek has released a set of 3D files that can be purchased for $25 and used to print a 3D 4.7-inch iPhone mockup. The design is similar to many of the previous mockups that have surfaced and can give interested parties an idea of what the alleged iPhone 6 design might feel like in-hand.
Additional 3D plans for printing both the 4.7-inch and 5.5-inch iPhone were created by MacRumors forum user Arthur Tilly from leaked design drawings and can be downloaded for free from Thingiverse.
Though mockups during the first months of 2014 focused primarily on the 4.7-inch iPhone, recent weeks have seen the appearance of 5.5-inch iPhone mockups as well, in both photos and videos. These mockups include the same general design characteristics seen in 4.7-inch iPhone mockups, with a larger display.

In More Detail
Hints of a larger iPhone first surfaced way back in December of 2012, when an analyst noted the existence of iPhone 6 prototypes with a screen size of 4.8 inches. In January 2013, a sketchy rumor suggested Apple would debut a 4.8-inch "iPhone Math" alongside the iPhone 5s, and for short period of time, larger-screened iPhone rumors became attached to the iPhone 5s and a 2013 release, with initial rumors indicating Apple would launch both a smaller and a larger iPhone in 2013.
In February, larger iPhone rumors shifted from the iPhone 5s and solidified around the iPhone 6, which would not launch until 2014. It became clear that Apple's 2013 focus was a less expensive iPhone to go alongside its standard flagship offering, while 2014 development would center around a bigger display.
As focus shifted towards the lower cost iPhone, rumors of the larger iPhone 6 died down until June 2013, when Reuters reported Apple was testing 4.7 and 5.7 inch displays for two iPhones to be released in 2014. Several reports from The Wall Street Journal confirmed that Apple was indeed looking into larger-screened prototypes for its next-generation iPhone and a November 2013 report from Bloomberg pointed towards two iPhones with display sizes of 4.7 inches and 5.5 inches.
Screen Size
Rumors about the screen size of the next iPhone have varied quite a bit as Apple reportedly tested a variety of different prototypes. All of the reports have indicated a size ranging from 4.7 to 5.7 inches, but have most consistently pointed to the two distinct models first highlighted by Bloomberg: 4.7 inches and 5.5 inches.
It is likely that introducing an iPhone in the range of 4.7 to 5.5 inches will involve increasing the resolution of the display, which will require developers to create new images and assets for their apps. When Apple switched from the iPhone 4's 960x640 display to the larger 1136x640 display in the iPhone 5, it was the first time Apple had changed the screen size on the phone since its 2007 launch.
Our competitors have made some significant tradeoffs in many of these areas to ship a larger display. We would not ship a larger display iPhone while these tradeoffs exist. Tim Cook - Q2 2013 Earnings Conference Call
Apple has been cautious about introducing new resolutions in order to minimize device fragmentation for app developers, but an increase in pixel count may be the only way for the company to introduce a much larger phone while retaining a Retina-quality display.
The topic of a possible iPhone 6 resolution is one that has been debated for several months, with notable analyst Ming-Chi Kuo predicting a 1334 x 750 (326 ppi) screen for the 4.7-inch iPhone 6 and a 1920 x 1080 (401 ppi) screen for the 5.5-inch version.
A second theory said to be based on information from within Apple suggests the iPhone 6 will have a pixel-tripled display of 1704 x 960, allowing it to retain the same 16:9 ratio of the iPhone 5/5s/5c. With a 1704 by 960 resolution, the 4.7-inch iPhone 6 would have a pixel density of 416 ppi while the 5.5-inch model would have a density of 356 ppi.
This "3x" display mode, outlined by 9to5Mac and first presented as a possible solution several months back by iMore, takes a base resolution of 568 x 320 (one half of the current iPhone 5/5s/5c resolution of 1136 x 640) and triples it to 1704 x 960. Currently, the iPhone uses a pixel doubling technique (568 x 320 doubled is 1136 x 640) to achieve its Retina display.
One of MacRumors' forum members explored how non-optimized iOS apps might look on the 1704 x 960 screen after the release of the iPhone 6, discovering that 3x scaling of existing 2x assets would cause some loss of detail, but would not look shockingly bad because it only results in a 50% enlargement.

When Apple transitioned to a Retina display in 2010 with the iPhone 4, older non-optimized graphics were enlarged at 100%, causing quite a bit of pixellation. While developers will want to update their apps quickly for the new resolution that will be introduced with the iPhone 6, unoptimized graphics will look considerably better this time around than they did in 2010 during the move to 2x scaling, leading to a relatively painless transition for consumers.

Display Technology
Current iPhones use Low Temperature Poly Silicon (LTPS) technology, and Apple is likely to continue using that technology for the iPhone 6.
With the iPad Air and Retina iPad mini, Apple adopted Indium Gallium Zinc Oxide (IGZO) technology in order to create thinner displays that draw less power than seen with the amorphous silicon (a-Si) displays used on previous models, but LTPS already offers better electron mobility than IGZO and thus Apple will almost certainly continue using LTPS in its smaller iOS devices for the time being.
Glass
Apple currently uses durable and damage resistant Corning Gorilla Glass for its iPhones, but reports have suggested that the company could switch to sapphire crystal for future displays.

Sapphire boule
Sapphire crystal, which is currently used for small iPhone elements like the camera lens and the home button of the iPhone 5s, has historically been prohibitively expensive to produce in larger quantities, but Apple has recently partnered with GT Advanced to ramp up sapphire production.
With GT Advanced's technology and Apple's investment, it is possible that the company will be able to produce much larger quantities of sapphire crystal at a far lower cost, which could see Apple incorporating it into next generation devices.
In January of 2014, documents filed with the Foreign-Trade Zone Board indicated that Apple was seeking an "aggressive go-live timeline" for the launch of the sapphire plant in order to begin work on a "critical new sub-component" for Apple devices. While it's unclear what product the sub-component refers to, it could potentially be a sapphire crystal display for the iPhone 6.
Recently revealed documents indicate GT Advanced has purchased 518 sapphire furnace and chamber systems and ordered another 420. With the machines, the Mesa, Arizona sapphire plant has the ability to produce between 100 and 200 million sapphire displays, enough for its entire line of devices. For reference, Apple sold approximately 150 million iPhones in 2013.
Apple has reportedly begun a trial run for an iPhone using a sapphire display cover, with the company ordering 100 of the devices from its assembly partner, Foxconn.
Rumors have disagreed over how Apple plans to use sapphire crystal in its upcoming devices. While some sources have suggested Apple has a limited amount of sapphire to work with and thus may only use the durable material in its higher-end 5.5-inch iPhones, other sources indicate Apple has enough sapphire to use it for the displays of both the 4.7-inch iPhone and the 5.5-inch iPhone, along with the iWatch.
Design
Initial rumors indicated the iPhone 6 might have a curved display, but more recent rumors suggest the device will continue to have a flat screen much like the iPhone 5s. It may, however, have a slightly tapered glass front panel that allows the display to transition seamlessly into the sides, as described in a report from Nikkei and pictured in a front panel part leak.
Advancements in LED backlighting may allow Apple to design a thinner, lighter iPhone 6. Apple is reportedly shifting from an 0.6mm LED backlight to a thinner 0.4mm model, giving it a bit of extra room to work with. Apple is also said to be using a single brightness enhancement film (BEF) instead of a dual version as used in the iPhone 5s, which will increase device thinness further.
The increased size of the device (or multiple devices) may also give Apple additional room to spread out components, allowing the company to reduce device thickness even further, and it could be nearly as thin as the iPod touch.
A detailed iPhone 6 mockup compared to the existing iPhone 5s
Schematics for a 4.7 and 5.7-inch iPhone surfaced in March, from Japanese magazine MacFan. Said to depict the "iPhone 6c," the schematics showed a flat, bezel-free device with several questionable design elements, including a sleep/wake located on the left-top of the device and single LED-flash not in line with the existing pill-shaped True Tone flash.
These design drawings have been used to create multiple iPhone 6 mockups, many of which can be seen below. The mockups all demonstrate iPod touch-style design elements such as rounded edges and similar microphone holes, along with thick antenna breaks. The unsightly antenna breaks that have thus far been seen on mockups may be due to poor quality materials and may not be as obvious on the finalized device.
Processor Upgrades
The iPhone 5s incorporates a 64-bit A7 28-nanometer chip manufactured by Samsung. Apple's iPhone 6 will reportedly utilize a 20-nanometer A8 chip from TSMC, which will be both smaller and more energy efficient. Samsung will continue to be involved in the production, however, helping to alleviate some of TSMC's manufacturing load.
The A7 chip marked a 31 percent improvement over the A6 in the iPhone 5, and it is likely that the leap to a 20-nm A8 chip will offer similar increases in performance. Initial rumors pointed towards a quad-core 64-bit processor for the A8, but a July report suggested the A8 processor may in fact be dual-core with a frequency of 2.0 GHz or higher per core.The A8 may also be limited to 1GB of RAM, the same as the A7.
Apple recently extended its licensing agreement with Imagination Technologies, the company that provides Apple with the PowerVR graphics and video hardware used in iOS devices. It is likely that the next-generation iPhone will continue to feature the Series6 graphics used in the current iPhone 5s, though future devices may receive the Series 6XT PowerVR GPUs which offer a 50 percent benchmark performance increase compared to previous generation cores.
Apple's M7 coprocessor, which collects sensor date from integrated accelerometers, gyroscopes, and compasses, may be upgraded with an atmospheric sensor according to data unearthed in the iOS 8 beta. An atmospheric sensor would potentially be able to measure weather trends and supply altitude data.
A report from March also suggested the next iPhone may include temperature and humidity sensors as well, which would likely be built into the A8's next-generation coprocessor.
Camera Additions
Rumors have disagreed somewhat about the camera improvements that might be found in the iPhone 6, with one rumor pointing towards the continued use of the 8-megapixel sensor currently found in the iPhone 5s and the 5c and a separate rumor suggesting a new 13-megapixel sensor from Sony.
Regardless of which sensor Apple uses, there are also other camera improvements in the works. For example, the iPhone 6 may incorporate Optical Image Stabilization (OIS). Apple has reportedly been working on striking a deal with InvenSense, a company that manufacturers an OIS gyroscope. Optical Image Stabilization uses motion-tracking in order to compensate for device shakiness, allowing for sharper photos and videos.

Optical image stabilization vs. no optical image stabilization. Comparison image courtesy of Electronics 360.
According to supply chain rumors, Optical Image Stabilization might be limited to the 5.5-inch iPhone 6, due to both production issues and the higher cost of an OIS solution. The 4.7-inch iPhone is still expected to see camera improvements, however, in the form of a new lens module with electronic image stabilization that offers speedier autofocusing.
Other Features
Apple's iPhone 6 is likely to continue to feature the Touch ID fingerprint sensor first found in the iPhone 5s and a recent rumor indicated that TSMC will produce fingerprint sensors for the device, with shipments already in progress.
According to another analyst report, Apple's next-generation iPhone may also support the 802.11ac Wi-Fi standard that first began appearing in Apple products in 2013. 802.11ac, or "Gigabit" Wi-Fi, offers speeds up to three times as fast as existing 802.11n wireless networks, reaching speeds over 1 Gigabit per second. While 802.11ac technology was not quite ready for the iPhone 5s and the iPhone 5c, Apple Wi-Fi chip supplier Broadcom has recently come out with a new 802.11ac Wi-Fi chip for smartphones.
NFC may finally make its way into the iPhone with the debut of the iPhone 6, as multiple rumors have pointed towards NFC integration as part of Apple's upcoming mobile payment solution. Back in April, reliable KGI securities analyst Ming-Chi Kuo suggested the iPhone 6 would include an NFC chip and a follow up report from BrightWire indicates Apple may incorporate NFC technology into the device as part of a mobile payment solution. The inclusion of NFC in the iPhone 6 would be a bit unusual, however, as Apple's head of marketing Phil Schiller previously said NFC was "not the solution to any current problem."
Many current iPhone users have expressed a desire to see increased battery life in the iPhone 6, but according to Chinese media reports, the 4.7 and 5.5-inch next-generation iPhones may see only modest battery gains due to the higher resolutions of the larger displays.
A leaked image of what may be the battery for the 4.7-inch iPhone 6 has seemly confirmed the rumors of a modest battery gain as it shows a capacity of 1,810 mAh. The current iPhone 5s has a battery capacity of 1,560 mAh.
A report from Chinese media sources suggests dynamic haptic feedback technology might be included in the iPhone 6, allowing users to feel subtle vibrations on the touch screen based on different app scenarios and specific areas of the touch screen.
iPhone 6c?
With the introduction of the iPhone 5c alongside the iPhone 5s, Apple bifurcated its iPhone lineup for the first time. iPhone 6 rumors suggest that Apple will continue with the dual iPhone strategy, producing the iPhone 6 in two different sizes. The Wall Street Journal in January indicated that one iPhone will come with a screen size above 4.5 inches diagonally, while the second will have a display bigger than 5 inches diagonally. Rumors have since solidified around slightly different screen sizes: 4.7 inches and 5.5 inches.
Two lines and two sizes will possibly allow for Apple to continue with its current pricing strategy, offering a full-priced flagship device, a mid-tier lower-cost device, and previous generation devices at an even lower cost. Current rumors suggest that Apple will not continue producing a plastic iPhone, and will instead use metal casings for both phones.
Multiple rumors have indicated that Apple might possibly raise the price of the larger 5.5-inch iPhone 6 by $100, making it $299 with a carrier contract, while selling the smaller 4.7-inch iPhone for the standard $199 on contract.
With the higher price comes additional features -- thus far, the 5.5-inch iPhone 6 is said to offer a sapphire crystal display, a 128GB storage option, and optical image stabilization, three features that may not make it into the smaller 4.7-inch iPhone 6.
Rumors have pointed towards several manufacturing issues plaguing the 5.5-inch iPhone, which may lead to a delayed release. While the 4.7-inch iPhone is expected to launch in September of 2014, the 5.5-inch iPhone may come later in the year or in early 2015.
iOS 8
Apple's iOS updates generally happen along iPhone launches, which means the iPhone 6 is likely to ship with iOS 8. Previewed at Apple's Worldwide Developers Conference in June, iOS 8 introduces several new features that improve integration between Apple's mobile and desktop devices.
Along with tools to allow for seamless transitions of tasks between iPhones, iPads, and Macs, iOS 8 also includes improved Message management tools, interactive notifications, a revamped "QuickType" keyboard, iCloud Drive access, and an all new health and fitness aggregation app, called simply "Health."
Release Date
The majority of rumors have pointed towards a fall release of the 4.7-inch iPhone 6, followed by a launch of the 5.5-inch version towards the end of the year or in early 2015. Recent rumors have disagreed somewhat on the launch status of the 5.5-inch iPhone, however, with analyst Ming-Chi Kuo pointing towards a delay due to ongoing production issues and Bloomberg suggesting that production issues have been largely solved, making a simultaneous release a possibility.
The 4.7-inch iPhone 6 is said to be entering production in July, while the 5.5-inch iPhone 6 may not enter production until August. Rumors have suggested Apple partner Foxconn is hiring 100,000 additional employees to help assemble the device.
Though the 5.5-inch iPhone 6 might be delayed, Apple may be planning to reveal the larger device alongside the 4.7-inch iPhone 6, shipping the bigger version at a later date or in very limited quantities.
As it has done for the past two years, Apple will likely launch the iPhone 6 at an event in early to mid-September, shipping the device later in the month on a corresponding Friday approximately a week after the launch event. The iPhone 6 is expected to launch alongside iOS 8.
A recent report from The Wall Street Journal has suggested Apple is ordering massive numbers of the iPhone 6 to meet high consumer demand. The company is expected to order between 70 and 80 million units of the 4.7 and 5.5-inch iPhone 6 combined.