iOS 9
Apple's next major iOS update, now available for download.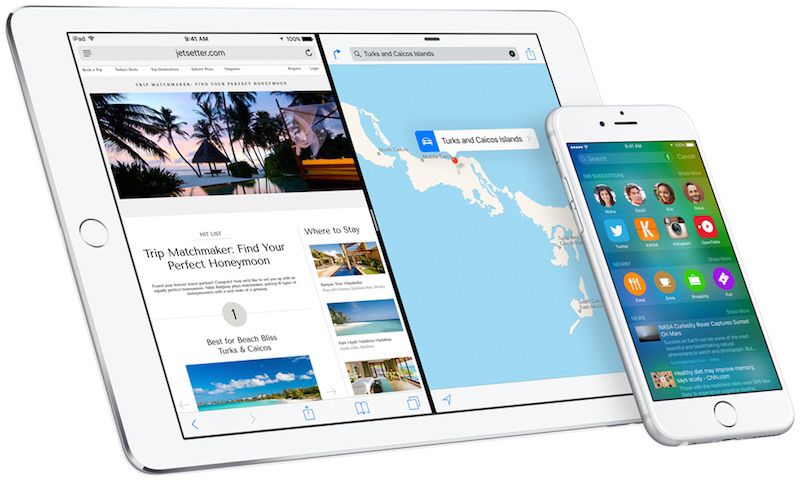 iOS 9 Overview
iOS 9 is Apple's newest operating system for iOS devices like the iPhone and the iPad, released to the public on September 16, 2015. iOS 9 builds on the content introduced with iOS 7 and iOS 8, bringing subtle design changes, refined features, improved functionality, and performance enhancements.
iOS 9's biggest focus is on intelligence and proactivity, allowing iOS devices to learn user habits and act on that information, opening up apps before we need them, making recommendations on places we might like, and guiding us through our daily lives to make sure we're where we need to be at the right time.
Siri is at the heart of the changes, and the personal assistant is now able to create contextual reminders and search through photos and videos in new ways. Swiping right from the home screen also brings up a new screen that houses "Siri Suggestions," putting favorite contacts and apps right at your fingertips, along with nearby restaurant and location information and important news.
Deeper search capabilities can bring up results like sports scores, videos, and content from third-party apps, and you can even do simple conversions and calculations using the search tools on your iPhone or iPad.
Many of the built-in apps have been improved. Notes includes new checklists and sketching features, Maps now offers transit directions, Mail allows for file attachments, and there's a new "News" app that learns your interests and delivers relevant content you might like to read. Apple Pay is being improved with the addition of store credit cards and loyalty cards, leading "Passbook" to be renamed to "Wallet" in iOS 9.
The iPad's gotten some major feature additions in iOS 9, like split-screen multitasking that lets two apps be used at once and a picture-in-picture function that lets you watch a video while doing something else on the tablet. The keyboard on the iPad has deeper functionality with the addition of a new toolbar, and on both the iPhone and the iPad, there's a new two-finger swipe gesture that makes it easier to select content, cut, paste, and move the cursor on the screen.
Other changes include a new systemwide San Francisco font, wireless CarPlay support, an optional iCloud Drive app, built-in two factor authentication and optional longer passwords for better security.
Along with these features, iOS 9 features significant under-the-hood performance improvements. Battery optimizations provide an additional hour of battery use under typical conditions, and a new Low Power Mode further extends battery life up to three hours.
With app thinning and size improvements, many app install sizes are smaller and Apple's own iOS updates take up much less space, so iPhone and iPad owners with only 16GB of space are able to install iOS 9. iOS 9 also runs on all devices capable of running iOS 8, including the iPhone 4s and the iPad 2.
iOS 9 was released to the public on Wednesday, September 16, 2016..
Current Version: iOS 9.3.5
The current version of iOS 9 is iOS 9.3.5, released to the public on August 25, 2016. iOS 9.3.5, a security update, fixed three critical zero-day vulnerabilities that were being exploited by NSO Group, a company that sells black market software that allows iPhones to be illegally monitored.
iOS 9.3.5 comes shortly after the release of iOS 9.3.4, another update designed to fix security issues. iOS 9.3.4 patched the exploit used for the Pangu iOS 9.3.3 jailbreak, effectively breaking it.
A More Intelligent OS
Proactive Suggestions
Apple's described iOS 9 as being more "intelligent," thanks largely to Proactive Suggestions. Proactive Suggestions, the major feature addition in iOS 9, turn the iPhone into a lifestyle management tool and make Apple's personal assistant Siri more responsive and able to complete more tasks than ever before. Proactive suggestions are systemwide and work in myriad ways, offering up apps and recommendations at appropriate times.
For example, if you often listen to music in the morning, iOS 9 can automatically open the Music app to a favorite playlist when you plug in your headphones. If you always open up the weather app to check what's going on outside, it might open it automatically after your alarm goes off.
When you head home from work in the evening, it might automatically open a map that includes traffic patterns, or it might tell you how long it will take you to get home. If you listen to a specific music app in the car, your phone might open the app as soon as it connects to the car via Bluetooth.
When composing an iMessage, email, or calendar invitation, iOS 9 suggests people you typically include, making it easier to get things done fast. If you receive an email with a flight reservation or a restaurant confirmation, iOS 9 can create a suggested calendar event. For a calendar event that includes a location, iOS 9 is able to assess traffic conditions and send a reminder when it thinks you should leave to make it on time.

If you receive a call from an unknown number, iOS 9 searches through your email to see if the person who's calling might have emailed you, thereby identifying the caller. It's also possible to add contact information received in an email directly to the Contacts app.
Real world examples of iOS 9's Proactive Suggestions have been detailed by our forum members. iOS 9 is able to learn which apps a user prefers and when the person likes to use them, making the process of accessing favorite apps easier.

For example, someone who watches Netflix each morning during a workout might see the Netflix app pop up at the proper time. Someone else who always plays a game after plugging in the headphones might see the game pop up as a suggestion whenever the headphones are plugged in.
Siri
Siri can do a lot more in iOS 9 with contextual awareness. If you ask Siri to "Remind me to do this" when looking at a request you've received in the Messages app, Siri can understand what you mean by "this" and will add the event. Later, when you look at the event in the Reminders app, you'll see that it also links back to the original conversation so you can see the source. Siri is also more aware of location, so a very specific reminder like "Call mom when I get in the car" works too.

Similar contextually aware commands work with different apps, and in iOS 9, third-party apps can also build in tools letting them work with Siri in similar ways.
Siri can also perform time-based searches for photos and videos in iOS 9. For example, you can ask "Show me my photos from Utah from last August" and Siri provides the appropriate images in the Photos app. Searches can be conducted based on dates, locations, and album titles.

Smarter Search and Siri Suggestions
There's a new search window accessible by swiping from the left to the right on the home screen. This is available in addition to the Spotlight search accessible by swiping downwards, and offers the same search window. The interface here is different though, incorporating "Siri Suggestions."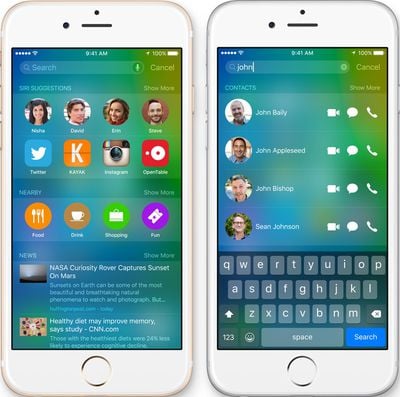 Siri Suggestions includes a list of people you speak with often, apps you might want to use depending on the time of day, nearby venues like restaurants and gas stations, and relevant news. This section is also contextually aware and offers different content based on the time of day.
If you often open Yelp at lunchtime, it might display the Yelp app at noon. If you watch Netflix at night, it might display the Netflix app when you get home from work. At breakfast time, it might display nearby coffee places or places where breakfast is served, and if you're in the car, it might display gas stations that are close by.
Over time, iOS 9 learns more about your usage habits to create an experience that is tailored towards your needs.
Searching in iOS includes more sources in iOS 9, accessing the same resources that power Siri. You can search for sports scores and schedules, weather forecasts, and stock prices. You can even do simple calculations and conversions. A search for "15% of $25," for example, gives the correct result.

Searching for a contact now brings up a list with a phone/message button to make contact right from the search results, and it's also possible to search within apps. When looking for a recipe, for example, you might search for "apple pie" to find apple pie recipes in a number of different cooking apps.
Search can incorporate content from third-party apps as well, and there's an option within the Search section of the Settings app that lets you choose which apps are able to show up in search results on your iOS device.
Apps and Services
News
Many existing apps and services have received updates, ranging from significant to minor, and Apple's also introduced a brand new app: News. News works a lot like Flipboard or Zite, aggregating stories from a variety of sources and displaying them in a mobile optimized format.
News asks you to choose topics and sources you're interested in when you first open it and from there, it is able to learn more about your preferences to suggest new reading material for you. Apple is partnering with several content providers like The New York Times to offer content for news, and all content providers have free tools to optimize their sites for the platform. More than a million topics are available.
News includes media-optimized editorial layouts for stories accompanied by photo galleries, videos, and animations, and content can be shared to read offline.
Notes
Notes has been updated with a robust set of tools that allow users to insert Reminders-style checklists and make sketches using a set of pens and paints. There's a new Notes option in the Share Sheet, which makes it possible to save content from other apps to Notes.
For example, if you open the share sheet in Safari, you can add a URL to Notes. If you open it in Pages, you can add a full Pages documents to Notes. This works with several different apps, ranging from Maps to iTunes. For managing these attachments, there's a new attachments browser.

You've always been able to add photos to notes, but now you can take a photo directly within the notes app. All-in-all, the updates to Notes make it better able to compete with more robust third-party note-taking platforms like Evernote. Notes also supports folders in iOS 9, for better organization.
Maps
In iOS 9, Maps includes a new Transit view and it's able to give directions that include public transportation options. For the first time since Apple Maps was introduced in 2012, it's possible to get a multi-modal route that might include walking to a train station and hopping on a train to reach your desired destination. Before transit maps were available, getting transit directions required a third-party app.
The included Transit view displays transit lines and stations on a map, letting users map out the best possible route. Siri can also deliver transit directions.

Transit directions are only available in a select number of cities at launch, including Baltimore, Berlin, Chicago, London, Mexico City, New York, Philadelphia, San Francisco, Toronto, Washington D.C., and several cities in China.
Maps has also gained a "Nearby" feature, displaying restaurants and stores that are close by. Whenever you search in Maps, you'll see a list of categories like Food, Drinks, Shopping, and Fun, which display venues that are located around you.
iCloud Drive
In iOS 9, there's an optional iCloud Drive app that can be installed through the iCloud section of the Settings app. The iCloud Drive app lets you see, access, and manage all of the files that you have stored within iCloud Drive, and it is a welcome feature for customers who have asked for such an app.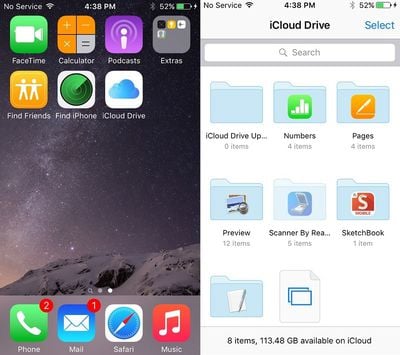 Mail
In Mail, it's possible to add file attachments for the first time. When composing a message, press on the screen to bring up the options menu and select "Add Attachment." You can add files from iCloud Drive or from third-party services like Dropbox. Some file types are zipped before being added to a message, but others, like PDFs, are added directly.
Health
Health can measure additional metrics in iOS 9, including reproductive health, a much-requested feature. Reproductive health settings monitor menstruation, basal body temperature, and more. There are also new options for monitoring hydration and UV exposure.
CarPlay
The major change to CarPlay in iOS 9 is wireless support. In some cars and with some systems, the iPhone is able to connect to the car without requiring a wired Lightning connection.
CarPlay in iOS 9 also includes deeper support for car control systems, so a car's knobs can be used to control CarPlay features. Apps developed by car manufacturers are available in CarPlay as well, so car features can be accessed without the need to leave the CarPlay interface.
Apple Pay
Apple Pay is gaining support for store credit cards and loyalty cards, which has prompted Apple to change the name of Passbook to Wallet. According to the company, the new name is a reflection of its progress towards replacing the physical wallet.

JCPenney and Kohl's will be some of the first stores to offer Apple Pay support for store credit cards, while Dunkin Donuts, Walgreens, and Panera Bread will be some of the first to make loyalty cards available via Apple Pay. These features launch in the fall.
Two-Factor Authentication
iOS 9 and OS X 10.11 El Capitan include an entirely revamped two-factor authentication system that replaces the existing two-step verification system. The new two-factor authentication feature does away with Recovery Keys and uses new methods to trust devices and deliver verification codes for a more streamlined user experience.
Any device that you sign into with the new authentication system becomes a trusted device that can then be used to verify your identity when signing into other devices and services linked to your Apple ID. This simplifies the process of trusting devices. It's also now possible to use text messages or phone calls as a backup option when a trusted device is not available. Previously, two-factor verification codes could only be delivered by text message or on a verified device.
The elimination of Recovery Keys is the most important feature in the new two-factor authentication system, as it means there's no longer a danger of losing an Apple ID and linked purchases forever should both a Recovery Key and a trusted device become lost.
With the new authentication system, Apple's customer support team will help users recover their Apple IDs through a recovery process if trusted devices become inaccessible and accessing an account to change a password is impossible.
iPad Split-Screen Multitasking
Split-screen multitasking has been a much anticipated feature for the iPad that's been rumored to be in the works for over a year. With Split-screen multitasking, it's possible to use two different iOS apps on the same screen, so you can read a website while on a FaceTime call, or watch a video while composing a message in Mail.
iOS 9 includes three different multitasking features: Slide Over, Split View, and Picture in Picture.
Slide Over can be activated within any app by swiping left from the right side of the iPad. This gesture brings up a small side pane that displays a secondary app alongside the first app, in a 1/3 screen space arrangement. Choosing a new app for the side pane can be done by swiping downwards from the top of the screen within the pane.

Slide Over is not true multitasking because both apps are not active at once. While the side panel is open, the app that's taking up most of the screen is relegated to the background.
By pulling the Slide Over app further towards the middle of the screen on an iPad Air 2 in landscape mode, Split View is activated. Split View displays two apps side-by-side, with each app taking up half of the screen. In Split View, both apps can be used at the same time and controlled independently, so you can, for example, browse in Safari while simultaneously scrolling through your chats in Messages.

Picture in Picture, as the name suggests, is a third feature that lets you watch videos or participate in FaceTime video calls while using other apps. When on a FaceTime call or when watching a video, tapping on the home button sends the video to a corner of the iPad's display. From there, it's possible to use other apps while you view the video or continue on with the FaceTime conversation.

Picture in Picture and Slide Over multitasking features are available on the iPad Air, iPad Air 2, iPad mini 2, and iPad mini 3. Split View multitasking is limited to the iPad Air 2, which has a more powerful processor that can handle two apps at once.
Keyboard Changes
On the iPad's on-screen keyboard there's a new Shortcut bar that houses editing tools like cut, copy, paste, and undo/redo. The default view includes the undo/redo tools as of beta 2, but selecting text brings up the cut/copy/paste tools. Using the bar, it's possible to quickly edit and format documents and text Third-party apps are able to customize these tools to offer different options.

When a wireless keyboard is connected to the iPad, pressing Command, Option, or Control brings up a list of shortcuts on screen. There are new keyboard shortcuts for bringing up a quick search and switching between apps.
On both the iPad and the iPhone, there's a new two finger gesture that controls the cursor. Placing two fingers anywhere on the screen (including over the keyboard) allows for super quick selecting, cutting, and pasting, making it much easier to control the cursor in iOS 9.

The look of the keyboard has also changed in iOS 9. In addition to using the new San Francisco systemwide font, the shift function has been modified. When shift (or caps lock) is pressed, the keyboard displays capital letters. When shift is off, the keyboard displays lower case letters. In iOS 8, letters were always capitalized, with shift mode being denoted only by a key color change.
Under-the-Hood Updates
Battery Life
Optimization improvements are one of the most important aspects of iOS 9, and Apple has put a lot of work into making the operating system more efficient. Apple's focused heavily on battery life, and with the company's tweaks, iPhones get an additional hour of battery use under normal usage conditions.
For example, the iPhone's ambient light and proximity sensors let it detect if it's facedown on a table, and if it is, an incoming notification no longer causes the screen to light up.
There's also a new Low Power Mode on the iPhone that can add three hours of battery life by cutting down on features that drain battery. It turns off automatic Mail fetch, disables background app refresh, disables motion effects, and disables animated wallpapers.

It also throttles the power of your iPhone so it drains less power. Through benchmark testing, it appears Low Power mode reduces an iPhone's performance by about 40 percent to cut down on power usage.
To learn how to use Low Power Mode, make sure to check out our how to guide.
Installation Size
iOS 9 is able to more efficiently stream updates to an iOS device, which cuts down on the amount of space that it takes to install the operating system. A major complaint with iOS 8 was the 4.58 GB of space it took to install the update, preventing many with 16GB devices from using the operating system. With these optimizations, iOS 9 requires only 1.3 GB of space to install.
For devices that do not have enough space to install the iOS 9 update, Apple has introduced a new auto app delete/reinstall feature. When attempting to install iOS 9 on a device with insufficient space, there's a popup that offers to temporarily delete some apps in order to make room for the update. Apps that are deleted are then reinstalled and replaced after the operating system update is completed.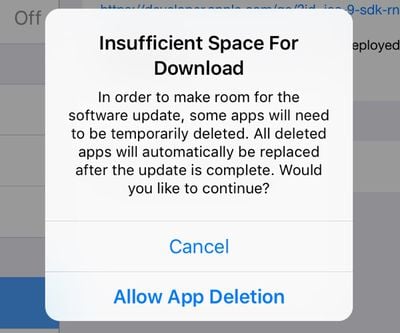 Apps from third-party developers also require less installation space, as explained in the developer section below.
Metal
Apps in iOS 9 take advantage of Metal, making more efficient use of the CPU and GPU for faster scrolling, smoother animations, and better performance. Email, messages, web pages, and PDFs all render faster.
Security
iOS 9 prompts users to create 6-digit passcodes instead of 4-digit passcodes for additional security. It's still possible to create a 4-digit passcode, but Apple recommends a 6-digit code because it adds one million possible combinations instead of 10,000, making a passcode harder to crack. Two-factor authentication support is also enhanced in iOS 9.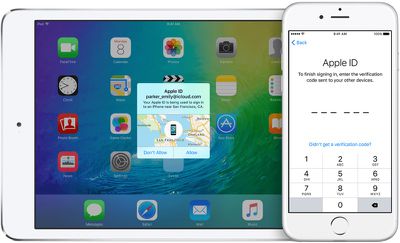 Developer Tools
There are a lot of new developer APIs included with iOS 9 that bring great new features to third-party apps. A quick look at these features gives us information on what we can expect from apps when iOS 9 is released in the fall.
Developers are able to take advantage of multitasking on the iPad, optimizing their apps to be used with the three multitasking features: Slide Over, Split View, and Picture in Picture. Apps do not work automatically with this feature and require developer support.
Third-party apps can include a new Core Spotlight feature, allowing them to come up in searches on iOS 9. A search for "Maui" might bring up a travel app, for example, and an additional deep linking feature sends users to the appropriate place within the app.
Specific items on websites that are accessible from within an app can also be made available to iOS 9's search feature, and links are able to take users back to a website or an app after searching.
Games are going to get a lot better. There are improvements to the tools developers can use to build iOS games, including SceneKit, SpriteKit, and Metal. Three new kits have also been introduced: GamePlayKit for creating complex rule-based games and realistic character behavior, ReplayKit for allowing players to record video of the games they're playing, and Model I/O, a 3D model framework.

With App Thinning, apps can be optimized for specific devices for the first time, which allows them to take up less space on your devices. You won't need to download all the iPad files for a game if you're playing on an iPhone, for example. That means faster installs, faster launch times, and more storage space left for other apps and content.
There are new data points in HealthKit that apps can contribute to (reproductive health, UV exposure, water intake, and sedentary state), and apps can now use Safari features like Reader mode and Autofill. News Publishing features let third-party content creators optimize websites and stories for the new News app, and third-party apps can offer transit directions and enable Flyover.
Improvements to CloudKit and HomeKit also promise to bring exciting new features to third-party apps in iOS 9.
With any major operating system update, there are hundreds of small but significant changes that are introduced but go unmentioned by Apple. We've rounded up some of these hidden features in dedicated posts for each beta iteration (beta 1) (beta 2) (beta 3) (beta 4), (beta 5) and we've listed some of the most interesting tweaks below.
Keyboard changes - The shift function has been altered once again, making it easier to determine when it's activated and when caps lock is turned on. With shift pressed, all letters on the keyboard are now shown in upper case. With shift off, letters on the keyboard are lower case. On iPad, there are new edit controls, and the keyboard now uses the new San Francisco font.

Shift on at top, shift off at bottom
Find My Friends/iPhone - Find My Friends and Find My iPhone are both default apps with iOS 9 and come installed automatically. Before these needed to be downloaded from the App Store. Find My Friends can be added to the Notification Center, where it tracks the location of your friends.

Battery settings - To go along with all the new battery features in iOS 9, there's a new dedicated "Battery" section in the Settings app, where Low Power Mode can be turned on. It also displays more detailed battery usage information that can be sorted by apps using the most and the least amount of power. With Low Power Mode, background activity, motion effects, and animated wallpapers are disabled. Battery information is also displayed in the Notification Center, for the Apple Watch, iOS devices, and some other connected devices like wireless headphones.

Settings Search - There's a new search bar in the Settings app that lets you quickly locate a specific setting.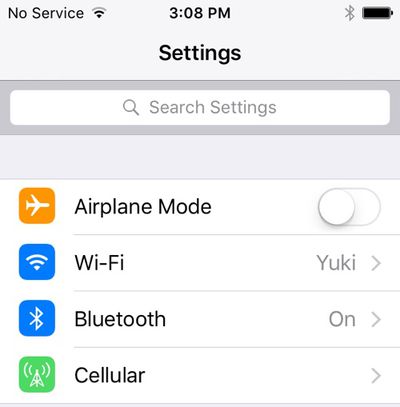 Go Back to App - When you tap on a Notification or a link in Safari and it opens a new app, you can go back to the previous app using a new "Go Back" button.

Apple Watch app - In iOS 9 beta 2, the name of the Apple Watch app on the iPhone was shortened from "Apple Watch" to just "Watch."
App folders on iPad - In iOS 9 beta 3, Apple increased the number of apps displayed per folder. App folders on the iPad now display apps in a 4x4 arrangement instead of a 3x3 arrangement, allowing users to see more apps in a folder at a glance. With 15 pages of apps allowed per folder, folders are able to house up to 240 apps instead of 135.

Music settings - iOS 9 beta 3 added an option in the Settings app under "Music" to stream music at the highest quality while using a cellular connection. This gives users more control over the quality of the music they're listening to.

Photo app folders - In iOS 9 beta 3, Apple added new folders for selfies and screenshots in the Photos app. The "Selfies" folder aggregates all photos captured with the front-facing camera, while the "Screenshots" folder houses all screenshots captured by holding down the power button and home button.

Home Sharing - Home Sharing for music was removed in iOS 8.4 with the launch of the new music app and the new Apple Music service, but iTunes chief Eddy Cue said Apple was working to re-add the feature in iOS 9 and it has, in iOS 9 beta 4.
Handoff - The Handoff feature in the App Switcher has been moved to the bottom of the app-switching interface. Pull up on the new Handoff bar to open an app. Previously, Handoff was displayed in the app carousel. As of beta 5, the Handoff feature that showed relevant App Store apps on the lock screen in certain locations was eliminated. Installed apps are still shown based on location.

Wallpaper - Every new operating system comes with new wallpaper, and iOS 9 is no exception. Wallpaper additions include close ups of feathers, flowers, plants, planets, and more. Many older wallpapers were removed when new ones were added.
For even more changes, make sure to check out our individual posts that cover the hidden features and tweaks that were added in each beta update during the testing period.
Discuss iOS 9
We have a dedicated iOS 9 forum, where users discuss their thoughts on the new operating system, showcase new discoveries, and share bugs and issues they're experiencing.
The iOS 9 forum is a fantastic resource for learning about iOS 9 and it's well worth checking out to get more details on the new OS.
Compatible Devices
iOS 9 works with all devices that are able to run iOS 8, including the older A5-based iPhone 4s and iPad 2. Compatible devices include the iPhone 4s and newer, the iPad 2 and newer, and the original iPad mini and newer.
How to Get It
iOS 9 was released to the public on Wednesday, September 16, 2015. It is available immediately through an over-the-air update that's accessible by opening the Settings app and going to General --> Software update. It requires 1.3 GB of free space to install and is available on all devices that were able to run iOS 8, including the iPhone 4s and later, the iPad 2 and later, and all iPad mini models.
What's Next
The successor to iOS 9 is iOS 10, which is currently in development and set to be released in the fall of 2016, as with prior operating system updates for the iPhone and iPad. iOS 10 is currently available to developers and full details on the new features in the update can be found in our dedicated iOS 10 roundup.