iPhone 6 Plus Teardown: Twice as Big a Battery as iPhone 5s [Update: 1 GB RAM Confirmed]
iFixIt is in the process of taking apart the new iPhone 6 Plus, currently on sale in Australia. Surprisingly, the team points out that the internal layout of the device is extremely similar to that of the iPhone 5s, except at a larger scale and with a bigger battery. The teardown's findings reveal the battery capacity of the device and some internal reorganization.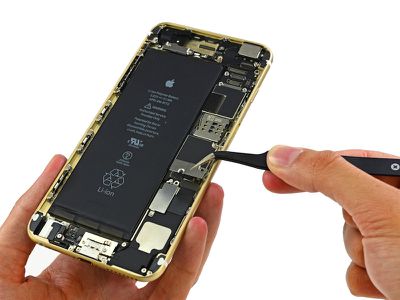 In removing the front panel from the rest of the device, the iFixIt team notes that there are "no noticeable booby traps", referring to the iPhone 5s' cable that ran from the Touch ID sensor to the Lightning port. The battery in the device is listed at 2915mAh at 3.82 volts, in line with the previously leaked battery prototype for the device and giving the 6 Plus double the battery capacity of the iPhone 5s' 1560mAh and much larger than the iPhone 6's 1810mAh battery.
The teardown also revealed that the vibrator is now located under the logic board and to the right of the battery.
iFixIt's teardown is still in progress and this post will be updated if anything significant is revealed.
Update 7:45 PM: iFixit has exposed Apple's new A8 processor in their teardown, which reveals the F8164A3PM inscribed on the chip. The second digit in that sequence, 8, corresponds to 8 Gigabits (1 GB) of RAM in Micron's catalog.
Update 11:38 PM: iFixit has assigned the iPhone 6 Plus a repairability score of 7 out of 10, which is an improvement over the iPhone 5s' score of 6 out of 10. The largest difference being the absence of the cable connecting the Touch ID Home button to the Lightning port, which resulted in the cable being torn if one is not careful opening the phone.