First iPhone 6 and 6 Plus Reviews: 'Thin and Sexy', 'Bigger and Better', Impressive Battery Life Up to 2 Days
At its September 9 iPhone event, Apple provided multiple publications with iPhone 6 and 6 Plus review units. The embargo has now lifted on review posts, so we have gathered some of the relevant excerpts from each site in order to highlight general release reactions to Apple's iPhone 6 and 6 Plus.
Apple's two new devices are essentially identical in design aside from the difference in screen size and the battery life/optical image stabilization in the iPhone 6 Plus, so we've chosen to combine the device reviews into one post.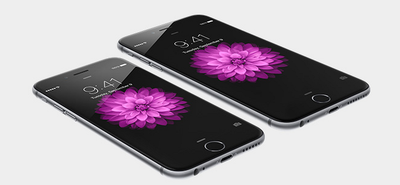 Brad Molen, Engadget:

Both iPhones are thinner than their predecessor. Whereas the 5s was 7.6mm thick, the 6 comes in at 6.9mm, with the 6 Plus measuring a hair thicker at 7.1mm. I don't always subscribe to the "thinner is better" mantra, but it's a benefit in this case because larger iPhones wouldn't feel as comfortable if they had the same shape as the 5s. If I had to choose based on in-hand feel alone, I'd pick the 6 over the Plus. I can still wrap my fingers around the 6 just as easily as I could with the 5s (and its curved sides don't cut as sharply as the edges on the 5s), but the large-screened 6 Plus is... well, it's manageable.

Both the 6 and 6 Plus use an IPS Retina HD display, but the Plus is even more high-def than the 6. It has a screen resolution of 1,920 x 1,080, which means you'll get a pixel density of 401 pixels per inch. On the flipside, the 6 maxes out at 1,334 x 750, which translates into 326 ppi. (That's the same screen density as the 5s.) Both displays are sharp, but I do see some minor differences between the two when I look at them side by side. Specifically, the Plus' text and images are sharper, with no jagged lines whatsoever.
David Pierce/Nilay Patel (iPhone 6, iPhone 6 Plus), The Verge:
[iPhone 6 Plus] Huge phones get to have huge batteries, and the iPhone 6 Plus is a huge phone with a huge battery: I consistently got about two days of battery life from the 6 Plus in regular daily use -- slightly more than the day and half we got from the iPhone 6, and basically the same as the Note 3.

[iPhone 6 Plus] That aluminum feels quite nice, but it's also a little slippery, especially when you factor in the size of the phone and its rounded sides. The iPhone 6 Plus is the first iPhone that looks and works better in a case -- I've been using Apple's leather sleeve and it makes the phone easier to hold, evens out that camera bump, and hides the weird lines on the back.

[iPhone 6] There's something perfectly polished about the way it feels to use this screen. I've never felt so much like I was truly moving things around under my finger, manipulating icons and pictures by hand. It's organic and natural in a distinctly Apple way.
Walt Mossberg/Lauren Goode (
iPhone 6
,
iPhone 6 Plus
),
Re/code
:
[iPhone 6] And, despite the larger screen, all my apps -- by Apple and third parties -- just worked. None that I tested looked distorted or blurry. Apple says its App Store now offers 1.3 million apps, a new high.

[iPhone 6] In my tests, I found the iPhone 6's Wi-Fi speeds -- both downstream and upstream -- were roughly double those of the 5s, and about 25 percent faster than those of the Samsung Galaxy S5. But I saw little difference in LTE speeds, either on Verizon or AT&T.

[iPhone 6 Plus] Oh, and if, like me, you rarely get a full day out of your current iPhone's battery, this might excite you: In my tests, which involved setting the display brightness to 50 percent and cycling through my regular routine of apps and phone calls, the iPhone 6 Plus would last from early one morning until evening the following day. (Calls sounded great, as well.)
Jim Dalrymple, The Loop:
[iPhone 6] It is tough to reach the far top edge of the screen, but I can do it with a little stretch. It's easier to shimmy my hand up the phone and touch the far edge, if I need to, but to be honest, holding the iPhone in my left hand, there isn't much on the far right side that I ever need to touch.

[iPhone 6 Plus] The 6 Plus was awkward for me to use at first--it was kind of like using a smaller version of the iPad mini, but it was a phone. I had a hard time wrapping my head around the idea of using it on an ongoing basis, but the larger screen eventually won me over.

[iPhone 6 Plus] I still can't imagine walking around with a device as big as the iPhone 6 Plus to my ear, talking on the phone. That would just look silly. I've said it about other devices this size in the past and my opinion on that hasn't changed. Maybe a Bluetooth ear piece would be a nice add-on for the iPhone 6 Plus.
David Pogue, Yahoo:
Inside, Apple has been up to its usual tightening and polishing. There's a new chip inside that Apple says is 25 percent faster. You wouldn't notice it without testing the old and new phones side by side. Apps, for example, pop open about a half-second faster on the new phone.

The Plus model has optical image stabilization -- the lens jiggles in precise motion to counteract the handheld movement of the phone itself -- that works supremely well.


Also on the Plus: When you're typing in landscape mode, there's so much extra space that Apple has thrown in some additional on-screen keys. On the left: buttons for Cut, Copy, Paste, Bold, and Undo. On the right: Punctuation keys and actual cursor keys--a first on the iPhone.
Darrell Etherington (iPhone 6, iPhone 6 Plus), TechCrunch:
[iPhone 6] New also to this generation is the all-metal back casing, which replaces the glass top and bottom panels with thin connecting seams instead. This makes for a more unified look when you turn the phone around, and something that gets closer to the unbroken single plane of the iPad mini and iPad Air's rear shell. The Space Gray version I tested benefits very much from this unbroken look, and the front of the device is no less impressive.

[iPhone 6 Plus] Touch Assist is the feature Apple created to help users deal with much larger devices, regardless of the size of their hands and digits. The iPhone 6 Plus leans on this especially, as it's impossible for anyone not in the NBA to reach their thumb across to the top opposite corner. I find it difficult to even reach across the other side of the screen, let alone the corner, when one-handing the device.

[iPhone 6 Plus] For most tasks, I find the iPhone 6 Plus to be a two-handed device -- but I also find that I'm absolutely fine with that. The 6 Plus is closer in usage style to an iPad mini, in my experience, albeit one that's pocketable and capable of full cellular voice communications.

Other reviews:
Stuart Miles (iPhone 6, iPhone 6 Plus), Pocket-lint
Gareth Beavis (iPhone 6, iPhone 6 Plus), TechRadar
Geoffrey Fowler, The Wall Street Journal
Molly Wood, The New York Times
Edward Baig, USA Today
Joshua Topolsky, Bloomberg
Harry McCracken, Fast Company
Lance Ulanoff (iPhone 6, iPhone 6 Plus), Mashable
Charles Arthur (iPhone 6, iPhone 6 Plus), The Guardian
David Phelan (iPhone 6, iPhone 6 Plus), The Independent
Matt Hill (iPhone 6, iPhone 6 Plus), T3
Jason Snell, Macworld
John Gruber, Daring Fireball
Vincent Nguyen, SlashGear
Apple's iPhone 6 and iPhone 6 Plus will be available to the public beginning on Friday, September 19. Apple is currently accepting pre-orders for the devices in its online store, but shipping estimates for the iPhone 6 are at 7 to 10 days while estimates for the 6 Plus are at 3 to 4 weeks.