Photographer Tests iPhone 6 and 6 Plus in Iceland, Demos Focus Pixels, Other Camera Improvements
With every iteration of the iPhone, Apple aims to bring significant improvements to the device's camera. The iPhone 6 and 6 Plus are no exception, packing in several new features like Focus Pixels, Exposure Control, Panorama improvements, Slo-Mo video enhancements, and Optical Image Stabilization for the iPhone 6 Plus.
Professional photographer Austin Mann partnered with The Verge to test the cameras in both the iPhone 6 and the iPhone 6 Plus in Iceland and came away with some impressive results.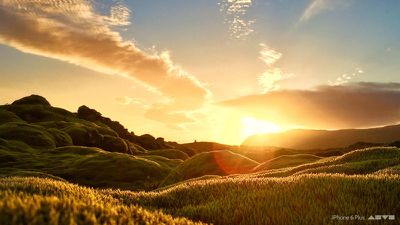 One of the major new features in the new devices is Focus Pixels, which is the result of a new image signal processor. As described by Apple, Focus Pixels provides the sensor with more information about an image, which results in faster autofocusing.
In a video, Mann demonstrated Focus Pixels, showing much faster autofocusing on the iPhone 6 and 6 Plus. As seen in the still below, taken from the video, the iPhone 6 Plus is able to refocus on a scene much more quickly after an object placed in front of the camera causes the lens to refocus.


According to Mann, Focus Pixels keeps objects in focus in photographs, but it really shines when capturing video because it vastly speeds up refocusing. Focus Pixels are also highly useful in low-light situations -- where previous iPhones might have had trouble focusing in low light, the iPhone 6 and 6 Plus work well, even better than some DSLRs.
Combined with optical image stabilization in the iPhone 6 Plus, the results are impressive. A comparison of an image shot with Phone 5s (top) and the iPhone 6 Plus (bottom) in low light is below.


Another improvement made to iOS 8 and thus the iPhone 6 and 6 Plus is Exposure Control, which allows for manual control over exposure and thus more control over the way photos turn out. Two shots, one with exposure control (left) and one with no exposure control (right) are shown off below.


Also new to the iPhone 6/6 Plus and iOS 8 is time-lapse video and improved Slo-Mo video. In iOS 7, Slo-Mo allowed users to capture up to 120 frames per second (fps) at 720p, but in iOS 8, that's been improved to 240fps, allowing for much improved slow motion video capabilities. Both the iPhone 6 and 6 Plus are also capable of shooting 1080p video at up to 60fps.
While Mann doesn't spend too much time focusing on comparisons between the iPhone 5s and the iPhone 6/6 Plus, he does have a few shots that show much improved picture taking capabilities. Mann also doesn't make comparisons between the 6 and the 6 Plus, the latter of which has optical image stabilization, but photos taken with the two devices are equally impressive.
The iPhone 6 and 6 Plus pack in new innovations that make the camera experience better and more fun. What I love most about these innovations is they focus on enabling iPhone users to better capture and share life rather than just beefing up tech specs. The Apple team clearly understands their user base very well and incessantly strives to create devices that solve technical challenges and simplify experiences and they've done that yet again with the iPhone 6 and 6 Plus.

Photographers are really going to enjoy this upgrade... with way better low light, a massive viewfinder and new tools like timelapse that work flawlessly I really couldn't ask for much more out of the iPhone 6 and 6 Plus camera.
Austin Mann's complete overview of the camera in the iPhone 6 and 6 Plus is well worth reading, as it contains a multitude of gorgeous images he was able to capture with the devices.