iPhone 6 and 6 Plus Top Most Benchmarks and Battery Tests, While 6 Plus Lags in Graphics
AnandTech spent the weekend benchmarking the iPhone 6 and 6 Plus, comparing the duo to the iPhone 5s and competing Android handsets. The test results show that iPhone 6 and iPhone 6 Plus models are at the top of the charts in CPU benchmarks and battery life, while the iPhone 6 Plus lags in graphics performance due to the larger screen.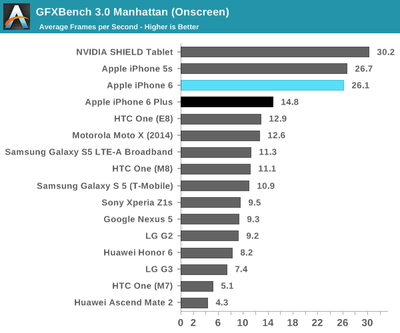 In in GPU benchmarks, we generally see a pretty solid lead over the competition for the iPhone 6/A8. It's seems quite clear that there is a significant impact to GPU performance in the iPhone 6 Plus due to the 2208x1242 resolution that all content is rendered at. It seems that this is necessary though, as the rendering system for iOS cannot easily adapt to arbitrary resolutions and display sizes.
AnandTech also examined battery life, noting that "Apple has managed to do something quite incredible with battery life. " Even with a smaller 1810 mAh battery, the iPhone 6 manages to beat out the iPhone 5s and most other Android phones on the market. Not surprisingly with its 2910 mAH battery, the iPhone 6 Plus grabs second place behind the Huawei Ascend Mate 2.


Apple introduced the iPhone 6 and 6 Plus during its recent September press event and launched the phones on September 19. The two handsets include Apple's new A8 processor, M8 motion co-processor, 8-megapixel iSight camera, faster 802.11a/b/g/n/ac Wi‑Fi and NFC. Demand for the two phones was high with Apple selling 10 million iPhone 6 and 6 Plus units in the first weekend of sales.