iPhone 6 and 6 Plus Use 20-Nanometer A8 Processor From TSMC
Apple's 20-nanometer A8 processor in the new iPhone 6 and 6 Plus was fabricated by Taiwan Semiconductor Manufacturing Company (TSMC), according to Chipworks (via iFixit). Chipworks has been analyzing the various parts in the iPhone 6 and the iPhone 6 plus following its release today.
While the iPhone 5s used a 28-nanometer processor, the iPhone 6 and the 6 Plus have a 20-nanometer processor, as has been widely rumored. According to TSMC, its 20-nanometer process technology can result in speeds that are much higher than its 28-nanometer chips. The 20-nanometer process also results in a physically smaller chip that draws less power.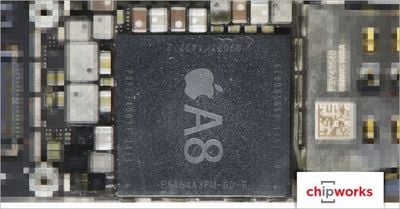 Ahead of the launch of the iPhone 6 and 6 Plus, there were multiple back and forth rumors that made it unclear whether Samsung or TSMC was manufacturing the chips destined for the new iPhones. Previous generation chips, such as the A7 in the iPhone 5s, were manufactured by Samsung, but Apple reportedly entered into a partnership with TSMC in an effort to reduce its reliance on rival Samsung. The shift is also part of a larger effort by Apple to diversify its supply chain, which cuts down on potential manufacturing issues.
Though TSMC created the 20-nanometer chips for the iPhone 6 and the 6 Plus, rumors have suggested that Apple hasn't ended its relationship with Samsung entirely. The company is rumored to be producing the 14-nanometer chips that will be used in future iOS devices next year, indicating that Apple has plans to continue having both TSMC and Samsung create chips for its devices.
According to Apple, the A8 chip in the iPhone 6 and 6 Plus offers a 25 percent faster CPU and 50 percent better graphics performance compared to the A7 in the iPhone 5s.