iPhone 12
Discontinued following the iPhone 15 introduction.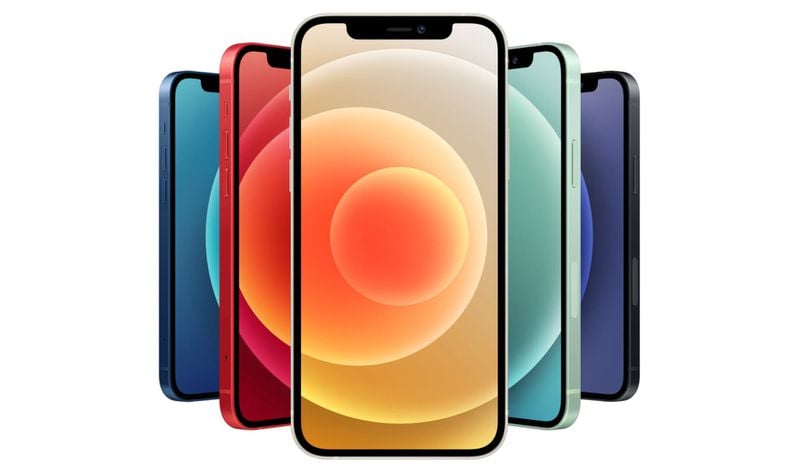 iPhone 12 Discontinued
Apple discontinued the iPhone 12 in September 2023 following the introduction of the iPhone 15 lineup. With the launch of the new iPhones, Apple's older models from the iPhone 14 and iPhone 13 models slid down the pricing tiers and the iPhone 12 was removed from the lineup. While Apple is no longer offering the iPhone 12 for sale, it may still be available from third-party vendors. The roundup below is no longer being updated.
---
Should You Buy the iPhone 12?
First introduced in 2020, the iPhone 12 is nearly three years old. It is only worth considering if you are looking for an affordable iPhone option but are not a fan of the Touch ID feature of the lower-cost iPhone SE.
Priced starting at $599, the iPhone 12 is Apple's cheapest iPhone with Face ID and the all-display notch design. It is two years behind the current flagship iPhone 14 models and has a slower chip than the prior-generation iPhone 13. If you want the latest iPhone, don't go with the iPhone 12, but if you just need something affordable with Face ID, it's a good pick.
The iPhone 12 will likely be discontinued in 2023 with the release of the iPhone 15 models, and the iPhone 13 will drop in price, so it may be worth waiting for that upgrade if you're not in imminent need of a new phone.
iPhone 12
Apple introduced the iPhone 12 on October 13, 2020. It has since been succeeded by the iPhone 13 and iPhone 14 lineups. Apple continues to sell the iPhone 12 at a discounted price, while the 5.4-inch iPhone 12 mini has been discontinued entirely. It may still be available from the refurbished store and from third-party retailers.
The 6.1-inch iPhone 12 was a successor to the iPhone 11 from 2019, while the 5.4-inch iPhone 12 was an all-new size and marked the smallest iPhone Apple had introduced since the 2016 iPhone SE. Aside from screen size and battery size, the two phones are technically identical. With its small size, the iPhone 12 mini is ideal for those who prefer an iPhone that can be used one-handed.
The iPhone 12 and 12 mini feature Super Retina XDR OLED displays, with an edge-to-edge design with the exception of the Face ID notch and small bezels around the edge.
The 5.4-inch iPhone 12 mini has a resolution of 2430 x 1080 with 476 pixels per inch and the 6.1-inch iPhone 12 has a resolution of 2532 x 1170 with 460 pixels per inch. The displays offer HDR support with 1200 nits peak brightness, Wide Color for vivid, true-to-life colors, Haptic Touch for feedback, and True Tone to match the color temperature of the display to the ambient lighting for a more natural viewing experience.
Apple overhauled the design of the iPhone 12 lineup in 2020, introducing flat edges that were a departure from the rounded edges of prior models and are similar in design to the iPad Pro. The front of the iPhone is protected by a Ceramic Shield cover that replaces the standard cover glass of previous models. Apple says the Ceramic Shield is infused with nano-ceramic crystals and offers 4x better drop performance. Apple largely carried over the iPhone 12 design and Ceramic Shield for the iPhone 13, and the two generations look very similar to one another.
As with other recent models, the back of the iPhone 12 is made from glass, with the two halves of the device sandwiching an aerospace-grade aluminum enclosure that comes in six colors: blue, green, black, white, (PRODUCT)RED, and purple, an extra color added in April 2021.. The iPhone 12 models offer IP68 water and dust resistance and can hold up to submersion in 6 meters of water for up to 30 minutes.
The iPhone 12 models were the first to support 5G connectivity for faster downloads and uploads, better quality video streaming, improved gaming, and higher-definition 1080p FaceTime calls. 5G coverage is available worldwide, but only iPhone 12 devices sold in the United States support mmWave 5G, which is the fastest 5G technology available.
iPhone 12 models sold in other countries are limited to the slower but more widely available Sub-6GHz 5G connectivity. In the U.S., 5G speeds can be as high as 4Gbps, even in highly populated areas.
Gigabit LTE is supported when 5G isn't available, and to preserve battery life when using 5G, a Smart Data Mode reverts to an LTE connection when 5G speeds aren't necessary.
The iPhone 12 and 12 mini support WiFi 6 and Bluetooth 5.0, plus they include a U1 Ultra Wideband chip for spatial awareness and interactivity with other devices that include the U1 feature such as the HomePod mini.
There's an A14 chip inside the iPhone 12 models, and it was the first chip in the smartphone industry built on a 5-nanometer process for performance and efficiency improvements. Apple said at launch that the 6-core CPU and 4-core GPU in the A14 were 50 percent faster than the fastest competing smartphone chips, although the A15 chip in the latest iPhone 13 models has pushed things even further. The A14 chip also includes a 16-core Neural Engine that offers an 80 percent increase in performance for machine learning tasks compared to the previous A13 chip.
Unlike the iPhone 13 family which offers both regular and Pro models, the iPhone 12 and 12 mini are no longer have a corresponding set of Pro models, with those having been discontinued in September 2021 with the launch of the iPhone 13 lineup. The regular iPhone 12 and iPhone 13 models are similar to the Pro models in most respects, but the camera is a major differentiating factor. While the Pro models include a triple-lens camera setup with a LiDAR Scanner and other bells and whistles, the iPhone 12 and 12 mini have a simpler and less advanced dual-lens camera setup.
That said, there are still significant camera improvements in the new iPhone 12 models compared to the iPhone 11. There's an ƒ/2.4 Ultra Wide camera and a Wide camera that has an ƒ/1.6 aperture that lets in 27 percent more light for better performance in low-light conditions along with 2x optical zoom and 5x digital zoom.
The A14 chip powers computational photography features with better than ever Deep Fusion for improved photos with more texture and less noise, and improved Night mode with better contrast in images. There's a Smart HDR 3 feature that adjusts the white balance, contrast, texture, and saturation in photos for more natural-looking images.
The iPhone 12 models can capture 30fps HDR video with Dolby Vision, enabling cinema-grade videos to be captured, edited, and shared right on the iPhone. It also supports 4K video recording at up to 60fps. There's improved cinematic video stabilization and a Night mode Time-Lapse feature, along with Dolby Vision selfie videos using the TrueDepth camera.

Speaking of the TrueDepth camera, it continues to enable the Face ID facial recognition biometric authentication feature in the iPhone, and it offers a 12-megapixel selfie camera. The selfie camera supports Smart HDR 3, Deep Fusion, Night mode, and Night mode Portrait shots.
When it comes to battery life, the iPhone 12 offers up to 17 hours of video playback, 11 hours of streaming video playback, or 65 hours of audio playback. The iPhone 12 mini offers up to 15 hours of video playback, 10 hours of streaming video playback, or 50 hours of audio playback. The iPhone 13 lineup offers even better battery life thanks to efficiency improvements and slightly larger batteries, but the iPhone 12 battery life is still solid.
Both of the iPhone 12 models offer fast charging, which provides a 50 percent charge in 30 minutes using a 20W power adapter.

Alongside the iPhone 12 models, Apple introduced MagSafe accessories designed to work with a ring of magnets built into the back of the iPhones. There's a MagSafe charger, MagSafe iPhone cases, sleeves, and wallet accessories. MagSafe supports 15W wireless charging, an upgrade over the 7.5W charging available through standard Qi-based wireless chargers. The iPhone 12 models can also be charged using the Lightning port, which is unchanged.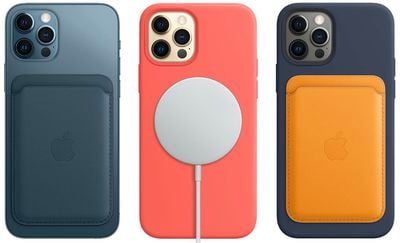 Apple eliminated the power adapter and EarPods from the iPhone 12 box, and these accessories must be purchased separately. All iPhone models now ship with a USB-C to Lightning cable by default, with Apple doing away with the USB-A version.
Note: See an error in this roundup or want to offer feedback? Send us an email here.
iPhone 12 Price and Availability
The iPhone 12 is priced starting at $599 for 64GB of storage. It is Apple's second most affordable iPhone after the $429 iPhone SE and it is priced the same as the iPhone 13 mini.
The iPhones can be purchased from the online Apple Store, Apple retail locations, and third-party retailers like Best Buy, Target, and Walmart.
iPhone 12 Reviews
6.1-inch iPhone 12
Reviews of the iPhone 12 were positive, with reviewers praising the refreshed design that's similar to the iPad Pro and the display, which is OLED and a major improvement over the LCD display in the iPhone 11.
Engadget called the display an "enormous" leap forward in quality with a higher resolution and colors that "pop more dramatically."
TechCrunch said that the squared-off edges of the iPhone 12 make it easier to grip and pick up from a flat surface, and it's comfortable to hold. Reviewers liked the bright colors, but several, including The Verge, mentioned that the glossy rear glass is susceptible to fingerprints and microabrasions.
Most reviewers found the camera improvements to be incremental compared to the iPhone 11, with Engadget claiming that photos don't really look much different from photos taken with the 11 Pro. TechCrunch said there are "signs of improvement" with the biggest change being the f/1.6 aperture for the Wide camera that lets more light in.
The Ultra Wide camera was also described as sharper and crisper with perspective correction to sort out any line distortion, plus there are improvements to Portrait Mode for things like sussing out fine detail.
Reviewers liked the MagSafe integration, which most found to be faster and less frustrating than dealing with a Qi-based charger, and the connection is strong enough that you can use the iPhone while it's charging.
When it comes to 5G connectivity, reviewers weren't too impressed because 5G connectivity is still limited in many places in the United States and other countries. Wired said that 5G isn't widespread enough for most people to "experience the benefit of faster wireless speeds," while TechCrunch pointed out that the fastest mmWave networks are only available on a few blocks in a handful of major cities.
5.4-inch iPhone 12 mini
Reviewers also loved the smaller iPhone 12 mini for its form factor that makes it easy to hold in one hand, but battery life has been a disappointment.
At 5.4 inches, the iPhone 12 mini is the smallest of the iPhone models and thus it has the smallest battery of the bunch. Most reviewers found that it didn't quite make it through a full day and evening without needing to be charged, an issue Apple addressed with the iPhone 13 mini in 2021.
Despite the smaller size of the display, iPhone 12 mini users won't be missing out on much - one or two lines of text that are cut off compared to the iPhone 12. Using the mini has been described as "far superior" to smaller iPhones like the original iPhone SE and the 2020 iPhone SE 2 because there's more available display space.
For more reviews on the iPhone 12, make sure to check out our iPhone 12 review guide and our iPhone 12 mini review guide, both of which are useful for those who are still deciding whether or not to purchase one of the iPhones. Make sure to also check out our first impressions coverage with thoughts on the devices from MacRumors readers.
Issues
Some iPhone 12 models have suffered from an issue that causes the color of the aluminum body to fade. This appears to primarily affect PRODUCT(RED) versions of the device, but other colors could be impacted as well.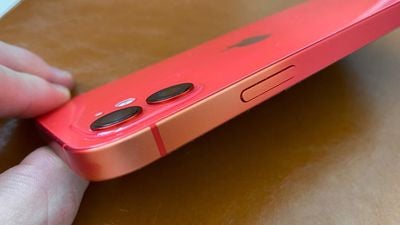 Some iPhone 12 customers have also experienced an issue with the device's display, which exhibits flickering, a green or gray glow, or other unintended lighting variations. Apple is telling repair shops to advise customers to wait for a software update, which suggests that a software fix is coming. It is not clear if the issue has been fully fixed, although Apple has mentioned some fixes in its software update release notes.

In August 2021, Apple launched a new service program for iPhone 12 and iPhone 12 Pro models to address an issue that can cause some devices to experience sound issues. According to Apple, a "very small percentage" of iPhone 12 and 12 Pro models may experience sound problems because of a component that can fail on the receiver module. Affected devices were manufactured between October 2020 and April 2021.
iPhone 12 and iPhone 12 Pro owners who have a device that does not emit sound from the receiver when making or receiving phone calls may be eligible for free service with an appointment at an Apple retail location, an Apple Authorized Service Provider, or via a mail-in repair. iPhone 12 mini and iPhone 12 Pro Max models are not affected.
Design
Apple introduced a new flat-edged design for the iPhone 12 and 12 mini in 2020, which was a departure from the rounded edges that had been used since the iPhone 6. The iPhone 12 models look similar to the iPad Pro models, and the flat edges also harken back to the iPhone 4 and 5.

The all-glass front and glass back panel are held together with an aluminum frame, which features a matte design and is slightly different in appearance from the stainless steel band used for the Pro models.
At the front of the iPhone 12 models, there's a notch at the front to house the TrueDepth Camera, speaker, and microphone, and there's a slim bezel all around the edges of the iPhone 12.

There are antenna bands at the top and sides of the phone, along with the standard power button on the right and volume buttons on the left. Underneath the power button, there's a 5G mmWave antenna, but this is a feature limited to the U.S. models that have mmWave support. iPhones in other countries do not have this antenna. iPhones purchased in European countries have regulatory information etched into the side.

The SIM slot that was on the right in previous models was moved to the left side of the phone, and there are speaker holes and built-in microphones at the bottom of the iPhone 12 models. There's also a Lightning port that can be used for charging.
At the back of the iPhone, there's a square-shaped camera bump that with a dual-lens camera and flash. Below that, there's an Apple logo that matches the color of the device.
With the exception of size (and battery life) there are no differences between the iPhone 12 and the iPhone 12 mini. The phones are identical in functionality with the same feature set and design.
Sizes
The iPhone 12 is available in a 6.1-inch size that's similar to the 6.1-inch size of the iPhone 11, while the iPhone 12 mini features a 5.4-inch display. The iPhone 13 and 13 mini come in the exact same sizes, while Apple did away with the mini size when the iPhone 14 lineup launched.
Compared to the iPhone 11, the 6.1-inch iPhone 12 is 11 percent thinner, 15 percent smaller, and 16 percent lighter, while the 5.4-inch iPhone 12 mini has no comparison to the previous generation because it was the smallest, lightest iPhone Apple had introduced since the 2016 iPhone SE.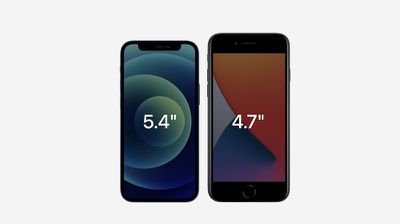 iPhone 12 mini (left) is physically smaller than other recent "small" iPhones such as the second-generation iPhone SE and iPhone 8, despite its larger screen
The iPhone 12 mini is 5.18 inches tall (131.5mm), 2.53 inches wide (64.2mm) and 0.29 thick (7.4mm).

The iPhone 12 is 5.78 inches tall (146.7mm), 2.82 inches wide (71.5mm), and 0.29 inches thick (7.4mm).
Despite enthusiasm for a smaller phone, the iPhone 12 mini has not been selling well and has not been as popular with consumers as other iPhone 12 size options. While the mini size continued to be offered in the iPhone 13 lineup, rumors suggest Apple will be doing away with it for the iPhone 14 lineup in 2022.
Color Options
The iPhone 12 and 12 mini come in white, black, blue, green, (PRODUCT)RED, and purple. The black and white colors are similar to the iPhone 11 colors, but the other colors were new.

Apple in April 2021 introduced a new purple color option for the iPhone 12 and the iPhone 12 mini, which joined the other available colors. Apple previously offered a lavender version of the iPhone 11, but the iPhone 12 purple color is a bit of a darker purple.
All six iPhone 12 colors continue to be available following the launch of the iPhone 13.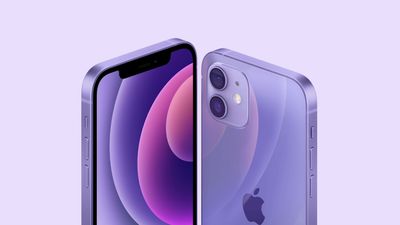 Water Resistance
The iPhone 12 and 12 mini have a water resistance rating of IP68 and are able to withstand a depth of up to six meters (19.7 feet) for up to 30 minutes.

The iPhone 11 had the same IP68 water resistance rating but Apple said it could withstand water up to four meters deep for 30 minutes, so despite the similar water resistance rating, the iPhone 12 models can hold up better to deeper submersion. The iPhone 13 models retain the same level of water resistance as the iPhone 12 models.
In the IP68 number, the 6 refers to dust resistance (and means the iPhone 12 can hold up to dirt, dust, and other particulates), while the 8 pertains to water resistance. IP6x is the highest dust resistance rating that exists.
The iPhone 12 models can withstand rain, splashes, and accidental spills, but intentional water exposure should be avoided because water and dust resistance can degrade over time with standard device usage.
Apple's iPhone warranty does not cover liquid damage, and while AppleCare+ does, it requires a deductible to be paid for the damage to be fixed.
Display
For the first time in 2020, Apple introduced OLED displays across the iPhone lineup, and all of the iPhone 12 models feature a Super Retina XDR display.
There's a 2,000,000:1 contrast ratio for blacker blacks and brighter whites, and up to 1200 nits peak brightness for HDR photos, videos, TV shows, and movies. Typical max brightness is 625 nits on the iPhone 12 models.

The iPhone 12 features a 2532 x 1170 resolution at 460 pixels per inch, while the smaller iPhone 12 mini has a 2340 x 1080 resolution at 476 pixels per inch.

With wide color support, the displays offer rich, true to life colors, and a True Tone feature matches the white balance of the display to the ambient lighting around you for a paper-like viewing experience that's easier on the eyes.
There's a fingerprint-resistant oleophobic coating to keep the display free from grime, and support for Haptic Touch provides haptic feedback when interacting with the display for actions like long presses. The Taptic Engine that powers Haptic Touch was a bit smaller than in the iPhone 11.
Ceramic Shield
Rather than standard cover glass, the iPhone 12 and 12 mini are protected by a "Ceramic Shield" material that offers four times better drop protection. The Ceramic Shield display cover is made by infusing nano-ceramic crystals into glass to improve durability.
The ceramic crystals were manipulated to optimize for clarity while maintaining toughness, with the display created in partnership with Corning. According to Apple, Ceramic Shield is tougher than any smartphone glass, with a dual-ion exchange production process ensuring protection against scratches and everyday wear and tear.
Early tests confirmed that Apple's estimates appear to be accurate, and the iPhone 12's Ceramic Shield is more durable than the glass protecting the iPhone 11, better resisting force tests and drops. In a drop test, the iPhone 12 and 12 Pro displayed more durability than previous iPhone models, outperforming the iPhone 11 and 11 Pro in drop tests, but it's still vulnerable to breaking.
Though more resistant to breakage when dropped, the Ceramic Shield does not appear to be able to better hold up to scratching, and in a Mohs hardness test, the iPhone 12's display scratched at a level 6 with deeper grooves caused at level 7. Apple has not said that the new iPhones offer better scratch protection.
A14 Bionic Chip
The A14 Bionic chip used across the iPhone 12 lineup was the first A-series chip built on a smaller 5-nanometer process, which brings speed and efficiency improvements. The A14 features 40 percent more transistors (11.8 billion) than the A13, for better battery life and faster performance.

According to Apple, the 6-core CPU and 4-core GPU in the A14 Bionic chip was 50 percent faster than any other top smartphone chip on the market in 2020.
Early Geekbench benchmark results suggested the A14 chip in the iPhone 12 is more than 20 percent faster than the A13 chip in the iPhone 11.
Neural Engine
There's a 16-core Neural Engine that's 80 percent faster than the prior-generation Neural Engine, and the machine learning accelerators are up to 70 percent faster. The Neural Engine can complete 11 trillion operations per second, so tasks like applying Deep Fusion improvements to photos are faster than ever.
Other improvements include a new image signal processor for Dolby Vision recording support, Smart HDR 3 for more true-to-life color shifts in photos, and advanced temporal noise reduction that cuts down on noise in videos.
RAM
The iPhone 12 and iPhone 12 mini are equipped with 4GB RAM.
TrueDepth Camera and Face ID
For biometric authentication, the iPhone 12 and 12 mini use Face ID, the facial recognition system that was first introduced in 2017. Face ID components are housed in the TrueDepth camera system in the display notch.
Face ID is used across iOS tasks for unlocking the iPhone, allowing access to third-party passcode-protected apps, confirming app purchases, and authenticating Apple Pay payments.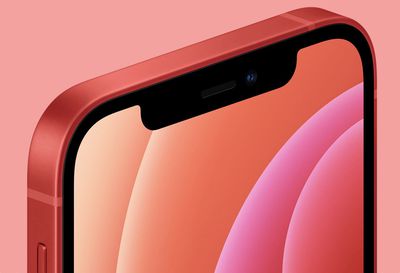 Face ID works through a set of sensors and cameras. A Dot Projector projects more than 30,000 invisible infrared dots onto the surface of the skin to create a 3D facial scan that maps the curves and planes of each face, with the scan read by an infrared camera.
The facial depth map is relayed to the A14 chip where it is transformed into a mathematical model that the iPhone uses to authenticate identity. Face ID works in low light and in the dark, and with hats, beards, glasses, sunglasses, scarves, and other accessories that partially obscure the face.
Face ID data is stored in the Secure Enclave, and it is not accessible to Apple, third-party apps, or anyone who has your phone. Authentication happens on-device and no Face ID data is uploaded to Apple.
Using Face ID With a Mask
When wearing a face mask, users can enable an "Unlock with Apple Watch" feature for convenience. Unlock with Apple Watch allows iPhone users to take advantage of an unlocked and authenticated Apple Watch as an alternative authentication measure to unlock their device when wearing a mask. It can't be used to authenticate Apple Pay or App Store purchases, and it can't unlock apps that require a Face ID scan.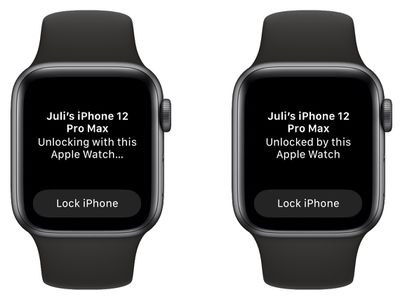 In iOS 15.4, Apple added the ability for Face ID to work with face masks, with no need for an Apple Watch for authentication. Apple says that the feature can "recognize the unique features around the eye" for authentication purposes. If you opt to use this feature during setup, you will need to rescan your face for Face ID. From there, Face ID will be able to unlock your iPhone even when you're wearing a mask.
Apple warns in the Settings app that Face ID is "most accurate" when it's set up for full-face recognition only. For Face ID with a mask to work, you must be looking at your device to get it to unlock, and it does not work when wearing sunglasses. Face ID with a mask can authenticate Apple Pay payments and it can be used in lieu of a login and password in apps that support Face ID, unlike the prior Apple Watch Face ID feature.
The new feature is only available with the iPhone 12 or newer. iOS 15.4 has not yet been widely released to the public and is currently in beta testing.
Camera Features
In addition to powering facial recognition, the 12-megapixel f/2.2 camera in the TrueDepth camera system is also a front-facing selfie/FaceTime camera with many of the same features that are available for the rear-facing camera.

The A14 chip in the iPhone 12 models brought new photographic features to the front-facing TrueDepth camera. Night mode worked with the front-facing camera for the first time, enabling nighttime selfies.
Deep Fusion, Smart HDR 3, and Dolby Vision HDR video recording are also supported. Deep Fusion introduces improvements in color and texture in mid to low-light scenes by pulling out the best pixels from multiple exposures to make one great aggregate image.
Smart HDR 3 improves highlights, shadows, white balance, and contouring in every image for more natural lighting, and Dolby Vision HDR support allows for recording and editing Dolby Vision video.
4K video recording at up to 60 frames per second is supported, as is 1080p slo-mo video at 120 frames per second for taking "slofie" videos. Other front-facing camera features include support for Memoji and Animoji, time-lapse video, Night mode time-lapse, QuickTake video, and lens correction for removing any photo distortion.
Dual-Lens Rear Camera
There's a dual-lens camera available in the iPhone 12 and 12 mini, with camera technology being the major differentiating factor between the standard models and corresponding Pro models.
There's a 12-megapixel Ultra Wide camera with an ƒ/2.4 aperture, a 120 degree field of view, and a 13mm focal length, which is ideal for landscape shots and unique, artistic shots with a super wide-angle field of view. Apple also added a lens correction feature that sorts out any distortion caused by the super wide angle.

The Ultra Wide camera is accompanied by a standard 12-megapixel Wide camera with a 26mm focal length and an ƒ/1.6 aperture that lets in 27 percent more light than the ƒ/1.8 aperture in the iPhone 11 camera. The 7-element lens is also an upgrade over the lens that was in the camera on the iPhone 11.
With no telephoto lens as found on Pro models, the iPhone 12 models support 5x digital zoom and 2x optical zoom out (with the Ultra Wide lens) but no optical zoom in.

Optical Image Stabilization is supported to cut down on camera shake when you're snapping a photo, and camera features available in prior models like Portrait mode with Depth Control, Portrait Lighting for adjusting lighting effects, panorama, and burst mode.
New Camera Features
The A14 chip in the iPhone 12 and 12 mini includes a faster and more powerful Image Signal Processor that enabled new camera functionality for 2020.

Night Mode for Ultra Wide - Night mode in the new iPhone 12 models works with both the Wide and Ultra Wide lenses so you can get nighttime wide-angle shots.
Deep Fusion - Deep Fusion works with the Ultra Wide and Wide lenses to bring improvements to color and texture in mid to low-light scenes. With Deep Fusion, multiple exposures are analyzed on a pixel level to bring out detail in all objects in the image.
Smart HDR 3 - Refines highlights, shadows, white balance, and contours for the most natural color and lighting in any scene. Smart HDR comes into play when there are differences in lighting, such as when photographing a scene with a lot of sky.
HDR 3 Scene Recognition - Scene Recognition lets the camera recognize everyday scenes and adjust different parts of the photo accordingly for more true-to-life images. The iPhone can distinguish buildings and sky, snowy mountains and clouds, food on a plate, and more, optimizing the scene to make it look as close to real life as possible.
Faster processing - The iPhone 12 models have faster image processing thanks to the A14 chip.
Video Recording
There were also new video features in the iPhone 12 powered by the A14, such as Dolby Vision recording at up to 30 frames per second. Dolby Vision grading is done frame by frame as you film, and the captured video can be edited right on the iPhone using Photos or iMovie.

Standard 4K video recording at up to 60 frames per second is supported, as is 1080p and 720p recording. There's Slo-mo video support for 1080p at 120fps or 240fps, along with a new Night mode time-lapse video for taking nighttime video when a tripod is available.
Other video features include standard time-lapse, extended dynamic range, continuous autofocus, QuickTake video support for capturing videos even when you're not in video mode, and optical image stabilization.
Battery Life
Certifications and teardowns confirmed that the iPhone 12 mini has a 2,227mAh battery, while the iPhone 12 has a 2,815mAh battery.
The iPhone 12 battery offers up to 17 hours of video playback, up to 11 hours of streaming video playback, and up to 65 hours of audio playback.
Because the iPhone 12 mini is smaller, it has a shorter battery life. It lasts for up to 15 hours with standard video playback, up to 10 hours with streaming video playback, and up to 50 hours with audio playback.
The iPhone 12 and iPhone 12 mini support fast charging and can charge to 50 percent within 30 minutes using a Lightning to USB-C cable and a 20W power adapter.
5G Connectivity
Apple's iPhone 12 models were the first iPhones to support 5G networks, and are compatible with both mmWave and Sub-6GHz 5G, which are the two types of 5G.

mmWave 5G networks offer the fastest 5G speeds and are the speeds you most often see advertised when people talk about 5G connectivity. Unfortunately, mmWave is short-range and the connection can be interrupted by buildings, trees, and other obstacles, so its use is limited to major cities and urban areas along with venues like concerts, airports, and other places where people congregate.
Sub-6GHz 5G is much more widespread and available in urban, suburban, and rural areas across the United States and other countries. For the most part, when you use a 5G network, you'll be using Sub-6GHz 5G. It's generally faster than LTE and will get faster as 5G technology evolves, but it's not the super fast 5G you might be expecting. All carriers in the U.S. are offering both mmWave and Sub-6GHz 5G networks, though availability varies.
The iPhone 12 and 12 mini support both mmWave and Sub-6GHz networks in the United States, but mmWave connectivity is not available in other countries. iPhone 12 models purchased outside of the United States do not have the mmWave antenna on the side and are not able to connect to mmWave networks.
The iPhone 12 models use Qualcomm's X55 modem, but Apple created custom antennas and radio components to enhance connectivity, and through software optimization, Apple claims apps can benefit from 5G without using additional power or impacting battery life.
5G Benefits
5G allows for faster download and upload speeds, which speeds up everything from loading websites to downloading TV shows and movies.
It also increases bandwidth for streaming services so you can watch in a higher resolution, and it brings improved FaceTime call quality. Over 5G or WiFi, FaceTime calls work in 1080p. In areas where LTE speeds are slow because of the sheer number of people, 5G frees up bandwidth and reduces congestion for faster usage speeds.
5G Battery Drain
Battery tests suggest the iPhone 12 and 12 Pro see much faster battery drain when connected to 5G networks compared to when connected to LTE networks.
In a test using the same parameters, the iPhone 12 lasted for eight hours and 25 minutes, while the iPhone 12 Pro lasted for nine hours and six minutes when connected to 5G.
When connected to LTE, the iPhone 12 lasted for 10 hours and 23 minutes, while the iPhone 12 Pro lasted for 11 hours and 24 minutes.
5G Bands
iPhone 12 models in the United States support up to 20 5G bands.
Sub-6GHz: 5G NR (Bands n1, n2, n3, n5, n7, n8, n12, n20, n25, n28, n38, n40, n41, n66, n71, n77, n78, n79)

mmWave: 5G NR mmWave (Bands n260, n261)
LTE Bands
Along with 5G, the iPhone 12 models also support Gigabit LTE, so you can still connect to LTE networks when 5G networks aren't available. The following bands are supported:
FDD-LTE (Bands 1, 2, 3, 4, 5, 7, 8, 12, 13, 14, 17, 18, 19, 20, 25, 26, 28, 29, 30, 32, 66, 71)

TD-LTE (Bands 34, 38, 39, 40, 41, 42, 46, 48)
Data Saver Mode
Data Saver Mode is a feature that swaps the iPhone's connection over to LTE when 5G speeds aren't needed in order to preserve battery life.
As an example, when the iPhone is updating in the background, it uses LTE because super fast speeds aren't necessary, but in instances where speed does matter, such as downloading a show, the iPhone 12 models swap over to 5G. There is also a setting to use 5G whenever it's available rather than using the automatic Data Saver Mode.
Dual SIM Support
Dual SIM support allows two phone numbers to be used at one time, enabled through the inclusion of a physical nano-SIM slot and an eSIM. eSIM functionality is available in many countries around the world, and Apple has a list of carriers that support eSIM on its website.
When using Dual SIM mode on the iPhone 12 models, 5G connectivity was not available at launch with speeds limited to LTE, but that changed with an iOS update. Apple enabled Dual SIM 5G support through the iOS 14.5 software update that was released in the spring of 2021.
5GHz Personal Hotspot
When using Personal Hotspot on the iPhone 12 models, devices are able to tether over faster 5GHz WiFi compared to the 2.4GHz limit on prior iPhones. The 5GHz option is enabled by default and has the potential to bring speed improvements to devices able to connect to 5GHz networks.
There is an option to disable the 5GHz connection to allow 2.4GHz devices to connect.
WiFi, Bluetooth, and U1 Chip
The iPhone 12 models include the same Apple-designed U1 chip that was first introduced in the iPhone 11 lineup. The U1 chip enables Ultra Wideband technology for improved spatial awareness, allowing the iPhone 12 models to precisely locate other U1-equipped Apple devices.
Apple has likened Ultra Wideband to "GPS at the scale of the living room," because the technology is designed for improved indoor positioning and location tracking.
The U1 chip allows the iPhone 12 and 12 mini to precisely locate nearby AirTags. It's also used for directional AirDrop and interaction with the HomePod mini, which also has a U1 chip.
As for Bluetooth and WiFi, the iPhone 12 models support Bluetooth 5.0 and WiFi 6, the newest and fastest WiFi protocol.
Other Features
Speaker
The iPhone 12 models have a spatial audio feature that's designed to simulate surround sound for a more immersive audio experience. Dolby Atmos sound is also supported.
Sensors
The iPhone 12 models are equipped with a barometer, three-axis gyroscope, accelerometer, proximity sensor, and an ambient light sensor.
GPS and NFC
Support for GPS, GLONASS, Galileo, QZSS, and BeiDou (new in 2020) location services is included in the iPhone 12 and 12 mini.
NFC with reader mode is included, and there's a background tag feature that allows the iPhone models to scan NFC tags without the need to open an app first.
Storage Space
The iPhone 12 and 12 mini start with 64GB of storage, with 128GB and 256GB available as upgrade options.
MagSafe
The iPhone 12 models have a built-in magnetic ring that is designed to work with a MagSafe charger and other magnetic accessories.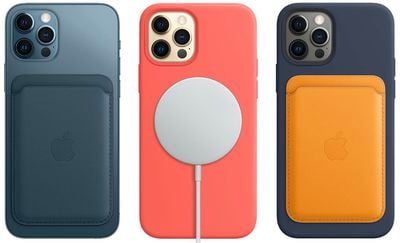 The MagSafe charger snaps right onto the back of the iPhone 12 and charges at up to 15W (12W for iPhone 12 mini), up from the maximum 7.5W wireless charging available with Qi-based chargers. The charger is compatible with older iPhones, but is primarily designed to work with the new iPhone models.
Other magnetic accessories are compatible with the magnetic ring, including cases, snap-on wallets, and more, with third-party companies also able to make accessories for the iPhone 12 lineup. For more on MagSafe, make sure to check out our MagSafe guide.
MagSafe Charging
Testing suggests the MagSafe charger charges more than two times slower than a wired 20W USB-C charger. With the 20W charger, a dead iPhone was able to charge to 50 percent in 28 minutes, and the same 50 percent charge took an hour over MagSafe.
Battery testing comparing the iPhone 12 and 12 mini models with the iPhone 11 Pro, Pro Max, and iPhone 11, saw the 2019 Pro Max and Pro outperform thee 2020 iPhones. Rankings were as follows:
iPhone 11 Pro Max: 8 hours and 29 minutes
iPhone 11 Pro: 7 hours and 36 minutes
iPhone 12: 6 hours and 41 minutes
iPhone 12 Pro: 6 hours and 35 minutes
iPhone 11: 5 hours and 8 minutes
iPhone XR: 4 hours and 31 minutes
iPhone SE (2020): 3 hours and 59 minutes
Apple warns that MagSafe Chargers can leave a circular imprint on its leather cases, and a similar effect has been seen on silicone cases. Apple also says that credit cards, security badges, passports, and keyfobs should not be placed between the iPhone and MagSafe charger.
Like all iPhones, the iPhone 12 models with their MagSafe technology can cause interference with medical devices like pacemakers and defibrillators. Apple recommends keeping iPhone 12 models and all MagSafe accessories a safe distance away from implanted medical devices.
A safe distance is considered more than 6 inches / 15 cm apart or more than 12 inches / 30 cm apart if wirelessly charging. Though there are more magnets in the iPhone 12 models, Apple says that they are "not expected to pose a greater risk of magnetic interference to medical devices than prior iPhone models," and the U.S. FDA has said that the risk of MagSafe interference with pacemakers is low.
MagSafe Battery Pack
In July of 2021, Apple launched the MagSafe Battery Pack for $99, designed to work with the iPhone 12 mini, iPhone 12, iPhone 12 Pro, and iPhone 12 Pro Max, and is also compatible with the full iPhone 13 lineup. The MagSafe Battery Pack is available in white only and attaches magnetically to the back of one of the iPhone models, with the magnets keeping it aligned to your iPhone.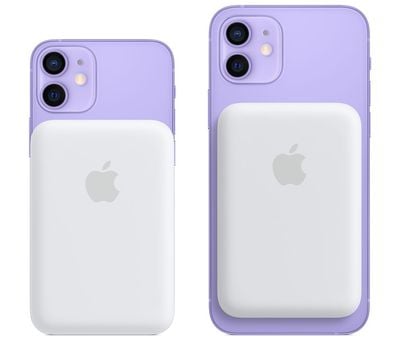 The accessory has an 11.13Wh battery, which offers a partial charge for the iPhone. For comparison, the iPhone 12 as a 10.78Wh battery, but Qi charging is inefficient, resulting in power loss. While on the go, the MagSafe Battery Pack can charge an iPhone at 5W, but plugged in, it can be charged at up to 15W.
The MagSafe Battery Pack and the iPhone can be charged at the same time. Apple says that a Lightning cable can be plugged into the MagSafe Battery Pack for up to 15W of wireless charging, and with a 20W charger, the MagSafe Battery Pack and the iPhone will charge even faster. Apple recommends a 20W or higher USB-C Power Adapter and USB-C to Lightning Cable for charging the MagSafe Battery Pack.

The MagSafe Battery Pack can also be charged through the iPhone if the iPhone is plugged into a power source. Apple suggests users might want to charge this way if the iPhone needs to connect to another device while charging, such as wired CarPlay or transferring photos to a Mac.
For more about Apple's MagSafe Battery Pack, see our dedicated guide.
No Power Adapter
The iPhone 12 and 12 mini do not come with a power adapter or EarPods in the box, as Apple eliminated them to lower its environmental impact. The iPhones ship in a smaller, slimmer box and come with just a standard USB-C to Lightning cable.