iPhone 12
Rumors about Apple's upcoming 2020 iPhones, which could be called the iPhone 12, iPhone 12 Pro, and iPhone 12 Pro Max.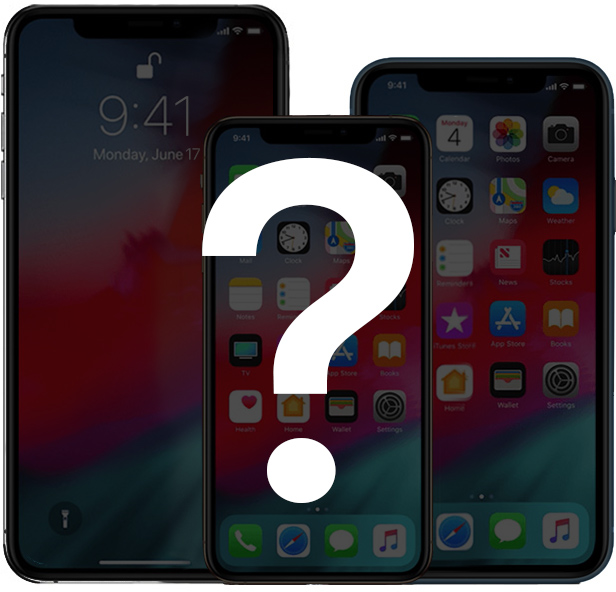 At a Glance
Apple in September 2020 will unveil new iPhones, and this roundup features all of the rumors that we've heard about the upcoming devices so far.
Features
5.4", 6.7", and 6.1" sizes
Triple-lens 3D camera with laser
All OLED displays
5G connectivity
Revamped design
A14 chip
Apple's 2020 iPhone Lineup
We're many months away from the launch of the 2020 iPhones, which are expected in September 2020, but there are already multiple rumors about the upcoming devices.
We're expecting the 2020 iPhones to be called the iPhone 12, iPhone 12 Pro, and iPhone 12 Pro Max if Apple follows the same naming scheme it used for the 2019 iPhone lineup.
The 2020 iPhones will feature major updates, introducing some of the first design changes that we've seen since the iPhone X was released in 2017. We're expecting three display sizes which could come in at 5.4, 6.7, and 6.1 inches.
Rumors suggest the 5.4 and 6.7-inch iPhones will be the higher-end OLED devices, with Apple continuing to offer a lower-end 6.1-inch, but for 2020, the low-end device is also said to have an OLED display.
At a rumored 5.4 inches, the 2020 iPhone 12 Pro would be the smallest iPhone Apple has released since the 4.7-inch iPhone 8. At 6.7 inches, the 2020 iPhone 12 Pro Max will be Apple's largest iPhone to date.
Design wise, rumors suggest at least one of the new iPhones will feature a significant redesign with a metal frame that's similar to the frame of the iPhone 4. The iPhone 4 had a distinctive, flat look for its aluminum frame, which could be replicated in the new iPhones.
There could be a new TrueDepth camera system that cuts down on the size of the notch on the front, and there are rumors of a 3D triple-lens rear camera system that uses a laser to calculate depth information for objects in the room, improving both photography and AR capabilities.
2020 will be the first year that Apple introduces 5G support in the iPhone, allowing the new devices to connect to 5G networks that are much faster than 4G LTE networks.
Prospective Name
Apple's iPhone naming plans have been confusing ever since the iPhone 8 debuted alongside the iPhone X in 2017, skipping the iPhone 9 entirely. Apple continued on with the confusing naming scheme in 2018 with the iPhone XS, XS Max, and XR, but things became clearer in 2019 with the iPhone 11, iPhone 11 Pro, and 11 Pro Max.
Apple previously did a numerical increase and then an "S" year, but because the changes expected in 2020 are so significant, it's unlikely that we're going to get an iPhone 11S or similar, and much more likely that we're going to see an iPhone 12.
If the lower-end followup to the iPhone 11 is named the iPhone 12 (which is what we'll be calling it), then we can expect the two higher-end devices that are coming in 2020 to be the iPhone 12 Pro and the iPhone 12 Pro Max. Below are the names that Apple has used since the iPhone first launched in 2007:
2007 - iPhone

2008 - iPhone 3G

2009 - iPhone 3GS

2010 - iPhone 4 (new design)

2011 - iPhone 4s

2012 - iPhone 5 (new design)

2013 - iPhone 5s and iPhone 5c

2014 - iPhone 6 and iPhone 6 Plus (new design)

2015 - iPhone 6s and iPhone 6s Plus

2016 - iPhone 7 and iPhone 7 Plus

2017 - iPhone 8, iPhone 8 Plus, and iPhone X (new design)

2018 - iPhone XR, iPhone XS, and iPhone XS Max

2019 - iPhone 11, iPhone 11 Pro, and iPhone 11 Pro Max
Of course, until the new devices are released, there's no confirmation that these new devices are set to be called the iPhone 12, 12 Pro, and 12 Pro Max, but it's the guess that makes the most sense at this time.
Design
The 2020 iPhones will feature an overhauled design with a metal frame that's similar to the frame of the iPhone 4.
Apple analyst Ming-Chi Kuo says that the new iPhones will use a more complex segmentation design, and new trenching and injection molding procedures.

The overall design, though, will resemble the iPhone 4 with its squared-edged aluminum frame between two pieces of glass. The new iPhone will feature a stainless steel frame, which will replace the current rounded stainless steel frame, and it will continue to use front and back glass for the body of the device.

The grooving and injection molding of the metal in the frame is said to reduce the negative impact of metal shielding on the high-frequency transmission efficiency of the internal antenna. Kuo believes Apple will use sapphire or tempered glass to protect the grooves in the frame.
Size Options
Rumors suggest Apple will continue to offer the new iPhones in three different sizes, but the sizes are said to be changing in 2020.
So far, rumors indicate we'll see a 5.4-inch iPhone, a 6.7-inch iPhone, and a 6.1-inch iPhone. 5.4 inches is smaller than the current iPhone 11 Pro, while 6.7 inches is bigger than the current iPhone 11 Pro Max.
The 5.4 and 6.7-inch devices will be higher-end models, while the 6.1-inch iPhone will be a lower-end model, presumably a successor to the iPhone 11.
Display
Though Apple is expected to continue offering two higher-end (aka more expensive) iPhones and one lower-end (more affordable) iPhone in 2020, all three of the devices may come equipped with OLED displays this year, with Apple doing away with LCDs for its iPhone lineup.
Apple's use of OLED across the iPhone lineup will allow for "more flexible handset design." Apple is testing OLED displays from Chinese company BOE Display, which makes LCDs for Apple's iPads and MacBooks. Apple has been using Samsung OLED displays in recent OLED iPhones and is expected to continue doing so.
ProMotion Technology
Rumors from notable Samsung leaker "Ice Universe" on Twitter have suggested iPhones coming in 2020 could feature a switchable 60Hz/120Hz refresh rate. Apple already uses ProMotion technology in the iPad Pro, so it's not too farfetched to believe it could extend to the iPhone in the future.
The iPad Pro models do, however, use LCD displays and not OLED displays like the flagship iPhone models.
A14 Chip
Rumors suggest TSMC will manufacture the 5-nanometer chips Apple will use in its 2020 iPhone lineup. The 5-nanometer process will produce chips that are smaller, faster, and more battery efficient due to improved thermal management.
Rear Cameras
Apple made major changes to the rear camera system in the 2019 iPhone lineup with the new triple-lens setup of the iPhone 11 Pro and Pro Max, and 2020 may bring even more camera improvements.
Rumors suggest Apple will add a laser-powered time-of-flight 3D rear camera to the iPhone 12, which will bring significant improvements in augmented reality experiences.
A time-of-flight (ToF) camera system employs a laser to calculate the time that it takes for the laser to bounce off of objects in a room, using the data to create an accurate 3D image of the surrounding area. This allows for more accurate depth perception and better placement of virtual objects, and it will also result in photos better able to capture depth.
The camera is said to be able to scan areas up to 15 feet from the device. Apple's front-facing TrueDepth camera uses similar 3D technology but because it's infrared and not laser-powered, it only works at distances of 25 to 50 centimeters.
Sony could be Apple's supplier for the new system, and rumors suggest Apple has been in talks with Sony over sensor tests. Apple's manufacturing partners are also getting VCSEL (vertical-cavity surface-emitting lasers) components ready to use in the camera setup.
So far, rumors indicate the two higher-end iPhones coming in 2020 will use the new time-of-flight rear camera, so it may not be available in the 6.1-inch iPhone that's going to have a lower price tag.
TrueDepth Camera System
Apple analyst Ming-Chi Kuo believes that at least one new iPhone in 2020 will feature a smaller front camera lens for an improved screen to bezel ratio, ultimately resulting in a smaller notch at the front.
An analyst from Credit Suisse has said that Apple will introduce at least one new iPhone with no notch or Face ID in 2020, relying instead on an under-display fingerprint sensor, though that technology may still be a few years off.

Apple supplier AMS has announced new camera sensor technology that allows the RBG light and the IR proximity sensor used for the front-facing TrueDepth camera system to be embedded under an OLED display. Apple could potentially be planning to introduce the new sensor tech in its 2020 iPhones, and this would allow Apple to create an iPhone with a smaller Face ID notch.
5G Connectivity
In 2020, Apple plans to transition back to Qualcomm modem chips instead of Intel chips, using Qualcomm's 5G technology in its iPhones. Qualcomm and Apple were previously embroiled in a bitter legal battle, but managed to settle their disagreements in April of 2019.
The two higher-end iPhones (5.4 and 6.7 inches) expected in 2020 will use 5G technology, while the more affordable 6.1-inch model will continue to use LTE connectivity.
5G technology is still in the early stages of rolling out, but by the time Apple releases its new iPhones, the major carriers in the United States will have laid the groundwork for connectivity in most areas. For more on 5G technology and what we can expect when Apple rolls out its 2020 devices, make sure to check out our 5G iPhone guide.
Release Date
Apple is expected to release the 2020 iPhone 12, 12 Pro, and 12 Pro Max (names tentative) in September of 2020.
What's Coming in the Future
Apple designers are said to ultimately be aiming to remove most of the external ports and buttons on the iPhone for a clean, streamlined device. If wireless charging technology improves, Apple could potentially get rid of wired charging all together.
Apple is also working towards the elimination of the notch, though getting rid of it entirely may take some time.
As for the more outlandish, Apple is said to be developing an iPhone with a foldable display in partnership with LG Display, with panel production for an iPhone with a folding display set to kick off in 2020. Apple is also said to be working on touchless gesture controls and curved screens, technologies that could launch within three years.

LG's foldable display technology
Under-Display Touch ID
As mentioned above, one rumor has suggested Apple is planning to release an iPhone with an under-display fingerprint sensor instead of Touch ID in 2020, which would allow for a device with no front notch. Apple will reportedly use full-screen acoustic fingerprint authentication, which would presumably work anywhere on the screen.
Barclays analysts have suggested 2020 iPhone models could use acoustic fingerprint technology, and Chinese site The Global Times has suggested Apple will release a notchless phone with an under-display fingerprint sensor aimed at the Chinese market.
Apple analyst Ming-Chi Kuo believes Apple is working on an iPhone with both Face ID and an on-display fingerprint sensor for launch in 2021 rather than 2020. Kuo's prediction is based on Apple's patents related to fingerprint on display technology and the continued use of the feature in Android smartphones.
A future iPhone will include both Face ID and an under-display fingerprint sensor, according to a 2019 report from Bloomberg. The technology could be introduced as soon as 2020, but may not be ready until 2021.