Apple Gaming Controller Arrives in Unexpected Way
Apple has long been rumored to be developing on a gaming controller, and at WWDC this month, a form of Apple's gaming controller appears to have emerged, albeit not quite in the way that some users had hoped for.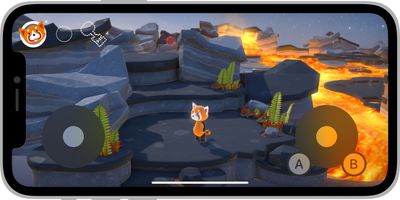 Apple has clearly expanded its interest in gaming controllers over the past year, integrating full support for even the latest Xbox and PlayStation controllers into iOS, iPadOS, macOS, and tvOS, and the company now sells a number of third-party controllers online and in its retail locations.

Apple is rumored to be working on its own gaming controller. Last year, the reliable leaker known as "L0vetodream" claimed that Apple was designing its own gaming controller and Bloomberg's Mark Gurman said that Apple was working on a new Apple TV model with a stronger gaming focus. Similarly, the leaker known as "Fudge" said that Apple was developing a gaming-focused ‌Apple TV‌ with a more powerful "A14X" chip and a controller.
It is unclear where these rumors now stand given the recent launch of the second-generation Apple TV 4K. Even so, the new ‌Apple TV‌ seemed to take a step back in terms of gaming with its older A12 Bionic processor and the redesigned Siri Remote, which lacks the accelerometer and gyroscope present in its predecessor, so there is still certainly room for a gaming-focused ‌Apple TV‌.
At this year's WWDC, during the Platforms State of the Union, Apple unveiled a new API for iOS 15 and iPadOS 15 that enables developers to implement a standardized on-screen virtual game controller in their iPhone and iPad games with just a few lines of code. While this is not the physical gaming controller that some were hoping for, it does perhaps add to the case that Apple is working on such a product.
While many ‌iPhone‌ and ‌iPad‌ games already offer on-screen controls, Apple's new virtual game controller is available to all developers, easy to add, and can be customized on a per-game basis. Apple said the on-screen controller can be adjusted to a variety of layouts, with up to four buttons and a thumbstick, d-pad, or touchpad available per left and right side.
"These new on-screen controls for ‌iPhone‌ and ‌iPad‌ look amazing, and they're carefully tuned for grip locations across hand sizes and for a great responsiveness and feel," said Nat Brown, an Apple engineer working on Game Technologies.
Given the fact that the company has stepped up its support for gaming controllers, and offers an increasing amount of mobile gaming through the App Store and Apple Arcade, it does not seem unlikely that Apple could turn its new virtual controller into a physical accessory.
Apple offers a WWDC session and developer documentation with more details about its on-screen controller.