Most People Don't Really Want a Smaller iPhone
Market data from a range of sources throughout January has revealed that most consumers are not interested in the iPhone 12 mini.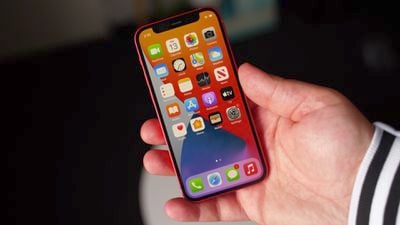 Sales data from Consumer Intelligence Research Partners (CIRP) has disclosed that the ‌‌iPhone 12 mini‌‌ accounted for a much lower proportion of sales than other iPhone 12 models that Apple offers.
Combined, all new ‌‌iPhone‌ 12‌ models accounted for 76 percent of ‌‌iPhone‌‌ sales in the United States in October and November. The standard ‌‌iPhone‌ 12‌ was the best-selling model overall, accounting for 27 percent of those sales. Sales of the ‌‌iPhone 12 mini‌‌ made up just six percent of the total ‌‌iPhone‌ 12‌ sales during the launch period, while the ‌iPhone‌ 12 Pro and Pro Max had sales numbers closer to the ‌‌iPhone‌ 12‌.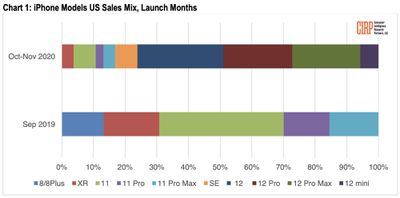 According to a Morgan Stanley investment note, Apple has now cut production of the ‌iPhone 12 mini‌ by two million units to create more manufacturing capacity for the ‌iPhone‌ 12 Pro. While the move appears to have primarily been made to address unexpectedly high demand for the ‌iPhone‌ 12 Pro, it is difficult to not link the decision to low sales data for the ‌iPhone 12 mini‌.
A DigiTimes report suggested that Apple's smallest ‌iPhone‌ 12 model was launched to target the U.S. and European markets, but the global health crisis is believed to have impacted sales in these territories, leading to a slowdown in ‌‌iPhone 12 mini‌‌ orders. The report also suggests that strong demand for ‌‌iPhone‌ 12 Pro‌ models in China has led Apple to strengthen its supply of the more expensive devices in response.
The East Asian market has historically favored larger form factor devices, and China has not been as severely impacted by the pandemic in recent months compared to other parts of the world. Pegatron is the main producer of the ‌‌iPhone 12 mini‌‌, and the above factors may have combined to constrain demand for the device at the Taiwanese manufacturer's expense.
On the other hand, CIRP speculates that the availability of lower-cost models like the $399 ‌iPhone SE‌, $499 ‌iPhone‌ XR, and $599 ‌‌iPhone‌ 11‌, may be the main reason behind the limited appeal of the more expensive ‌‌iPhone 12 mini‌‌, which is priced at $699.
Overall, it appears that in spite of fans' enthusiasm for a smaller ‌iPhone‌ in recent years, most consumers are not interested in the ‌iPhone 12 mini‌. However, this may change over time as prices come down, and it may simply be the case that smaller phones are only compelling to the majority of customers at a lower price point.