iPhone 12: Ten Things to Know About the Next iPhone
With the upcoming iPhone 12 lineup expected to arrive this month, and after months of leaks and rumors, what exactly do we know about Apple's upcoming smartphone? Turns out, a lot. These are the most important features you should know about Apple's next iPhone.
1. New Design
Rumors have suggested that the 2020 iPhones will feature an overhauled design similar to that of the ‌iPhone‌ 4, with a square-edged stainless steel frame between two pieces of glass, evocative of the design language of recent models of iPad Pro and iPad Air.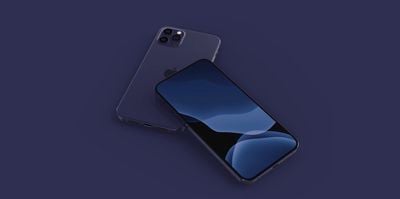 In addition, the iPhone 12 Pro models are expected to come in a new navy blue finish, which will replace the midnight green color that was introduced as an option for the ‌iPhone‌ 11 Pro. The blue will likely be the same shade as the new blue Apple Watch Series 6.
Another rumor suggests the ‌iPhone 12‌ models could come in light blue, violet, and light orange, among other colors.

2. Four Models in Three Sizes
Apple is expected to offer four iPhones in three different sizes, each with a unique name: a 5.4-inch "iPhone 12 mini," a 6.1-inch "‌iPhone 12‌" and "‌iPhone 12‌ Pro," and a 6.7-inch "iPhone 12 Pro Max."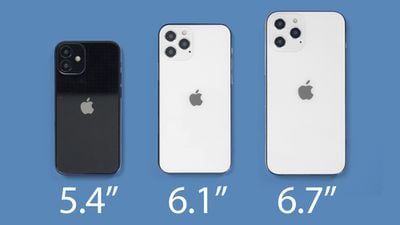 5.4-inches is smaller than the current 5.8-inch ‌iPhone‌ 11 Pro, instead being much closer to the size of the iPhone 8, while 6.7-inches is bigger than the current 6.5-inch iPhone 11 Pro Max.

3. 5G Connectivity
All of the iPhones in the 2020 lineup will support 5G connectivity. There is a possibility that only the high-end 6.7-inch ‌iPhone 12 Pro Max‌ will feature faster mmWave 5G technology in certain territories that can take advantage of it, with the other models having slower but more widespread sub-6GHz 5G only.

4. All-OLED Lineup
Though Apple is expected to continue offering both Pro and non-Pro iPhones in 2020, all of the devices are believed to come equipped with OLED displays this year, with Apple doing away with LCDs for its ‌iPhone‌ lineup. This will allow for richer colors and true-blacks. Until now, OLED has been reserved for high-end ‌iPhone‌ models.

5. A14 Bionic Processor
The A14 Bionic chip in the ‌iPhone 12‌ will reportedly focus on speeding up artificial intelligence and AR tasks.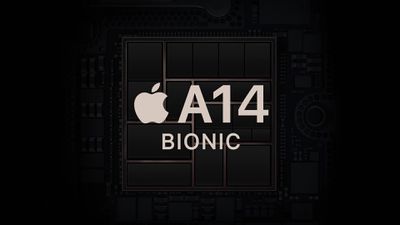 The A14 Bionic premiered in the iPad Air 4, and Apple says the chip is 40 percent faster than the A12 Bionic, with a 30 percent faster GPU. This is equivalent to a 16 percent faster CPU and an 8.3 percent faster GPU compared to the ‌iPhone‌ 11's A13 Bionic Processor.

6. LiDAR Scanner
The ‌iPhone 12‌ Pro models are expected to have a LiDAR Scanner on the rear, the likes of which first appeared on the 2020 ‌iPad Pro‌, for enhanced augmented reality experiences and enhanced photographic capabilities.


The LiDAR Scanner in the ‌iPad Pro‌ uses reflected light to measure the distance from the sensor to surrounding objects that are up to five meters away, and is essentially able to map the environment at the photon level at nano-second speeds. The rumored scanner in the ‌iPhone‌ is likely to work similarly, if not identically.
There is also the possibility the feature might be limited to the 6.7-inch ‌iPhone 12 Pro Max‌.

7. No 120Hz Display or USB-C
Throughout the ‌iPhone 12‌ rumor cycle, there have been endless mixed rumors on whether Apple will implement 120Hz "ProMotion" displays in the ‌iPhone 12‌ lineup, but reliable Apple analyst Ming-Chi Kuo has said that the ‌iPhone 12‌ models will not support a 120Hz refresh rate due to battery life concerns.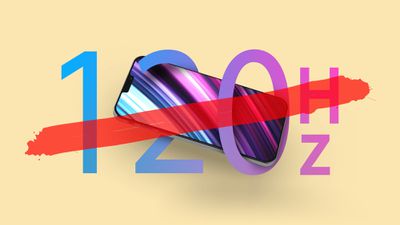 Instead, ProMotion display technology is expected to be introduced in 2021 after iPhones are updated with lower-power LTPO display technology, which is also a rumor we heard earlier this year when doubt began to be cast on 120Hz displays in this year's lineup.
Apple is also expected to stick with the Lightning connector on the ‌iPhone 12‌ instead of swapping over to USB-C.

8. Updated Storage Configurations
Rumors suggest that storage space on the ‌iPhone 12‌ and ‌iPhone 12 mini‌ models will start at 64GB, with Apple also offering 128GB and 256GB storage options as an upgrade. The ‌iPhone 12‌ Pro and ‌iPhone 12 Pro Max‌ could start at 128GB of storage, with upgrade options for 256GB and 512GB.

9. New Cable; No Power Adapter or EarPods
All ‌iPhone 12‌ models are expected to ship without EarPods or a power adapter in the box, according to a range of reports. Rumors indicate the cuts have been made because of the higher cost of 5G components, but environmental concerns are also a factor.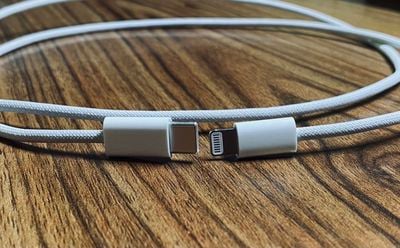 An alleged rendering of a box insert for the ‌iPhone 12‌ depicts a thinner box with room for just a cable, an ‌iPhone‌, and paper inserts, but no space for a power adapter or EarPods.
While Apple is rumored to be eliminating the power adapter from the ‌iPhone 12‌ boxes, the company may introduce a new USB-C to Lightning cable with a more durable braided design. It is unknown if all iPhones released in 2020 will get the new braided cable as in 2019, a USB-C to Lightning cable was limited to the higher-end, more expensive iPhones.

10. Prices Could Start at $649
Pricing on the ‌iPhone 12‌ could start at $649 this year, which would be the lowest price that Apple has charged for an OLED ‌iPhone‌. The 5.4-inch ‌iPhone 12 mini‌ could be priced at $649, the 6.1-inch ‌iPhone 12‌ at $749, the 6.1-inch ‌iPhone 12‌ Pro at $999, and the 6.7-inch ‌iPhone 12 Pro Max‌ at $1,099.
For more on what to expect from the 2020 ‌‌‌‌iPhone‌‌‌‌ lineup, be sure to see our full iPhone 12 roundup that aggregates everything we know about Apple's upcoming flagship smartphones.

Release Date?
Apple's production lines at Foxconn's Zhengzhou factory in China are said to be running "24 hours a day" in preparation for the ‌iPhone 12‌'s launch.
Reports from mobile operators now seem to be pointing toward Tuesday, October 13 for the official unveiling of the ‌iPhone 12‌ lineup. The rumor implies that pre-orders could begin on October 16, with the launch logically following on October 23.
If there is an October 13 event followed by an October 23 launch, we may not see all of the new ‌iPhone 12‌ models at the same time. Rumors have suggested that we should expect a staggered launch with some ‌iPhone‌ models coming out in October and others coming out at a later date, perhaps in November.
It is likely that the 5.4 and 6.1-inch low-cost iPhones will be available first in October, followed by the Pro models at a later date due to supply and production constraints. There's some confusion over this point, however, as DigiTimes has suggested Apple could release the two 6.1-inch ‌‌iPhone‌‌ models ahead of the 5.4-inch ‌‌iPhone 12‌‌ mini and the 6.7-inch ‌‌iPhone 12‌‌ Pro Max.