iPhone 12 to Come in Radical New Small Form-Factor [Updated]
Apple's upcoming iPhone 12 is set to offer a new 5.4-inch small form-factor, according to sources from Taiwan's supply chain. The new 5.4-inch device will be smaller than any flagship ‌iPhone‌ released over the past two years.
According to a DigiTimes report supported by supply chain analyst Ming-Chi Kuo, Apple will release a 5.4-inch ‌iPhone‌ 12 with Samsung Display's Y-Octa touch technology. Y-Octa is an advanced flexible AMOLED display technology that removes the film substrate and allows the touch circuit to be directly patterned on the film's encapsulation layer, making the display thinner and more cost-effective.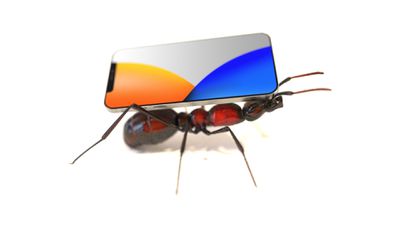 It is unclear if the thinner display technology will translate to thinner iPhones overall. Last year's ‌iPhone‌ 11 Pro and iPhone 11 Pro Max were actually slightly thicker and heavier than their predecessors, as Apple added larger batteries.
Rumors about whether the smaller 5.4-inch ‌iPhone‌ 12 will have a reduced notch have conflicted, with some suggesting that the device will have a smaller notch, and others indicating that it will remain the same as previous generations.
The new 5.4-inch size would likely be applauded by fans of smaller phones. In recent years, Apple's original 4-inch iPhone SE was praised for its compelling internals inside a compact design, and there have been calls for Apple to make a new small form-factor ‌iPhone‌ with the latest features.
The release of an updated ‌iPhone SE‌ earlier this year and news of a smaller 5.4-inch ‌iPhone‌ 12 this fall indicate that Apple is increasingly interested in providing small form-factor devices, after a period of prioritizing devices with larger screens.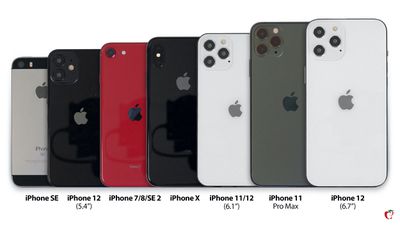 In addition to the 5.4-inch ‌iPhone‌ 12, Apple is expected to release a 6.1-inch ‌iPhone‌ 12, a 6.1-inch ‌iPhone‌ 12 Pro, and a 6.7-inch iPhone 12 Pro Max. The lineup means that Apple is discontinuing the 5.8-inch form-factor of the ‌iPhone‌ X, ‌iPhone‌ XS, and ‌iPhone‌ 11 Pro, which was until now the smallest available flagship ‌iPhone‌. The 5.4-inch ‌iPhone‌ 12 would be the smallest ‌iPhone‌ released at a fall event since the ‌iPhone‌ 8.
2020 is expected to be a big year for the ‌iPhone‌, with rumors pointing to the new display sizes, a redesigned metal frame similar to the ‌iPhone‌ 4, rear-facing 3D sensing, 5G support, and up to 6GB of RAM.
Update: Display analyst Ross Young has reaffirmed rumors that the ‌iPhone‌ 12 will have a flexible OLED display from Samsung Display, with Y-OCTA integrated touch.
He also suggests that the 5.4-inch ‌iPhone‌ will feature a 2340 x 1080 resolution, 475 PPI, and 8-bit color.
Young believes that panel production on components for the new 2020 iPhones started approximately six weeks late. This would account for the slight delay to the ‌iPhone‌ 12's launch, which Apple confirmed in a July earnings call. The lineup is now expected to arrive in late September to early October.