If you are signed up for the free, three-month trial of Apple Music, you probably know by now many of the cool features the streaming music service has to offer. But, did you know that Siri can make the experience even better? We've got a few tips for getting Siri to act as your digital deejay.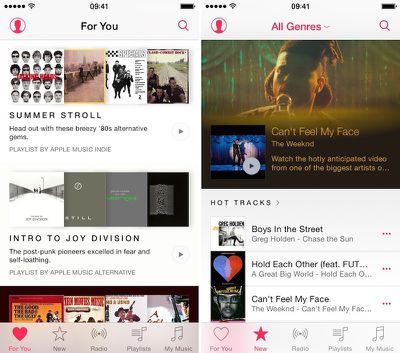 To get the full use of Siri's compatibility with Apple Music, make sure you are subscribed and your iCloud Music Library is on.

Play a Radio Station or Beats 1
Not only can Siri play a radio station like Electronic or Oldies, but now the personal assistant can also start playing live Beats 1 programming. Just ask her to "Play Beats 1."

Play an Apple Music Playlist
One of the things I love about Apple Music is the playlist feature in the For You section. If I've recently "liked" a particular song, A new playlist based on that will show up. If you know the name of an Apple Music created playlist, ask for it specifically. For example, "Play Souxie & The Banshees: Deep Cuts."

What Song is Playing
If Apple Music is playing a song you don't recognize, you can ask for more information. Just say, "What song is this?" to discover the artist and song title.

Add an Album to Your Playlist
If you like the song that is playing and want to hear the whole album, ask Siri to add the album to your playlist and it will begin playing after the current track is finished.

Play New Music
Sometimes, you just don't know what you want to hear. Ask Siri to "play new music" and Apple's latest top songs will begin playing. Sometimes, that is the best way to discover your new favorite band.

Cover Songs
When asking Siri to play a specific song, there may be a number of different versions. She will choose the original first. However, if you want to hear the version covered by a different band, be sure to include that in your request.

Play a Band's Album Based on Chronology
If you know that you like an artist's first, but can't remember what it is called, you can get help from Siri. Just ask to play an artist's first, second, or even most recent album. She will figure it out for you.

Play the Hits From a Specific Date
Have you ever wondered what song was number one the day you were born? Ask Siri. If the song is in Apple Music, you can hear it, too. You can also play the top 10, 25, or 50 songs from a certain month or year.

Playlist Queuing
While listening to a specific song, does it sometimes make you want to listen to another one? Ask Siri to play something after the current song is over and it will be queued to your Up Next list.

Add Music to Your Library (only available with iCloud Music Library on)
Another great feature of Apple Music is that you can add songs and albums to your music library, and even download them for offline listening. Just ask Siri to add a song, album, or even playlist to your music and it will be there waiting for you.

Play More Songs Like This
When you are browsing music and finally find a song that hits you just right, you can ask Siri to play more like it and Apple Music will create a Genius playlist based on your request.

Play a Different Song or Album
You don't have to wait for a song to end in order to get into a new groove. When you ask Siri to play a new album, she will let you know that it will clear your Up Next queue. Confirm that you are into something different now to hear the new tracks.

Like a Song
One way to ensure that Apple Music will provide useful suggestions for songs that you might like in the future is to like a song. This gets added to your activity and is used to create new playlists you might like. So, tell Siri when you like a song.

Dislike a Song
Of course, it works both ways. If you don't like a song, tell Siri and it will be added to your activity. Plus, you'll have the added benefit of not having to hear it anymore. Apple Music will play the next song instead.

Skip a Song
If you don't want to hear a particular song, but don't want it to go into the Pit of Dislike, just ask Siri to skip it and the next song will play instead.