If you subscribe to Apple Music, you can stream the service to any Sonos speakers you own using the Sonos Controller app on your iPhone or iPad.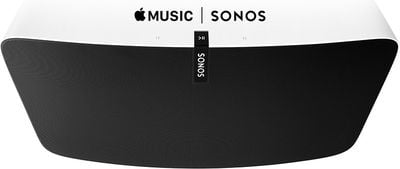 After you add your ‌Apple Music‌ subscription through the Sonos Controller app, you can listen to the entire ‌Apple Music‌ catalog or your personal music library, get music recommendations, and more through your Sonos system.

How to Link Apple Music to Your Sonos Speakers
Download and install the Sonos Controller app on your iOS device.
Launch the Sonos Controller app.
Tap the More tab in the bottom right of the screen.
Tap Add Music Services in the main menu.
Tap Apple Music.
Tap Add to Sonos.
Log in to your ‌Apple Music‌ account using your Apple ID and password, then tap Open. (If you've left the Sonos app to log in to ‌Apple Music‌, return to the app and tap Continue to complete the process.)
How to play Apple Music on your Sonos Speakers
Launch the Sonos Controller app.
Tap the Browse tab.
Tap Apple Music.
Select a song, album, or playlist you want to listen to.
Tap Play (or Play All).
Tap the mini-player banner at the bottom of the screen.
If it isn't already selected, tap your Sonos speaker in the list.
‌Apple Music‌ songs can be played to all of your Sonos speakers at once using the built-in ‌Apple Music‌ feature in the Sonos app. If you have AirPlay 2-enabled Sonos speakers along with other ‌AirPlay‌ 2 speakers, you can also play the same music to all of them at once for a whole-home audio experience, but you'll want to use Apple's Control Center options for that rather than the Sonos app because the Sonos app can only control Sonos speakers.