How Apple Music's Liking System Works to Customize 'For You' Recommendations
Apple Music's main draw is its focus on curation and its ability to learn about your music preferences to provide recommendations that suit your tastes. Apple's new Music app focuses heavily on content discovery, with an entire "For You" section dedicated to recommendations.
According to Apple, its music experts "handpick songs, artists, and albums based on what you listen to and like," and this content is what populates the "For You" section. Apple's explained that "For You" recommendations get better over time based on "whether you love a song or not," but the company hasn't explicitly spelled out how to best use likes and listens to better tailor Apple Music to your tastes.
To clear up confusion on how recommendations work, The Loop's Jim Dalrymple has spoken directly with Apple to get some insight on how the "Like" feature in Apple Music works to affect recommendations, and he's penned a useful guide on liking from the information he obtained, which is well worth reading.
Any song played from Beats 1 radio, a default radio station, a curated playlist, or from a search can be liked by expanding the miniplayer and tapping the heart icon. You can essentially heart anything that's playing via Apple Music.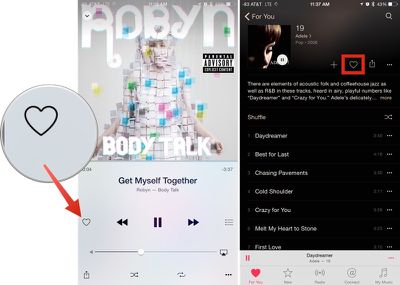 As Dalrymple explains, tapping the heart button on a song you like influences the content that's then displayed in the "For You" section of Apple Music. As more content is liked, the feature gets a better idea of each individual user's tastes, and is able to offer up a more tailored selection of music. Music that's added to a library and music that's played in full also affects "For You."
Tapping the heart does affect "For You," the section of Apple Music that's custom built with playlists, albums and songs tailored to your individual tastes. For You also takes into account music you add to your library and full plays you listen to. Skips aren't really taken into account, because there are so many reasons you may skip a song--maybe you're just not in the mood for it right now.
Radio stations created from individual songs, done by tapping on the hamburger button when any song is playing and choosing "Start Station," work a bit differently. Instead of displaying a heart, these playlists display a star. Tapping the star allows you to choose "Play More Like This" or "Play Less Like This" to tune a radio station to your particular tastes at that time without affecting overall "For You" recommendations.


Pressing on any album or playlist recommendation in "For You" gives you an option to customize the section even more, by choosing "I Don't Like This Suggestion." It appears that this customization option is limited to iOS devices for the time being, as Apple Music on Mac doesn't offer this menu.


Apple Music's ability to offer up intensively tailored song recommendations over time may be one of the reasons why Apple insisted on giving users a three month trial to experience the service. Regularly liking songs and culling the "For You" section of recommendations that aren't suitable should vastly change the quality of suggestions over the course of the next few months.