Starting with macOS Sierra in 2016, Apple introduced support for Siri on the Mac, allowing you to access the personal assistant across all of your Apple devices for the first time.
Siri on Mac can actually do quite a few useful things that aren't available on iOS devices, and because the technology is still rather new on Apple's desktop and laptop machines, we thought we'd highlight some of the most useful Siri commands on the Mac.
Siri on Mac can be accessed from the menu bar, the dedicated Siri app that can be added to the dock, or through a keyboard shortcut like Command + Space. You can manage your Siri preferences and options by opening up System Preferences and choosing "Siri" from the options at the bottom of the window.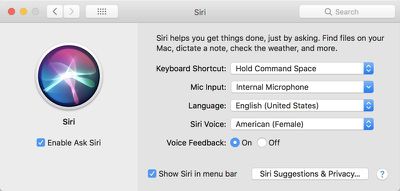 One of the simplest and most useful ways to use Siri is to open apps without accessing the dock or finding the app in the applications folder. You can ask Siri to "open the Calendar app" or "open Evernote."
Open works with any app on your Mac, and it also works with websites and files. Some sample commands:
Open MacRumors.com
Open Google.com
Open the Applications Folder
Open the iCloud Drive folder
Siri's "Show Me" command on macOS works hand in hand with the series of open commands. You can ask Siri to show you all kinds of files stored on your Mac, which makes it easier to search for specific content. You can also ask for files within apps like Photos. Some sample commands:
Show me my most recent files
Show me files from June 2017
Show me photos from April 2017
Show me photos from last week
Show me files from today
Show me privacy settings
Show me network settings
Siri is also interactive and can be used to turn settings on your Mac on and off, just like on iOS devices. Siri can turn on Night Shift, activate Bluetooth, turn off Wi-Fi, and more. Some sample commands:
Turn off Wi-Fi
Turn on Bluetooth
Activate the screensaver
Turn up the volume
Turn down the brightness
Go to sleep
Change my wallpaper
Another useful way to use Siri on the Mac is to get information about the Mac itself. You can ask Siri questions about the hardware installed on your Mac. Some sample commands:
How fast is my Mac?
What processor does my Mac have?
Tell me about my Mac
What is my Mac's serial number?
How much RAM does my Mac have?
How much storage do I have?
Siri can, of course, answer simple queries and provide information, just like you can do on iOS. Commands like "What time is it?" and "What's the weather?" are available, as are more complicated requests like "Find me a good restaurant nearby" or "Get me directions to the mall."
Do you use Siri for Mac? What are the most useful commands you've found? Let us know if we've missed any in the comments below.