If you subscribe to Apple Music, you can view the lyrics for your favorite songs right from within the Music app on your iPhone or iPad.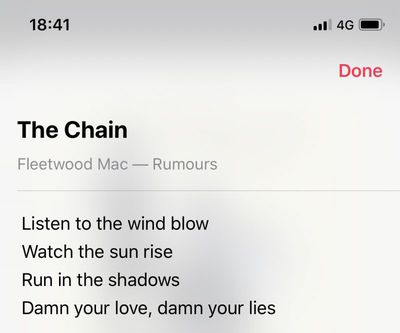 First, you'll need to start playing a song in the ‌Apple Music‌ catalog or in your library. Once a song is playing, tap on the song's banner just above the ‌Apple Music‌ menu bar at the bottom to bring up the full song interface.
From here, there are two methods you can use to view lyrics. Let's go through them individually.

Method 1

Tap the ellipsis (three dots) button in the bottom right corner of the screen to bring up the action menu pane.
Tap the Lyrics option just above the Love and Dislike buttons. Songs with available lyrics will have this option displayed, while songs without lyrics available will not.
The lyrics will pop up over the track screen. Scroll down to view the rest of the lyrics.
Method 2

Scroll down while in the full song interface.
You should see Lyrics listed directly above the Up Next feature for songs that have lyrics available. Tap Show alongside it to reveal the song's lyrics.
Note: If you're in the album view you can long press on a listed track to bring up the action menu pane, where the Lyrics option is also available.