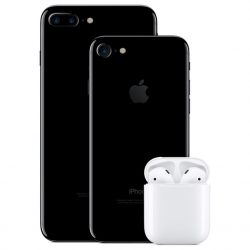 When connected to an iOS device, your AirPods can be used to summon
Siri
, Apple's digital assistant, allowing you to speak a variety of handsfree commands.
By default, the double tap gesture on your AirPods is set to activate Siri, so all you have to do is double tap either the left or right AirPod and start talking. (Remember: This might not work if you've
customized your AirPod gesture controls
.)
Essential Siri Commands for Your AirPods
Here's a quick list of need-to-know Siri commands you'd do well to memorize to get the most out of your AirPods.
Note that these commands won't do anything if your iOS device doesn't have a network connection. It's a strange requirement, but unlike Voice Control, Siri needs an internet connection even for basic playback commands.
"Turn volume up/down" or "Raise the volume by 50 percent."
"Play" or "Pause music."
"Resume music."
"Play [Song Name]" or "Play [Podcast Name]."
"Play my Favorites List."
"Play my New Music List."
"Skip back/forward" or "Skip back/forward X seconds/minutes."
"Skip to the next song."
"How is the battery life of my AirPods?"