Siri is the voice assistant on Apple devices, equivalent to Amazon's Alexa, Microsoft's Cortana, and Google's Google Assistant. Siri is available across most of Apple's devices, including iPhone, iPad, Mac, Apple Watch, Apple TV, and HomePod.
You can ask Siri all kinds of questions, from simple queries about the weather to more complex questions about everything from sports scores to the number of calories in food. Siri can also enable or disable settings, find content, set alarms and reminders, place calls and texts, and so much more.


This guide covers the basics of Siri, including some of the commands you can use to activate Siri, devices that have Siri included, and devices that support more advanced hands-free "Hey Siri" commands.
Activating Siri
On an ‌iPhone‌ or ‌iPad‌, Siri can be activated by holding the Home button on compatible models or holding the Side button on devices without a Home button. On iOS 14 and later, on the ‌iPhone‌ and the ‌iPad‌, Siri pops up as a small icon at the bottom of the device's display.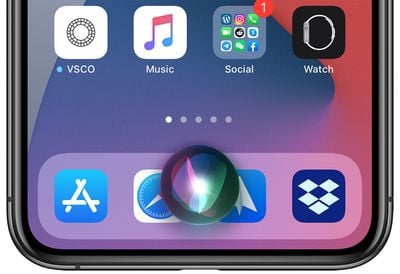 On the Mac, you can click on the Siri app icon on the dock or the menu bar, or press and hold the command key and the space bar. On a Mac with a Touch Bar, you can press the Siri icon on the Touch Bar. On 2018 MacBook Air and Pro models or the iMac Pro, you can activate Siri with a "Hey Siri" command.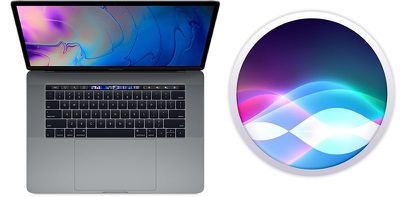 On the Apple Watch, you can say "Hey Siri" to activate Siri. On Apple Watch Series 3 or later with the latest version of watchOS, there's a Raise to Speak feature that lets Siri respond to commands even without the Hey Siri trigger word. Just hold the watch up near your mouth and speak a command. Siri can also be activated by holding down on the Digital Crown.
On first-generation AirPods, a double tap activates Siri, and on second-generation AirPods, Siri can be activated with the "Hey Siri" command.
On ‌HomePod‌, say "Hey Siri" or press on the top of the ‌HomePod‌ to activate Siri.
On the fourth and fifth-generation ‌Apple TV‌, hold down the Siri button on the remote (the button with the microphone) to activate Siri. On the sixth-generation ‌Apple TV‌ or models with the newer Siri Remote (the aluminum remote), press on the side button to activate Siri.
Devices Compatible With Siri
Siri is on almost every Apple device, and it's built into macOS, iOS, watchOS, and tvOS. You can activate Siri on Macs running macOS Sierra or later, all Apple Watch models, the ‌Apple TV‌ HD and ‌Apple TV‌ 4K, all modern iPhones, all AirPods models, the ‌HomePod‌, and the HomePod mini.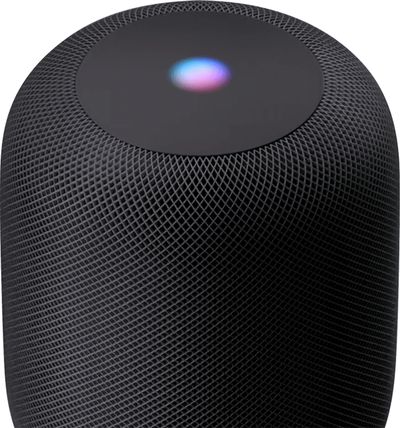 Devices That Support 'Hey Siri' Without Power
Most Apple devices have support for the "Hey Siri" activation command, but more recent iPads, iPhones, Macs, and Apple Watches offer hands-free "Hey Siri" Siri support even when not connected to power. That means you can use the "Hey Siri" trigger phrase at any time to activate Siri.
Compatible devices are listed below:
‌iPhone‌ 6s and later
Second-generation AirPods (‌iPhone‌, ‌iPad‌ or Apple Watch connection required)
AirPods Max
5th-generation ‌iPad‌ and later
All iPad Pro models except the first-generation 12.9-inch model
5th-generation iPad mini and later
3rd-generation iPad Air and later
All Apple Watch models
‌HomePod‌ and ‌HomePod mini‌
2018 MacBook Pro or later
2018 ‌MacBook Air‌ or later
‌iMac‌ Pro
When multiple devices that can respond to "Hey Siri" commands are available, the devices will use Bluetooth to determine which one should respond to the request so not all of them answer at once. According to Apple, the device that heard you best or the device that was most recently raised or used will respond.
If you have a ‌HomePod‌, the ‌HomePod‌ will often take precedent and respond to "Hey Siri" requests even when other devices that support the feature are nearby.
Countries Where Siri Support is Available
Siri is available in more than 35 countries around the world, including the U.S., UK, Canada, Australia, New Zealand, and many countries in Asia and Europe.
A full list of countries where Siri is available can be found on Apple's Feature Availability website.
Certain Siri features like translations, sports info, restaurant information and reservations, movie information and showtimes, dictionary, calculations, and conversions are limited to a smaller number of countries.
What Siri Can Do
Below is a list of some of the commands and questions Siri is able to respond to, and some of the actions Siri is able to take.
Make calls/Initiate FaceTime
Send/read texts
Send messages on third-party messaging apps
Set alarms/timers
Set reminders/check calendar
Split a check or calculate a tip
Play music (specific songs, artists, genres, playlists)
Identify songs, provide song info like artist and release date
Control HomeKit products
Play TV shows and movies, answer questions about them
Do translations and conversions
Solve math equations
Offer up sports scores
Check stocks
Surface photos based on person, location, object, and time
Apple Maps navigation and directions
Make reservations
Open and interact with apps
Find files (on Mac)
Send money via Apple Pay
Check movie times and ratings
Search for nearby restaurants and businesses
Activate Siri Shortcuts
Search and create Notes
Search Twitter and other apps
Open up the Camera and take a photo
Increase/decrease brightness
Control settings
Tell jokes, roll dice, flip a coin
Play voicemails
Check the weather
Siri How Tos
Passive Siri
Siri is an active assistant that you can interact with, but Apple has also integrated Siri into other aspects of iOS and watchOS, allowing Siri to make proactive suggestions that you can act on.
On the ‌iPhone‌, ‌iPad‌, and Apple Watch, Siri can make various kinds of recommendations. When you're running late for a scheduled meeting, for example, Siri might suggest that you call your boss either on the Home screen or when you swipe down to search and access the Siri Suggestions options.


In Messages and Mail, Siri can suggest things like phone numbers or addresses based on what you've typed, and in Safari, Siri can offer up search suggestions. Siri can do other things like suggest ‌HomeKit‌ scenes to activate, suggest a time to leave when you have an event scheduled, suggest events to add to your calendar from your email, and more.
Siri suggestions are all based on your personal device usage habits, so what you see will vary.
There's also a feature in iOS called "Siri Shortcuts," which are shortcuts and automations that let you complete multi-step tasks on your ‌iPhone‌. Siri Shortcuts are so named because Siri will suggest them to you and because you can activate Shortcuts with a Siri trigger word.

On-Device Speech Processing and Personalization
Starting in iOS 15, speech processing and personalization are done on-device. This makes Siri faster at processing requests, but also more secure. Most audio requests made of Siri are kept entirely on the ‌iPhone‌ and are no longer uploaded to Apple's servers for processing.
Siri's speech recognition and understanding of commands improves as a device is used, with Siri learning the contacts most interacted with, new words typed, and topics preferred, with all of this information kept on device and private.
On-device speech processing and personalization is enabled through the Apple Neural Engine and it is available on iPhones and iPads that have an A12 Bionic chip or later.
On-device processing is available in German (Germany), English (Australia, Canada, India, UK, U.S.), Spanish (Spain, Mexico, U.S.), French (France), Japanese (Japan), Mandarin Chinese (China mainland), and Cantonese (Hong Kong).
Offline Support
With on-device processing now available, there are a wide range of Siri requests that can be handled offline. Siri can create (and disable) timers and alarms, launch apps, control audio playback, and access Settings options. Apple says Siri can also process Messages, sharing, and Phone requests.
Siri's Latest Features
In iOS 15, Apple added on-device processing and offline support, along with introducing new Siri capabilities. Siri can share whatever's on the screen, such as photos, Apple Music songs, webpages, and more, and Siri is better able to maintain context between requests.
Siri can control ‌HomeKit‌ devices at specific times, so you can say things like "Hey Siri, turn off the bedroom lights at 7:00 p.m., and this also works for location. If you say "Turn the lights off when I leave the house," Siri will do so. These requests can be accessed in the Automation section of the Home app.
Siri in iOS 15 is also able to announce notifications and reminders when you're wearing AirPods, and the Announce Messages feature is available for CarPlay. For more on everything that's new with Siri in iOS 15, we have a Siri guide.
Siri Privacy
Siri does send data back to Apple, but searches and requests are not associated with your identity to keep your personal information safe.
Apple does not sell your data to advertisers or other organizations, and end-to-end encryption is used for all data syncing between your devices and the cloud. Apple does sometimes use Siri recordings for improving Siri's performance, but there's now a toggle to opt out of Siri data collection and usage, which can be found in our how to.
Guide Feedback
Have questions about Siri, know a feature we left out, or want to offer feedback on this guide? Send us an email here.