'Steve Jobs' Movie
Aaron Sorkin and Danny Boyle's look at Steve Jobs is in theaters now.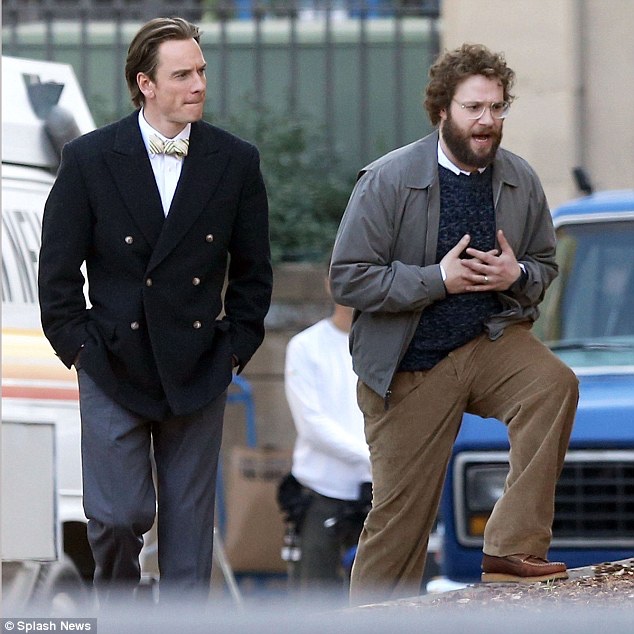 At a Glance
Based on Walter Isaacson's best-selling Steve Jobs biography, the Aaron Sorkin-penned, Danny Boyle-directed Steve Jobs biopic stars Michael Fassbender as Steve Jobs and Seth Rogen as Steve Wozniak.
Cast
Steve Jobs - Michael Fassbender
Steve Wozniak - Seth Rogen
Joanna Hoffman - Kate Winslet
Chrisann Brennan - Katherine Waterston
John Sculley - Jeff Daniels
Overview
On October 24, 2011, just weeks after former Apple CEO Steve Jobs passed away from pancreatic cancer, Walter Isaacson released his best-selling biography, "Steve Jobs." The book was crafted from more than forty interviews Isaacson had with Jobs over the course of two years, and it provided a deep, introspective look into the life of the man responsible for turning Apple into the world's most valuable company.
It also provided an honest look at Jobs -- Isaacson conducted over a hundred interviews with Jobs' family members, friends, colleagues, competitors, and enemies -- giving the clearest picture yet of the kind of man that Steve Jobs was.
Before Isaacson even published the book, Sony, knowing that it would be an undeniable hit, acquired the rights to produce a movie based on the biography, and that's the basis for the "Steve Jobs" film.
A lot of big names are attached to the movie, which is said to be a serious drama that covers three of Jobs' product launch events. Aaron Sorkin, famous for writing "The West Wing," "Newsroom," "Moneyball," and "The Social Network," wrote the screenplay, and Danny Boyle, known for films like "127 Hours" and "Slumdog Millionaire," will direct.
Michael Fassbender, best known as Magneto in the latest "X-Men" movies, stars as Steve Jobs, and Seth Rogen, from "The Interview" and other comedic movies, plays Apple co-founder Steve Wozniak.
On October 23, the Steve Jobs movie became available in more than 2,000 movie theaters around the United States, following a limited release that started on October 9. The movie was predicted to rake in around $15 to $19 million through the full opening weekend and had already grossed $2,601,320 as of October 21. Estimates from the first full weekend, however, revealed a weaker than expected $7.3 million box office take that was only good enough for a seventh-place finish.
After seeing lackluster ticket sales that brought in $16.7 million, the Steve Jobs movie was pulled from more than 2,000 theaters just a few weeks after its October 23 wide release. The movie is largely considered a flop.
Trailers
The first teaser trailer for the Steve Jobs movie was released on May 17, giving us our first real glimpse at Michael Fassbender as Steve Jobs. The trailer also depicts Kate Winslet as Joanna Hoffman, Seth Rogen as Steve Wozniak, and Jeff Daniels as John Sculley.
In July, three months ahead of the launch of the movie, Universal released the first official full-length trailer for the Steve Jobs movie. Like the teaser trailer, it offers a look at how the stars of the movie are fitting into their respective roles and hints at the tone of the film, focusing on Steve Jobs' tense interactions with employees and his strained relationship with his daughter.
A third trailer was released in September, a month ahead of the movie's launch date. Like the first two trailers, the latest trailer gives a glimpse at Michael Fassbender as Jobs and his interactions with the rest of the supporting cast.
The fourth trailer for Steve Jobs was released at the end of September with a sampling of opinions from critics who have seen the film laid over pivotal scenes from the movie.
With the movie's wide theatrical release approaching, Universal released several new trailers for the Steve Jobs movie. In one powerful scene, Seth Rogen as Steve Wozniak confronts Michael Fassbender's Steve Jobs over the impending launch of the NeXT Computer.
Behind the Scenes
Ahead of the release of the Steve Jobs movie, ScreenSlam gave a behind the scenes look at the filming process and interviewed some of the cast and crew. A quick overview is available in the video below, and there's also a lengthier 37 minute version.
According to Seth Rogen, who plays Steve Wozniak, the movie is "cinematic" and different from any other biopic. Director Danny Boyle described the film as a natural extension of The Social Network, the popular Aaron Sorkin movie based on Facebook.
Commentary from Cast, Crew, and People Who Knew Jobs
Ahead of the launch of the Steve Jobs movie, people who knew Steve Jobs and people who were involved with the film, including the director, writer, and cast, shared their thoughts on Steve Jobs and the film. We've aggregated many of the opinions on the movie below.
Aaron Sorkin
Aaron Sorkin, who penned the Steve Jobs movie, has aid that it won't be "one big champagne toast to Steve Jobs." Sorkin combined three major product launches with "five or six conflicts" in Jobs' life and had those conflicts play out backstage, in places where they didn't necessarily happen in real life.
Sorkin focused heavily on Lisa Brennan-Jobs, who was Jobs' estranged daughter for many years. According to Sorkin, Jobs' relationship with Brennan-Jobs is an integral part of the movie. Sorkin says that he's aware there will be some people who think he was too touch on Jobs, but his ultimate opinion is that it's a good movie.
There are going to be people who say we were rough on him, and there are going to be people who say we weren't rough enough on him. But I think we made a good movie, and I think that if you asked 10 writers to write 10 movies about Steve Jobs, you'd get 10 different movies that wouldn't resemble one another.
Danny Boyle
Danny Boyle, who directed Slumdog Millionaire, directed the Steve Jobs movie. In a recent interview, he explained that he ultimately chose Michael Fassbender for the role of Jobs because of his "obsessive dedication to his craft." "Even though he doesn't look exactly like him," he said, "by the end of the film, you believe it's him." Fassbender was considered for the role after Christian Bale dropped out and attempts to get actors like Bradley Cooper and Leonardo DiCaprio on board failed.
Boyle admits that the movie "isn't a definitive portrait of Jobs," because he movie isn't able to fully capture every facet of his personality. His ability to portray Jobs accurately was also stymied by Apple's lack of involvement in the movie. Apple reportedly did not like the direction the film takes and was "not helpful" in the making of the movie.
As Raymond Chandler said, in any work of art there's a sense of redemption. He clearly achieves that in his other family, which we don't touch on. He did move towards knowing that even though he did make the most beautiful things in the world, he himself was poorly made. The ability to recognize that is a big step. He is our hero, if you want to call him that.
Laurene Powell Jobs
Laurene Powell Jobs, Steve Jobs' widow, was not a fan of the Walter Isaacson biography of Jobs and thus did not support the filming of the Steve Jobs movie, which is based on that biography.
According to rumors, Powell Jobs teamed up with several of Steve Jobs' "allies" in an attempt to get the movie shut down before it was released. She's said to believe the movie depicts Jobs as "cruel and inhumane" with scripts and stories that "play down his accomplishments."
Powell Jobs refused to discuss Aaron Sorkin's script with producer Scott Rudin, despite numerous attempts to get in touch with her. According to Rudin, she said she disliked the book and that a movie based on the book "could not possibly be accurate."
Laurene Powell Jobs reportedly even went as far to call up Christian Bale and Leonardo DiCaprio, two actors who were considered for the role of Steve Jobs, to ask them not to participate in the movie.
Bill Campbell
Bill Campbell, chairman of Intuit, was a close friend of Steve Jobs and was formerly on Apple's board of directors. He's spoken out against the Steve Jobs film, saying that it depicts Jobs in a negative light.
"A whole generation is going to think of him in a different way if they see a movie that depicts him in a negative way," said Campbell, a longtime Apple board member and friend of Mr. Jobs. Mr. Campbell hasn't seen the film. "If they want to make a drama, they shouldn't do it at somebody else's expense," said Mr. Campbell. "He's not there to defend himself."
John Sculley
John Sculley, who took over as CEO of Apple after Steve Jobs was ousted from the company, was impressed with the way Jeff Daniels portrayed him in the movie. He says Jeff Daniels "accurately summarized a lot of the things I felt then, and feel now."
Sculley, who participated in the development of the film and had conversations with Aaron Sorkin and Jeff Daniels, called the movie "extraordinary entertainment." He does note, however, that the movie takes some creative license with what happened and says that it doesn't fully capture Jobs' personality.
"Part of his personality was he was a passionate perfectionist, but there were so many other parts of Steve's personality that I knew because Steve and I were not only business partners, but we were incredibly close friends for several years," Sculley says. "I could tell you that the young Steve Jobs that I knew had a great sense of humor. He was on many occasions, when we were together, very warm. He cared a lot about the people he worked with and he was a good person. So, I think those aren't the aspects that are focused on in this movie."
Movie Plot (Spoiler Alert)
Across several interviews, screenwriter Aaron Sorkin has divulged multiple details about the Steve Jobs movie. It consists of three real-time scenes, with each portion of the film giving a behind-the-scenes look at three major product launches. At the end of each product launch there will also be a scene that features a flashback to an earlier time, potentially showing snippets of the garage of Steve Jobs' childhood home where the Apple I was first built, the Apple boardroom where Jobs clashed with then-CEO John Sculley, and a dinner with Sculley.
These flashback scenes may be woven into the story through a plot device that will see Jobs being interviewed throughout the film by Joel Pforzheimer (played by John Ortiz), a GQ magazine journalist.

Steve Jobs at his home in Palo Alto in 1985
According to Aaron Sorkin, the film will cover the launch of the original Mac, the NeXT Computer, and the iMac, three of Jobs' most important product launches.
Sorkin has said he aimed to avoid the natural "cradle-to-grave" structure of typical movie based on a biography, so it's not known if the movie will be linear -- starting off with the launch of the first Mac, moving on to the NeXT Computer, and ending with the launch of the iMac, but below is a look at the product launches that will be featured in the movie and a few other details Sorkin has shared on the film's plot.

Michael Fassbender as Steve Jobs and Seth Rogen as Steve Wozniak during the filming of the Mac product launch, via The Daily Mail
It's important to note that while the videos below depict the public-facing version of Jobs' product launches, the movie will be much more in-depth, covering not only the launches themselves but the preparation for each product launch that was covered in Isaacson's book, with behind-the-scenes interactions between Jobs and the people around him like employees, family, and members of the media.
Mac
The launch of the original Mac took place in 1984 at a shareholders meeting held at the Flint Center in Cupertino, California on the grounds of De Anza College, where film crews have already been shooting. In the video below depicting the launch, a young Jobs shows the Mac to shareholders after playing the famous "1984" Mac ad that had begun airing on television just a few days earlier.
Amid wild applause, Jobs, dressed in a black suit with a bowtie (an outfit Fassbender has already been photographed in), formally announced the new Mac: "There have only been two milestone products in our industry: the Apple II in 1977 and the IBM PC in 1981. Today, one year after Lisa, we are introducing the third industry milestone product: Macintosh."
The lead-up to the launch of the Macintosh was tense, because Apple engineers like Andy Hertzfeld were scrambling to finish writing the code for the computer. Even up until the night before the event, Jobs was calling for tweak after tweak to make the presentation perfect.
NeXT Computer
The NeXT Computer, commonly called "The Cube" for its black, cube-shaped design, was first introduced in 1988, three years after Jobs was forced out of Apple. Priced at $6,500, it was unveiled at a gala event at the Louise M. Davies Symphony Hall in San Francisco. It was Steve Jobs' first major appearance in many years as he had largely disappeared from the public eye after leaving Apple.
Jobs was described as working the crowd "like an entertainer" during the event, a showy affair with "all the subtlety of a Hollywood premiere" that included a duet between the NeXT Computer and a violinist.
Prior to the unveiling of the NeXT Computer, Steve Jobs obsessed over every detail of the event, spending afternoons with Macintosh graphic designer Susan Kare, who helped him prepare slides. He oversaw the lunch menu and was personally resonsible for the invitation list.
3,000 people attended the NeXT Computer debut, but a bitter Jobs didn't invite any Apple employees to see the computer, which he said would "revolutionize" the computer industry. Video of the NeXT Computer launch is not available, but some of Jobs' enthusiasm for NeXT can be seen in the demo video below.
iMac
The iMac made its debut in 1998, as a colorful egg-shaped computer called the "iMac G3," an all-in-one machine that combined the display with a processor, optical drive, and more. The iMac marked a radical redesign of the Mac line and was the first product designed by now-famous Apple designer Jony Ive.
Launched just one year after Jobs returned to a struggling Apple, the iMac was seen as the product that would "save" the company. Because it marked a symbolic new beginning for Apple, Jobs opted to hold the iMac unveiling at the Flint Center, the same place where the original Macintosh was shown to investors for the first time.
The unveiling of the iMac was dramatic (seen beginning at minute 16 in the video below), with Jobs comparing it to a typical PC of the time. "It looks like it's from another planet. A good planet. A planet with better designers," he said.
As with the previous two product launches, the time before the launch of the iMac was fraught with tension as Jobs aimed to get every aspect of the debut perfect. He obsessed over the lighting, and practiced the major unveiling over and over again, drawing out rehearsals until every last thing was right.
Other Details
Sorkin has said Steve Jobs will be portrayed as "part-hero, part anti-hero" in the movie and that Jobs was a "fascinating guy." Jobs' daughter, Lisa Brennan-Jobs, is said to play a major role in the movie, serving as the "heroine."
Lisa Brennan-Jobs and Steve Jobs had a difficult relationship for many years, starting from the time she was born. Lisa's mother was Jobs' girlfriend Chrisann Brennan, and when she became pregnant, Jobs denied that he was the father of the baby. Jobs was uninvolved in Lisa's life during her childhood, though he did have a hand in naming her "Lisa," a name that he went on to use for the Apple Lisa.
After Jobs was ousted from Apple, he apologized to Chrisann and re-established a relationship with Lisa. When she was nine, the two were close enough that Jobs signed her birth certificate and had her name changed to Lisa Brennan-Jobs. The blossoming relationship between father and daughter will likely be a focal point of the film, serving to humanize the man who was often described by employees as a short-tempered, relentless perfectionist who obsessed over Apple products down to the last little detail.

A young Lisa Brennan-Jobs with Steve Jobs
According to Sorkin, Steve Jobs' relationships are what drew him to the film. Jobs' relationship with Lisa in particular intrigued him, and Sorkin was able to get Lisa Brennan to spend some time with him while he wrote the screenplay, even though she did not participate in Walter Isaacson's book. For that reason, the movie may give even more insight into some of Jobs' relationships than Isaacson's book did.
The Ending
Aaron Sorkin has said his goal is to end the movie with the tagline from the Think Different ad campaign that Steve Jobs spearheaded, "Here's to the Crazy Ones."
Basically my goal is -- I don't remember if you remember the ad campaign he did, the think different campaign, here's to the crazy ones, but if I can end the movie with that text, with that voiceover, if I can earn that ending then I'll have written a movie I want to write.
Settings
In a leaked Sony email, Aaron Sorkin mentioned that the Steve Jobs movie could be filmed entirely in two auditoriums, a restaurant, and a garage. The auditoriums will be where the three product launches are filmed, while the restaurant and the garage will likely be sets where the aforementioned flashback scenes take place.
The "garage" refers to the garage of Steve Jobs' childhood home in Los Altos, California, which film crews revamped with a retro 1970s look in early February ahead of filming at the location. The garage is where Jobs, Wozniak, and other early Apple employees famously assembled the first Apple I computers during Apple's early years.

The garage of Steve Jobs' childhood home, via CNET's James Martin
One of the auditoriums is the Flint Center, where Steve Jobs unveiled both the original Macintosh in 1984 and the iMac in 1998. Filming also took place at a restaurant in Berkeley, California. Other locations remain unknown as of yet, and it's possible Sorkin's "two auditoriums, a restaurant, and a garage" statement was a bit of an oversimplification, so there could be additional filming locations.
Based on casting information, there will also be scenes in a boardroom and a cafe, likely the settings for some of the flashbacks. The boardroom will likely depict Jobs' ousting from Apple, and the cafe may be a scene depicting a dinner between Jobs, the Macintosh team, and John Sculley ahead of Steve Jobs first tenure at Apple.
In March, filming began at the San Francisco Opera House and the San Francisco Symphony Hall, where Steve Jobs unveiled the NeXT Computer in 1998. A prop poster from the set shows Fassbender as Jobs.

According to one of the actors in the movie, when shooting the the film, the cast and crew would spend two weeks rehearsing and then two weeks shooting the movie at each location where the product unveilings took place. This shooting strategy "brought the actors together in an extraordinary way."
Cast and Crew
Because the major focus of the movie is on a single character, the Steve Jobs film has a small cast. Aside from Jobs, other important characters in the movie include Steve Wozniak, Lisa Brennan-Jobs (as an adult and a child), and former Apple CEO John Sculley. The full cast is listed below:
Screenwriters - Aaron Sorkin, Walter Isaacson
Director - Danny Boyle
Steve Jobs - Michael Fassbender
Steve Wozniak - Seth Rogen
Joanna Hoffman (Macintosh marketing chief) - Kate Winslet
Andrea Cunningham (Macintosh marketing) - Sarah Snook
Chrisann Brennan - Katherine Waterston
John Sculley - Jeff Daniels
Andy Hertzfeld - Michael Stuhlbarg
Lisa Jobs (19) - Perla-Haney Jardine
Lisa Jobs (5) - Makenzie Moss
Avie Tevanian (NeXT engineer and Apple engineer) - Adam Shapiro
Burrell Smith (original Mac team member) - Bobby Ysip
Larry Tesler (Xerox scientist) - Scotty Wood
John Jandali (Jobs' father) - Mihran Slougian
Joel Pforzheimer (Journalist who interviews Jobs) - John Ortiz
In early February, Universal put out a casting call for extras to be included in scenes being filmed at the Flint Center. More than 2,000 people showed up in 80s-inspired attire hoping to take part in the movie.

Film Troubles
Finding someone to play Steve Jobs was no easy feat, and the film shuffled through several leading actors before Michael Fassbender took on the role. Leonardo DiCaprio was the first actor attached to the movie, with early 2014 rumors suggesting he'd be playing Steve Jobs. In October of 2014, DiCaprio withdrew from the film.
Rumors soon suggested Christian Bale was in talks to play the role of Jobs, but he too declined to take on the role because he felt he was "not right for the part." According to Aaron Sorkin, finding an actor was difficult because of the sheer demands of the role. "It's a 181-page script, about 100 of it is that one character," said Sorkin in an interview.
Before DiCaprio and Bale were attached to the movie, Aaron Sorkin had his heart set on Tom Cruise for the role, but clashed with director Danny Boyle on Cruise's age. Other actors like Tobey Maguire and Matthew McConaughey expressed interest in playing the role of Steve Jobs, but ultimately, Danny Boyle campaigned for Michael Fassbender, who ended up accepting the job.

Michael Fassbender dressed as Steve Jobs, via The Daily Mail
During the ongoing struggle to find someone to play Steve Jobs, Sony eventually dropped the film after fighting with Danny Boyle about the filming schedule, but the movie was quickly picked up by Universal Pictures and filming got underway just a couple of months later.
In its early stages, there were also significant disagreements over who would direct the picture. Sony producers wanted David Fincher, who directed popular movie The Social Network about the founding of Facebook. Fincher was initially attached to the film, but he ultimately ended up passing on the project due to payment disputes. There was also tension at Sony because Fincher was wanted on several projects, including a Cleopatra film starring Angelina Jolie that would have filmed at the same time.
Shortly after Fincher stepped down from the movie, Danny Boyle, who had directed Slumdog Millionaire, signed on to direct the Steve Jobs film.
The movie was plagued with issues early on, but once it Fassbender was cast in the role of Steve Jobs, production moved along quickly and is on schedule to be completed in just a matter of weeks. According to leaked emails, Aaron Sorkin estimated that filming could be completed in just four to five weeks, meaning initial editing could start as early as March.
First Impressions and Oscar Buzz
The Steve Jobs movie wasn't released until mid-October, but it premiered at the Telluride Film Festival in Colorado on September 3, where several film critics were able to watch the movie for the first time. Reactions to Steve Jobs have been largely positive, with a lot of praise for Fassbender's performance.
Deadline said the movie was "even more effective" than Aaron Sorkin's Oscar-winning work on The Social Network. "It's actually thrilling to listen to, an action movie driven almost exclusively by words, a rare thing for sure in today's visually driven cinema," wrote the site.
Apple co-founder Steve Wozniak saw the film at the festival and called it "authentic," with praise for Kate Winslet's performance as Macintosh marketing chief Joanna Hoffman.
Variety likened the film to Stanley Kubrick's 2001: A Space Odyssey based on its three-act structure, calling it "an enthralling performance by Michael Fassbender."
Blowing away traditional storytelling conventions with the same withering contempt that seems to motivate its characters' every interaction, "Steve Jobs" is a bravura backstage farce, a wildly creative fantasia in three acts in which every scene plays out as a real-time volley of insults and ideas -- insisting, with sometimes gratingly repetitive sound and fury, that Jobs' gift for innovation was perhaps inextricable from his capacity for cruelty. Straining like mad to be the "Citizen Kane" (or at least the "Birdman") of larger-than-life techno-prophet biopics, this is a film of brash, swaggering artifice and monumental ego, a terrific actors' showcase and an incorrigibly entertaining ride that looks set to be one of the fall's early must-see attractions.
Following the premiere of the film, there's been some buzz suggesting Michael Fassbender could be a serious contender for a best actor Oscar in 2016.
Other Steve Jobs Movies
There have been several other movies that have covered the life of Steve Jobs, but Aaron Sorkin still believes his interpretation is worth watching. "I think that you could do ten more movies about Steve Jobs, and I think that if you lined up ten writers and said 'write a movie about Steve Jobs,' you'd get ten different movies, all of them worth going to see," Sorkin said in an interview.
One of the first Steve Jobs movies, The Pirates of Silicon Valley, was filmed in 1999 while Steve Jobs was still alive. Noah Wyle played Steve Jobs and Joey Slotnick played Steve Wozniak. The movie, which aired on television, wasn't entirely focused on Jobs -- it also featured Bill Gates, Paul Allen, and Steve Ballmer.

Noah Wyle as Steve Jobs, next to Anthony Michael Hall as Bill Gates.
A second major movie, simply entitled Jobs, was released in 2013 with Ashton Kutcher as Steve Jobs and Josh Gad as Steve Wozniak. The movie received mixed reviews, and while Kutcher was praised for his portrayal of Jobs, many critics didn't feel the film delved deep enough into Jobs' life.

Ashton Kutcher compared to a young Steve Jobs
Release Date
The Steve Jobs movie launched on October 9, 2015 in a limited number of theaters in New York and Los Angeles. It saw an official country-wide launch on October 23, 2015.
After a short stint in theaters, Steve Jobs will be available on Blu-ray, DVD, and Digital HD in February 2016. It will launch digitally on February 2 and it will be available in retail locations two weeks later on February 16.