Thousands Respond to Casting Call for Extras in Steve Jobs Film
With filming on the upcoming Steve Jobs film underway in the company's hometown of Cupertino, California, thousands of people responded to a casting call over the weekend, hoping to be included as extras in scenes being filmed at the Flint Center where Jobs unveiled the original Macintosh in 1984.
As reported by CNET's Shara Tibken, well over 2,000 people showed up in 80s-inspired attire to be extras for a scene in the upcoming movie, but hundreds including Tibken herself were turned away due to the overwhelming fan response to the casting call.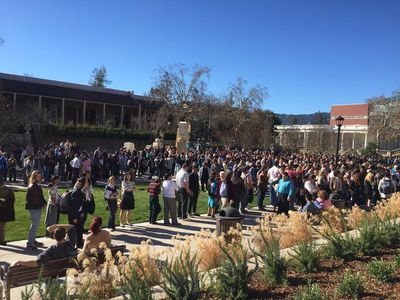 I thought I'd have no trouble getting onto the movie set at the Flint Center here since I was "confirmed" as an extra and arrived at the designated time. Silly me. After years of covering the lines at Apple events and product launches, I should have known better.
Potential extras began lining up at 5 AM despite instructions to arrive between 9 and 10 AM, with one member of the casting company calling the response "absolutely overwhelming."
According to the notice to be an extra, I was to take part in a scene from 1984 (which was evidently to be the Mac launch). It recommended that men have "big long sideburns" and that women should wear blouses that are "boxy in cut with larger shoulders." Everyone was supposed to wear layers. [...]

There were plenty of Cosby sweaters and plaid, flannel button-ups. And many women sported side ponytails and leg warmers, which didn't seem quite appropriate for Apple shareholders (Jobs introduced the Mac during a stockholder meeting in 1984).
According to one of the line minders, the film will be shooting in the Bay Area for another six to seven weeks, giving aspiring extras additional opportunities to try for a spot in the film, which is planned for release next year.