Aaron Sorkin's Steve Jobs Biopic: Three 30-Minute Scenes Taking Place Before Three Product Launches
Aaron Sorkin, screenwriter of the movie based on Walter Isaacson's Steve Jobs biography, has shared some details behind the structure of the upcoming film.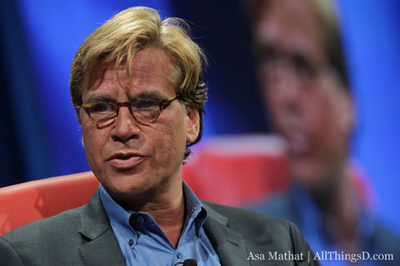 Speaking from The Daily Beast's Hero Summit, Sorkin disclosed that the entire movie "is going to be 3 scenes, and take place in real-time." Further, each of the three 30-minute scenes will take place backstage before a major product launch.
Sorkin has previously noted that biography screenwriters frequently have difficulty overcoming a "cradle-to-grave structure".

"Drama is tension versus obstacle. Someone wants something, something is standing in their way of getting it. They want the money, they want the girl, they want to get to Philadelphia - doesn't matter ... And I need to find that event and I will. I just don't know what it is," Sorkin said.
With the movie laid out in this real-time format, Sorkin seems to have written a rather unique film. It seems likely that the three major product releases that Sorkin is referring to will be the original Macintosh in 1984, the iMac in 1998, and the iPhone in 2007.
Update: According to Baba Shetty, the CEO of Newsweek, Sorkin mentioned the launches of the original Mac, the NeXT cube, and the iPod.
Update 2: The Daily Beast has posted the video of Sorkin's interview, with the Steve Jobs segment beginning around 22:30 and continuing through the end.