Just days before Steve Jobs opens in New York and Los Angeles on October 9, former Apple CEO John Sculley, who is portrayed in the movie by Jeff Daniels, spoke to The Wall Street Journal about his thoughts on the movie. Sculley liked the movie, calling it "extraordinary entertainment" and predicting it'll be as successful as The Social Network.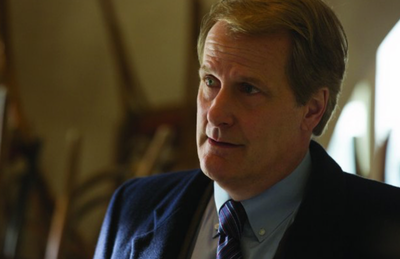 Jeff Daniels as John Sculley in Steve Jobs
Sculley points out that he was "taken" by Daniels performance of him, saying that Daniels "accurately summarized a lot of the the things I felt then, and now." Sculley participated in the development of the film, speaking with screenwriter Aaron Sorkin and Daniels. He was impressed by Daniels' efforts to understand him.
However, Sculley says that the film takes creative licenses with what actually happened. He notes that the film adds an extra encounter between him and Jobs after Jobs left Apple, that the words they exchanged during those encounters aren't accurate and that he and the board still believed in the Mac after Jobs left. Sculley also echoes the thoughts of Jobs' widow Laurene Powell Jobs and director Danny Boyle, who say the film doesn't fully capture Jobs' personality.

"Part of his personality was he was a passionate perfectionist, but there were so many other parts of Steve's personality that I knew because Steve and I were not only business partners, but we were incredibly close friends for several years," Sculley says. "I could tell you that the young Steve Jobs that I knew had a great sense of humor. He was on many occasions, when we were together, very warm. He cared a lot about the people he worked with and he was a good person. So, I think those aren't the aspects that are focused on in this movie."
Steve Jobs opens in New York and Los Angeles on October 9. The film will expand to more theaters on October 16 and open nationwide on October 23.