Universal Pictures' Steve Jobs moving starring Michael Fassbender as Jobs and Seth Rogen as Wozniak will be in retail stores starting tomorrow, February 16, with Blu-ray and DVD copies available for purchase. Special features include a behind the scenes look at the filming of the movie along with commentary from Aaron Sorkin and Danny Boyle, and other members of the Steve Jobs cast and crew.
- Inside Jobs: The Making of Steve Jobs
- Feature Commentary with Director Danny Boyle
- Feature Commentary with Writer Aaron Sorkin and Editor Elliot Graham

The DVD and Blu-ray release comes two weeks ahead of the 88th Annual Academy Awards ceremony, which will take place on Sunday, February 28. Michael Fassbender, who played Jobs, and Kate Winslet, who played Joanna Hoffman, have both been nominated to win an Oscar. Winslet won Best Supporting Actress at the Golden Globes in January and took home the award for Best Supporting Actress from The British Academy of Film and Television Arts (BAFTA) award ceremony yesterday.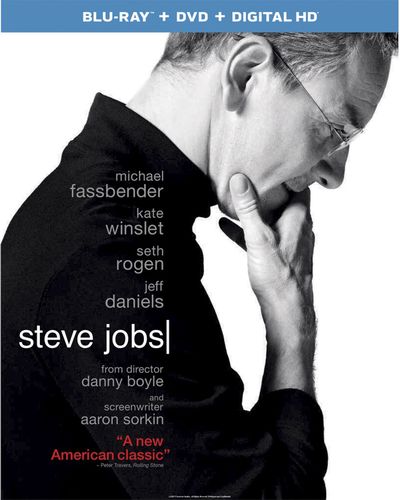 A Digital HD version of Steve Jobs was released earlier this month on several online storefronts, including iTunes. It was given little fanfare by Apple and was not featured under the list of new releases, an unsurprising move given the negative reaction the movie received from Apple executives. Apple CEO Tim Cook called the movie and other similar Jobs-related titles "opportunistic."
Despite positive reviews, Steve Jobs saw a disappointing box office performance following its October debut, bringing in just $7.3 million during the opening weekend of its wide theatrical release. It was pulled from more than 2,072 theaters just a few weeks after its launch, but it has seen a strong showing during the awards season.
To celebrate the release of Steve Jobs on DVD and Blu-ray, we're giving away one Blu-ray combo pack to a MacRumors reader, which includes the Blu-ray, DVD, and a Digital HD code. To enter to win, use the Rafflecopter widget below and enter an email address. Email addresses will be used solely for contact purposes to reach the winner and send the prizes.
You can earn additional entries by subscribing to our weekly newsletter, subscribing to our YouTube channel, following us on Twitter, or visiting the MacRumors Facebook page. Due to the complexities of international laws regarding giveaways, only U.S. residents who are 18 years of age or older are eligible to enter.