'Steve Jobs' Becomes Amazon's Best-Selling Book of 2011
As predicted by Amazon following its release, Walter Isaacson's authorized biography of Steve Jobs has become the retailer's best-selling book of 2011. The milestone is a remarkable one given that the book did not debut until late October.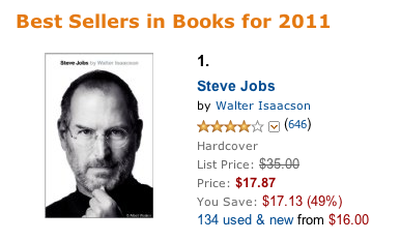 Steve Jobs quickly rose to #13 on the list following its debut, which was moved up in the wake of Jobs' death in early October. By mid-November the title had risen to #2 on the list, setting the stage for its accession to the top spot.
Sony Pictures has acquired the movie rights to the authorized biography, and Aaron Sorkin is "strongly considering" taking on the task of writing the screenplay for the film. One report has indicated that George Clooney and Noah Wyle are in the running to portray Jobs.