'Steve Jobs' Disappoints in First Full Weekend With 7th-Place Box Office Showing
As the first full weekend in theaters for Aaron Sorkin and Danny Boyle's Steve Jobs film comes to a close, early box office results have been disappointing, according to The Hollywood Reporter. Estimates put the film's take at $7.3 million from nearly 2,500 theaters, well below expectations and only good enough for seventh place on the weekend.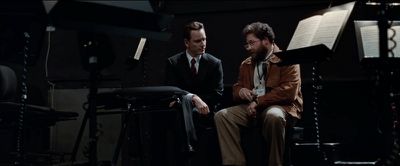 Michael Fassbender as Steve Jobs and Seth Rogen as Steve Wozniak in 'Steve Jobs'
Those backing Steve Jobs had wanted to land somewhere in the teens, but are counting on a long run throughout awards season (an A- CinemaScore should help word of mouth). Jobs is over-indexing in upscale theaters in major cities, including the Bay Area — home of Apple — but falling flat in Middle America. Two weekends ago, the $30 million movie scored the top location average of the year to date when opening in New York and Los Angeles. Through Sunday, its domestic total is $10 million.

"We're going to redouble our efforts to support these markets," said Universal domestic distribution chief Nic Carpou. "It's working great in these theaters now, and we want to make sure it continues to do so."
The film has generally received a positive reception from critics, particularly for Michael Fassbender's portrayal of Jobs. Those more familiar with Jobs' history and those closest to him have, however, been less satisfied with the film, in many cases taking issue with the way Jobs is portrayed and some of the artistic license that deviates significantly from actual events.