In a new interview with Wired, screenwriter Aaron Sorkin spoke freely on his job of being hired to pen the new Steve Jobs movie and all of the issues he had to face in writing about a person he didn't know much about. Sorkin's initial fear of tackling the film -- hesitant to use the term "biopic" -- was in adapting Walter Isaacson's comprehensive biography of Jobs into a traditional, three act structure, which he wasn't entirely comfortable with.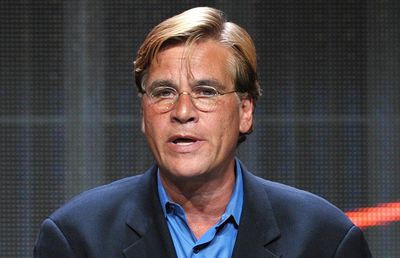 When you're doing a biopic, it's very hard to shake the cradle-to-grave structure that audiences are so familiar with. People are going to come into the theater knowing that first we're going to see a little boy with his father, and he's looking into the window of the electronics store, and then we're going to hit these famous signposts along the way in Steve Jobs' life. Also, I'm not really a screenwriter; I'm a playwright who pretends to be a screenwriter. I'm most comfortable writing in claustrophobic pieces of geography and periods of time.
It was then that Sorkin emailed producer Scott Rudin, and pitched him the idea of taking some factual liberties with three of Jobs' biggest product launches, and identifying "five or six conflicts in Steve's life and have those conflicts play themselves out in these scenes backstage—in places where they didn't take place." Sorkin also hopes that the fans who are pre-judging the movie give it a chance and see that it won't be "one big champagne toast to Steve Jobs."
The screenwriter decided to use Jobs' daughter Lisa as one of the doors into the former Apple CEO's life, finding his initial refusal to accept paternity of his daughter hard to get past, but noting its integral quality to the backbone of the movie. Wired also asked Sorkin about his apparent growing reputation in Hollywood as the "go-to guy for the binary system," thanks to his work on another technology-inspired true-life story The Social Network.

This isn't an origin story or an invention story. It's not about how the Mac was invented. And The Social Network wasn't about the technology that went into creating Facebook. Nonetheless, I knew that there was going to be no way I could write this movie without a lot of tutors. There are lines that I wrote in the movie that I don't understand.
Ultimately, as the movie grows closer to release, Sorkin knows that Steve Jobs may be a divisive experience for a lot of fans of Apple.

There are going to be people who say we were rough on him, and there are going to be people who say we weren't rough enough on him. But I think we made a good movie, and I think that if you asked 10 writers to write 10 movies about Steve Jobs, you'd get 10 different movies that wouldn't resemble one another.
There have been a handful of stories in the news about the soon-to-be-released film, including some new behind-the-scenes footage and cast interviews, a public dispute between Sorkin and Apple CEO Tim Cook, and even the first reactions to the film as it made its debut at film festivals across the country.
The full Wired interview goes more in-depth with Sorkin, touching on topics like the film's casting drama behind the scenes and even last year's Sony hack and the repercussions it had for Steve Jobs and its cast and crew.