The new Steve Jobs film faced another disappointing box office performance this past weekend, with the Danny Boyle-directed movie dropping more than 69 percent in profit from the previous weekend to a $823,000 weekend gross. Most surprising, however, is the movie's removal from 2,072 theaters across the country in one single weekend, after initially premiering in 2,411 just over three weeks ago (via Cult of Mac).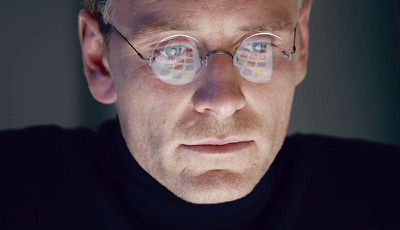 When the film was in limited release and preparing to go wide on October 23, the projections for its debut box office weekend were between $15 and $19 million. According to Box Office Mojo, to date, the overall lifetime gross of Steve Jobs is just hitting the projections for its opening weekend: $16,684,073. In the two weeks the movie was in a limited run in Los Angeles and New York, it displayed impressive numbers, earning the fifteenth spot as the highest grossing per-theater average film in movie history.
Unfortunately, when Steve Jobs debuted wide, it earned only the 7th spot at the weekend box office with about a $7.3 million take in its first three days. The disappointment of the film's performance is in direct contradiction to a bevy of positive reviews, even ones that hinted at Oscar nominations for Michael Fassbender and Kate Winslet over a month before the movie released.
Currently, Steve Jobs sits at 85 percent on the review aggregator site Rotten Tomatoes, with a total of 156 positive reviews to 27 negative. With the holiday movie season kicking into gear after a slow October at the box office, it seems that Universal has ditched its initial plan of a word-of-mouth build-up for the movie. If Oscar talk continues for its stars, there's a possibility it could return to a few more theaters closer to the awards show.