Universal just released the second official trailer for the new Steve Jobs movie last week, and over the weekend it began debuting the newest TV spot for the film. The new 30-second ad features some of the same glimpses of Michael Fassbender and Kate Winslet as Steve Jobs and Joanna Hoffman, but it's the first to showcase a sampling of lines from the reviews of some critics who have already seen the film. Also worth mentioning, one of the most interesting aspects of the new spot is the Mac's startup chime that's used to overlay and punctuate the short commercial.
The commercial cites reviews from places like
Indiewire
and
The Playlist
, which called the new movie "must-see one-of-a-kind cinema" and "a rush of blood to the head," respectively. Although a handful of critics have been able to see the film thanks to its premiere at Telluride, more and more will be adding their opinions in the coming weeks as the movie makes its
Centerpiece debut
at the New York Film Festival, and opens wider throughout October.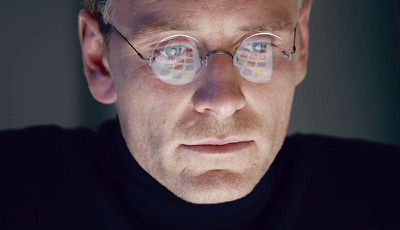 Overall, the first impressions of the movie have been largely positive, with praise landing on Fassbender's portrayal of the former Apple CEO, leading to some early Oscar buzz for the movie. Still just under a month from its theatrical debut on October 9, the movie currently sits at a 90% on Rotten Tomatoes with nine positive reviews to one negative.
Check out the rest of the TV spots released by Universal in the playlist above.