The upcoming Steve Jobs biopic penned by Aaron Sorkin has entered production, with film crews setting up at Steve Jobs' childhood home in Los Altos ahead of filming that's set to take place on Friday afternoon.
CNET's Shara Tibken was on scene at the house Friday morning, watching as the film's production team finished transforming the garage into what it might have looked like back in 1976, when Steve Jobs and Steve Wozniak were working on the original Apple I computers.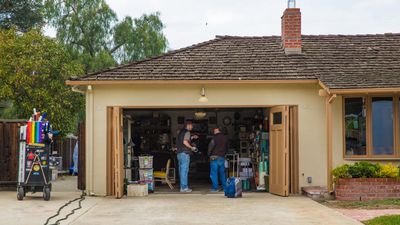 The biopic, which is based on Walter Isaacson's best selling Steve Jobs biography, is said to cover three of Jobs' most important product launches -- the Macintosh computer in 1984, the NeXT computer in 1988, and the release of the iPod in 2001. Filming is starting at Jobs' childhood home, but later, film crews are expected to
move on to areas
in San Jose and Berkeley.
Directed by Danny Boyle, famous for Slumdog Millionaire, the biopic will star Michael Fassbender as Steve Jobs and Seth Rogen as Steve Wozniak. Fassbender has had high-profile roles in movie like 12 Years a Slave and Inglourious Basterds, but he is perhaps most well-known in recent years for his role as Magneto in X-Men: First Class and X-Men: Days of Future Past. Rogen recently starred in The Interview and is also known for Neighbors, Pineapple Express, Knocked Up, and This is the End. Though mostly known for his comedic roles, Rogen has also had roles in more serious movies like 50/50 and Take This Waltz.
Kate Winslet, known for Titanic and Divergent, will take on a leading female role, and Jeff Daniels of The Newsroom will play former Apple CEO John Sculley. Steve Jobs' former girlfriend Chrisann Brennan will be played by Katherine Waterston, and Michael Stuhlbarg will play early Apple employee Andy Hertzfeld.
A full gallery of photos of early production on the Steve Jobs biopic in Los Altos can be found over at
CNET
.