Danny Boyle's Steve Jobs film continued its awards season wins last night, with Kate Winslet taking home the Best Supporting Actress award at The British Academy of Film and Television Arts on Sunday (via The Guardian). Winslet dedicated her win at the BAFTA ceremony to women who are the subject of unjustified body shame criticism, which she faced as a young woman trying to break into the industry.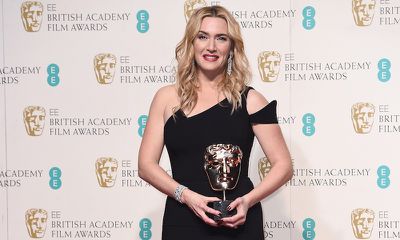 "When I was younger, when I was 14, I was told by a drama teacher that I might do OK if I was happy to settle for the fat girl parts," Winslet said. "So what I always feel in these moments is that any young woman who has ever been put down by a teacher, by a friend, by even a parent, just don't listen to any of it, because that's what I did – I kept on going and I overcame my fears and got over my insecurities."
Winslet won for Best Supporting Actress at the Golden Globes in January as well, while Steve Jobs screenwriter Aaron Sorkin won for Best Screenplay. With a Golden Globe and now a BAFTA win, Winslet is set up to be a likely winner at the 88th Academy Awards taking place Sunday, February 28. At the Oscars, she will face all of the same actresses she beat at the BAFTA ceremony: Jennifer Jason Leigh (The Hateful Eight), Rooney Mara (Carol), and Alicia Vikander (Ex Machina), with the addition of Rachel McAdams (Spotlight).
Steve Jobs, which faced a troubled theatrical run following its poor box office performance, will be released on Blu-Ray, DVD, and Digital HD tomorrow, February 16.