iPhone 13 Pro Max Has Exclusive Hidden Feature Apple Won't Tell You About
It has emerged that the iPhone 13 Pro Max offers a new, exclusive feature that Apple has not promoted, according to tests performed by ChargerLAB.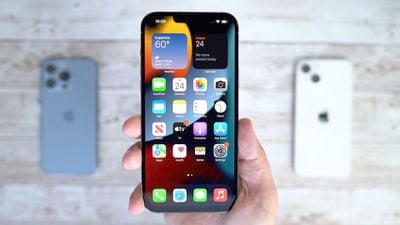 The ‌iPhone 13‌ Pro Max is capable of considerably faster charging with up to 27W of power when connected to a USB-C power adapter with 30W of power or more. This is a significant boost over the iPhone 12 Pro Max's charging speeds, which was only capable of taking advantage of 21W to 22W of power with an equivalent adapter.
Apple may have been reluctant to advertise the feature since the ‌iPhone 13‌ Pro Max cannot sustain peak 27W power for its entire charging cycle due to thermal considerations, but the device should still charge faster than the ‌iPhone 12 Pro Max‌ overall.
The smaller ‌iPhone 13‌ Pro is not capable of charging at 27W speeds, achieving maximum speeds of 23W only, making this one of the few differences between the devices. Other differences include battery life and weight, but otherwise the ‌iPhone 13‌ and ‌iPhone 13‌ Pro Max are virtually identical.
As for the non-Pro devices, the ‌iPhone 13‌ mini and ‌iPhone 13‌ are limited to roughly the same charging speeds as their iPhone 12 predecessors, according to a user on the Chinese social media platform Weibo.
Apple no longer includes a power adapter in the box with new iPhones, but it sells a 30W USB-C power adapter for $49 for users who want to charge their ‌iPhone 13‌ Pro Max while taking advantage of the fastest possible charging speeds.