What's Coming From Apple in 2016: Apple Watch 2, iPhone 6c, iPhone 7, Skylake MacBooks, and More
With the launch of the Apple Watch, the iPhone 6s and the 6s Plus, the new Apple TV, and the iPad Pro, 2015 was a major year for Apple. The Apple Watch introduced a whole new category, the iPhone 6s and 6s Plus saw the debut of 3D Touch, and the iPad Pro brought Apple's largest iOS device yet.
iOS 9, watchOS 2, and OS X 10.11 El Capitan brought refinements to Apple's operating systems, and the fourth-generation Apple TV came with a brand new operating system, tvOS. 2015 saw a huge number of new products and software updates, and 2016 promises to be just as exciting.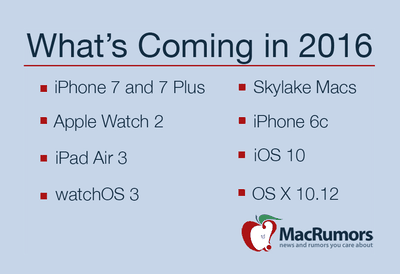 A second-generation Apple Watch is in the works and could launch in early 2016, while new flagship iPhones, the iPhone 7 and the iPhone 7 Plus, are coming in late 2016. Those who love smaller devices will be excited to hear a 4-inch iPhone 6c may be coming early in 2016, and Apple's Mac lineup is expected to gain Skylake chip updates.
New software, including iOS 10, OS X 10.12, watchOS 3, and an upgraded version of tvOS are all expected in 2016, and Apple will undoubtedly work on improving services like HomeKit, Apple Pay, and Apple Music.
As we did for
2014
and
2015
, we've highlighted Apple's prospective 2016 product plans, outlining what we might see from Apple over the course of the next 12 months based on current rumors, past releases, and logical upgrade choices.
Apple Watch 2 (Early 2016)
A second-generation Apple Watch is rumored to be debuting in March of 2016, approximately one year after the launch of the first Apple Watch. A March event could see the introduction of the device, with shipments beginning in April 2016.
Early rumors suggest the Apple Watch 2 will perhaps include some of the sensors that were nixed from the first version, including skin conductivity, blood oxygen level, and blood pressure. The device may be thinner than the first Apple Watch, and it could include features like a FaceTime camera to allow Apple Watch users to make and receive FaceTime calls and an upgraded Wi-Fi chip that may allow the Apple Watch to do more without an iPhone.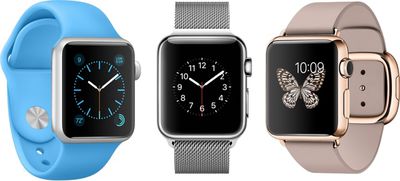 The Apple Watch 2 could be thinner than the existing Apple Watch, with new sensors and a camera.


It is not clear if the new Apple Watch will continue to use the same lugs and bands as the first-generation Apple Watch, but given the large number of bands owned by Apple Watch users, it seems likely the device won't require users to purchase all new hardware. There have been no rumors on the prospective hardware, aside from early analyst predictions pointing towards the thinner size.
Regardless, the second-generation Apple Watch is likely to be accompanied by the launch of bands in new colors and designs as Apple has set a precedent of changing the available bands multiple times per year.
iPhone 7 and 7 Plus (Late 2016)
The iPhone 7 and the iPhone 7 Plus will come at the tail end of 2016, likely making their debut in September in line with past iPhone launches. Apple is expected to continue offering the phones in 4.7 and 5.5-inch sizes, but we can count on a redesigned external chassis because 2016 marks a major upgrade year.
Details about the exterior of the phone and its internal updates are largely unknown at this early date, but based on past upgrades, we can expect a thinner body, an improved processor, and a better camera. Flagship features like 3D Touch and Touch ID will continue to be available, and Apple likely has additional features planned to make its latest iPhone stand out.
Taking into account past rumors and acquisitions, the camera is one area that could see significant improvements, perhaps incorporating a dual-lens system that offers DSLR quality in a compact size. Some of these rumors were originally attached to the iPhone 6s, but could have been delayed for later devices especially given the 2015 acquisition of Israeli camera company LinX.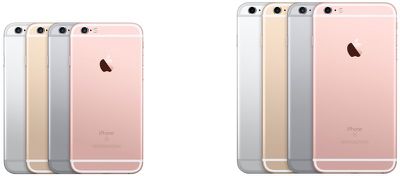 The current iPhone 6s and 6s Plus. The iPhone 7 is rumored to be slimmer with no antenna bands and a new material composition.


Apple is expected to continue using in-cell display panels for the iPhone 7, which will allow it to shrink the thickness of the device, perhaps making it as thin as the 6.1mm iPod touch. The iPhone 7 is also likely to include a TFT-LCD display as the AMOLED technology Apple is rumored to be working on is not yet ready for use in iOS devices.
Analyst Ming-Chi Kuo, who often accurately predicts Apple's plans, has said RAM could be a differentiating factor between the two iPhone 7 models. The smaller 4.7-inch iPhone 7 may continue to ship with 2GB RAM, while the larger 5.5-inch iPhone 7 Plus may ship with 3GB RAM.
Other rumors about the iPhone 7 have pointed towards the removal of the headphone jack in favor of headphones that attach to the device using the Lightning port, a change that may also help Apple shave 1mm off of the thickness of the iPhone.
Some early rumors out of the Asian supply chain have suggested the iPhone 7 may include a strengthened, waterproof frame that ditches Apple's traditional aluminum casing for an all new material and does away with the prominent rear antenna bands on the iPhone 6, iPhone 6 Plus, iPhone 6s, and iPhone 6s Plus. The rumors of a waterproof, dust-proof casing are from somewhat unreliable sources and should not be viewed as fact until further evidence becomes available.
iPhone 6c (Early 2016)
Since the launch of the larger-screened iPhone 6 and iPhone 6 Plus, Apple has been rumored to be working on an upgraded 4-inch iPhone for customers who prefer smaller screens. The "iPhone 6c" is rumored to be launching during the first months of 2016, and it's another device that could potentially make an appearance at Apple's rumored March event. If the 4-inch iPhone launches in early 2016, it will be the first iPhone to launch outside of the fall months since 2011.
Apple's 4-inch iPhone is described as a cross between an iPhone 5s and an iPhone 6, with an aluminum body and iPhone 6-style curved cover glass. There have been some sketchy rumors suggesting it will come in multiple colors like the iPod touch, but that has not yet been confirmed. KGI Securities analyst Ming-Chi Kuo has pointed towards "two or three" color options for the device, but he did not specify which colors.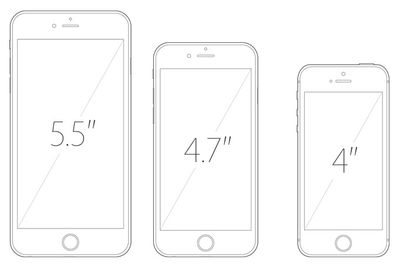 Rumors have disagreed over whether the iPhone 6c will include an A8 processor or an A9 processor, but Kuo believes Apple will use the same A9 processor that's used in the iPhone 6s. Other rumors out of the Asian supply chain suggest Apple could also include 2GB RAM in the device, and with an A9 processor and 2GB RAM, the iPhone 6c could be on par with the iPhone 6s when it comes to raw performance.
Other features rumored for the iPhone 6c include a 1,642 mAh battery that's somewhat larger than the battery used in the iPhone 5s, an 8-megapixel rear-facing camera with an ƒ/2.2 aperture, a 1.2-megapixel front-facing camera, 802.11ac Wi-Fi, and Bluetooth 4.1. The iPhone 6c is not expected to include 3D Touch, as it is a flagship feature of the iPhone 6s, but it is likely to include NFC to enable Apple Pay functionality.
iPad Air 3 (Early-to-Mid 2016)
Since the iPad launched in 2010, Apple has upgraded the tablet on a yearly basis, producing a new version each fall. In 2015, Apple did not upgrade the iPad Air 2, instead focusing on releasing the iPad Pro and the iPad mini 4. Combined with the minor update the iPad mini 2 received in 2014, Apple may be signaling its intention to update its iPads on an 18-month to two-year schedule going forward.


Recent rumors have suggested that Apple is developing an iPad Air 3 that will launch during the first half of 2016. Little is known about the third-generation iPad Air at this time, but it will include an upgraded processor to improve performance. It may also offer RAM upgrades and camera improvements, but it will not include the 3D Touch feature introduced with the iPhone 6s and the iPhone 6s Plus due to manufacturing difficulties expanding the technology to a larger screen size.
Apple likely has something planned to make the iPad Air 3 stand out, but it is not yet clear what that might be.
MacBook Air (Early-to-Mid 2016)
Following the launch of the Retina MacBook in April of 2015, the future of the MacBook Air became uncertain. There has been speculation that the MacBook line will subsume the MacBook Air line as component prices decrease, but some recent rumors have led to hope that the MacBook Air will continue to exist alongside the Retina MacBook and the Retina MacBook Pro, offering a compromise between performance, portability, and cost.
Though it lacks the power of the Retina MacBook Pro and the Retina display of the MacBook, the MacBook Air continues to be popular with consumers for its low price point.
Current rumors suggest Apple will continue producing the MacBook Air, with plans to launch 13 and 15-inch MacBook Air models during the third quarter of 2016, perhaps unveiling the machines around the annual Worldwide Developers Conference.
The MacBook Air's design has remained unchanged since 2010, so a 2016 redesign that focuses on a slimmer chassis with bigger screens and revamped internals is not out of the realm of possibility. Apple has been increasing the sizes of its devices, introducing a larger 5.5-inch iPhone and a 12.9-inch iPad Pro, so a 15-inch MacBook Air also seems reasonable. The rumor does not mention an 11-inch MacBook Air, suggesting it will potentially be phased out in favor of larger screen sizes and to let the 12-inch Retina MacBook stand out as the sole ultraportable machine.


Current 11 and 13-inch MacBook Air compared to 15-inch Retina MacBook Pro
If Apple does introduce a 2016 MacBook Air, it will likely include Intel's next-generation Skylake chips, which
will offer
10 percent faster CPU performance, 34 percent faster Intel HD graphics, and 1.4 hours of additional battery life compared to the equivalent Broadwell chips in current MacBook Air models. Skylake U-Series 15-watt chips appropriate for the MacBook Air will be shipping in early 2016.
While the current rumor has suggested the new MacBook Air models will launch in the third quarter of 2016, they could potentially be ready to debut earlier in the year. The last MacBook Air update was in March of 2015 and Apple may not want to wait more than a full year before introducing a refresh.
As there haven't been many rumors about a new MacBook Air at this time, an update should not be viewed as a sure thing. Supply chain information is not always accurate, and there's a chance the information shared about the alleged 13 and 15-inch MacBook Air could instead apply to the Retina MacBook Pro.
Retina MacBook Pro (Early-to-Mid 2016)
Over the course of the past two years, Intel's chip delays have significantly impacted Apple's Retina MacBook Pro release plans, especially for the 15-inch model. Broadwell delays resulted in staggered update timelines for 13 and 15-inch models, which were last updated in March and May of 2015, respectively.
While the 13-inch Retina MacBook Pro was updated with Broadwell chips, the 15-inch machine has continued to offer Haswell processors, and Apple's upgrade path for the 15-inch Retina MacBook Pro isn't quite clear.
Broadwell chips appropriate for a 15-inch Retina MacBook Pro update became available in June of 2015, so Apple could release an updated 15-inch Retina MacBook Pro in early 2016 using these chips. Alternatively, and more likely, Apple could bypass Broadwell altogether in favor of a Skylake update for both the 13 and 15-inch Retina MacBook Pro.


Skylake U-Series 28-watt chips appropriate for the 13-inch Retina MacBook Pro will begin shipping from Intel in early 2016, as will 45-watt H-Series chips with Intel Iris Pro graphics appropriate for the 15-inch Retina MacBook Pro. Exact shipping timelines for the chips are not yet known, but with an early 2016 release timeline, new Retina MacBook Pro models could come within the first few months of the year, perhaps being unveiled at the aforementioned rumored March event. Should the chips come at different times, Apple could stagger the 2016 MacBook Pro updates as it did in 2015.
Aside from prospective chip updates, little is known about the next-generation Retina MacBook Pro. Given that it's been four years since the machine was redesigned, it's possible we could see a refreshed, slimmer body and an improved Retina display, but there have been no rumors to suggest this is the case.
Full Retina MacBook Pro roundup

MacBook (Early-to-Mid 2016)
Skylake Core M chips appropriate for a second-generation Retina MacBook are already available, meaning refreshed Retina MacBook could be introduced at any moment. The new Core M chips offer 10 hours of battery life and 10 to 20 percent faster CPU performance compared to the Broadwell chips used in the first-generation machine.
The most notable upgrade in a second-generation Retina MacBook that uses Skylake chips would come in the form of graphics improvements, as the Skylake Core M chips offer up to 40 percent faster graphics performance.


Beyond Skylake chips, it is not known what other improvements Apple might offer in a second-generation Retina MacBook. Given that the design was just introduced in April of 2015, the new machine will undoubtedly use the same chassis, but a Rose Gold color option to match the new Rose Gold iPhone 6s is a possibility.
If Apple is planning to introduce new Macs at a rumored Apple Watch-centric event in March, that may be when the new Retina MacBook will debut.
iMac (Late 2016)
Apple's iMac, like its MacBook Pro, has been impacted by Intel's chip delays. Current higher-end models already use Skylake graphics but lower-end models continue to use Broadwell chips. Given that the iMac lineup was just refreshed in October of 2015, another update may not come until late in 2016.
Apple's future chip plans for the iMac are difficult to decipher, as Intel does not plan to introduce desktop class socketed Skylake chips with integrated Iris or Iris Pro graphics that would be appropriate for lower-end iMacs that use integrated graphics instead of discrete graphics.
With no prospective chips available for the lower-end iMacs, it is not clear what Apple is going to do in terms of processor upgrades, making it nearly impossible to predict when we might see the next iMac update or what it might include. Intel plans to release Kaby Lake processors in late 2016, but details on Kaby Lake chips appropriate for the iMac are not available, and it's possible Kaby Lake could see delays.


There are also no rumors on other features that could be included with a next-generation iMac update, but going forward, Apple may fully drop non-Retina 21.5-inch models as hardware prices come down in favor of an all-Retina lineup.
Software Updates
iOS 10 (Late 2016)


Each September, Apple launches an updated version of iOS to accompany its latest iPhones. In 2016, the company is expected to debut iOS 10, the successor to iOS 9. iOS 8 and iOS 9 both focused more on features than design, so it is quite possible iOS 10 will be an update that introduces more significant design changes, similar to iOS 7.
Because iOS 9 just launched three and a half months ago, iOS 10 rumors have not yet begun. As the year progresses, we'll get a glimpse at what to expect in September, but for now, all we know is that there's an update coming.
OS X 10.12 (Late 2016)


Along with iOS, OS X is also updated on a yearly basis, with an update coming each fall around September or October. In 2016, we expect to see the debut of OS X 10.12, the followup to OS X 10.11 El Capitan.
El Capitan was an update designed to introduce bug fixes and build on the features that debuted with OS X 10.10 Yosemite, so it's likely OS X 10.12 will be a bigger standalone update that includes design tweaks and new features.
Full OS X 10.11 El Capitan roundup
watchOS 3 (Early 2016)


watchOS is the software that runs on the Apple Watch, and in 2016, Apple is expected to launch a third version of the software. watchOS debuted alongside of the Apple Watch in April, while watchOS 2 came out just months later in September with iOS 9.
Apple has thus far tied its watchOS releases to iOS releases, but it's quite possible that watchOS 3 will launch alongside an updated second-generation Apple Watch rather than alongside iOS 10 in September. A second-generation Apple Watch will potentially require some significant software updates if major hardware changes like new sensors or cameras are introduced.
New versions of the iPhone ship with new versions of iOS, so it's logical to expect the same thing to happen with the Apple Watch, but thus far there are no rumors about the watchOS 3 update or what features might be included.
tvOS 10?
Apple TV software traditionally has not seen the same major software updates as iOS devices and the Apple Watch, so Apple's plans for tvOS are not clear. So far, there have been some minor tvOS updates, but it is not yet known if Apple will push major version upgrades with new features and design changes on a yearly basis.
If Apple is planning to offer iOS-style updates for tvOS, the first major tvOS software update could come in the fall, perhaps alongside iOS 10.

Other Possibilities
Fifth-generation Apple TV
Shortly after the launch of the fourth-generation Apple TV, there was a sketchy rumor suggesting development and production had already begun on a fifth-generation Apple TV with an upgraded CPU. While it's possible Apple has plans to release an updated Apple TV in 2016, it's highly unlikely such a device is already in production and it's equally unlikely Apple would release it before the fall of 2016.
Prior to the launch of the fourth-generation Apple TV, the set-top box went multiple years without a significant update. It is not clear how often Apple will update the Apple TV now that a new version has been released, so we will need to wait until later in the year for more information on the Apple TV upgrade schedule.
iPad Pro 2
The iPad Pro was released in November of 2015 and Apple's plans for a second-generation device are not yet known. For several years, Apple was updating its iPads on a yearly basis, but its more recent update timelines suggest it is potentially moving to an 18 month or 24 month upgrade cycle for iPads, making it unclear when we might see an iPad Pro 2.
With the iPad Air line, for example, Apple introduced an iPad Air 2 in 2014 but neglected to upgrade it to an iPad Air 3 in 2015. The iPad mini 2 update was similar, with a 2014 update introducing only Touch ID to the 2013 model, while the 2015 iPad mini 4 featured a more significant revamp.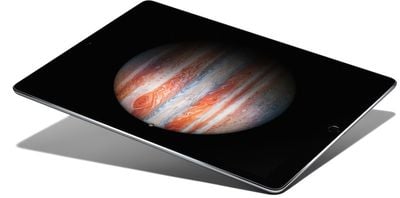 An iPad Pro 2 could potentially debut in 2016 with an updated processor and other improved features, but it's also just as likely Apple will wait until mid-to-late 2017 to introduce a second-generation iPad Pro. More information on Apple's iPad Pro plans will come later in 2016, firming up potential release timelines.
iPad mini 5
Apple introduced the iPad mini 4 in late 2015, following the launch of the iPad mini 2 in 2013 and the minor iPad mini 3 update in 2014. With Apple seemingly shifting away from a yearly upgrade cycle for its iPad lineup, we may not see an iPad mini 5 in 2016.
Instead, 2016 may see the launch of an updated iPad Air 3, followed by an iPad mini update in 2017. Apple's iPad sales have been flagging in recent years as customers do not update their tablets as often as their phones, which has led Apple to try different upgrade strategies and cycles. With Apple's shifting plans, it is not yet clear when the iPad mini will see another update.
Ahead of the launch of the iPad mini 4, there were some rumors that Apple would discontinue its smallest tablet, but with the iPad mini 4, Apple has signaled its intention to continue offering the iPad in three screen sizes to meet different customer needs.
Mac Pro
The Mac Pro launched in late 2013, and since then, it has not seen an update. It's quite possible 2016 will be the year Apple will refresh the machine, as potential references to an updated Mac Pro were discovered in OS X El Capitan.
Grantley Xeon E5 V3 Haswell-EP processors appropriate for a high-end Mac Pro upgrade were introduced in 2014, but Apple may be waiting on E5 V4 Broadwell-EP chips for the top-of-the-line Mac Pro that are set to launch in the first half of 2016. E3 V4 chips appropriate for lower-end machines are already available, as are Skylake E3 V5 chips.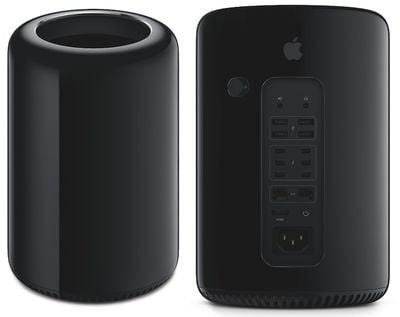 If this is the case, a Mac Pro launch will happen after the chips become available, with the machine perhaps seeing a mid-to-late 2016 debut.
Updated AMD FirePro graphics cards were introduced in 2015, as were cards built on AMD's Fury platform, both of which could potentially be used in a next-generation Mac Pro. Fury graphics are more likely, and an updated Mac Pro could also include faster memory, improved storage, and Thunderbolt 3 connectivity introduced through a shift to USB-C.
In the past, prior to its 2013 redesign, the Mac Pro was updated in 2006, 2008, 2009, 2010, and 2012.
Mac mini
The Mac mini was last updated in 2014, introducing Haswell processors and features like 802.11ac WiFi and Thunderbolt 2. Given that it's now been two years since the update, Apple could introduce new Mac mini models with Skylake processors in 2016. Two years is the longest the Mac mini has gone without a refresh.
Apple's Mac mini line uses the same U-Series chips that are found in the MacBook Air and the 13-inch Retina MacBook Pro, and Skylake chips appropriate for an updated Mac mini will be shipping in the first months of 2016. A new Mac mini may debut in early-to-mid 2015 alongside a refreshed MacBook Air and MacBook Pro.
In the past, the Mac mini saw upgrades in 2006, 2007, 2009, 2010, 2011, and 2012 before going sans upgrade for two years after a late 2012 update.
Related Roundups:
iPad Pro
,
iMac
,
Mac Pro
,
Mac mini
,
MacBook Air
,
Apple TV
,
iPad mini
,
Apple Watch Series 9
,
iPhone SE
,
MacBook Pro 13"
,
MacBook Pro 14 & 16"
Buyer's Guide:
11" iPad Pro (Caution)
,
iMac (Don't Buy)
,
Mac Pro (Buy Now)
,
Mac Mini (Neutral)
,
13" MacBook Air (Don't Buy)
,
Apple TV (Neutral)
,
iPad Mini (Caution)
,
Apple Watch (Buy Now)
,
12.9" iPad Pro (Caution)
,
iPhone SE (Caution)
,
13" MacBook Pro (Don't Buy)
,
14" & 16" MacBook Pro (Caution)