Intel Announces New Quad-Core Broadwell Processors Appropriate for 15-Inch MacBook Pro
Intel today at Computex 2015 announced its next-generation lineup of quad-core Broadwell processors for notebooks and desktop computers, including a trio of Core i7 processors appropriate for the 15-inch Retina MacBook Pro: i7-5950HQ, i7-5850HQ and i7-5750HQ. The new processors have base frequencies of between 2.5 GHz and 2.9 GHz and feature integrated Intel Iris Pro 6200 graphics.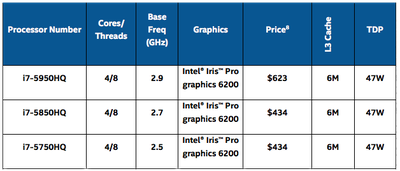 The fifth-generation Broadwell chips are expected to be available in the next 30-60 days, meaning the first notebooks and desktop computers with the new processors should be available in July or August.
Interestingly, Apple refreshed the 15-inch Retina MacBook Pro just last month, but noticeably missing were processor upgrades, as the new machines continue to use the same Haswell processors from the previous generation. While appropriate Broadwell chips will soon be available over the next few months, it is possible that Apple did not want to wait that long to refresh the notebook.
It is also possible that Apple will skip fifth-generation Broadwell processors entirely for the MacBook Pro and release Skylake-based notebooks as early as later this year. Intel also announced the future availability of Thunderbolt 3 with USB-C, and USB 3.1 and DisplayPort 1.2 support, and the new spec would be suitable for inclusion in the next refresh to the Mac lineup.