Intel Skylake Processors: Up to 20% Performance Boost, 41% Faster Graphics and 30% Longer Battery Life
Less than two weeks before Intel announces new desktop Skylake processors, likely to be used in future Macs, at the Gamescom trade show in Germany on August 5, FanlessTech has leaked an Intel slide deck that offers a closer look at some of the performance enhancements the next-generation processors will deliver for both desktop computers and notebooks.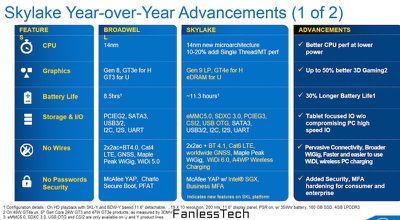 The leaked slides reveal that Skylake processors will provide a 10%-20% CPU performance boost in single and multi-threaded applications, with lower power consumption, and 30% faster Intel HD integrated graphics performance on average compared to current-generation Broadwell processors. The improved energy efficiency will also result in up to 30% longer battery life.


The specific performance improvements to the four main Skylake families are outlined below based on preliminary data, with the MacBook model appropriate for each chip listed in parentheses:
- Y-Series (MacBook): Up to 17% faster CPU, up to 41% faster Intel HD graphics, up to 1.4 hours longer battery life
- U-Series (MacBook Air): Up to 10% faster CPU, up to 34% faster Intel HD graphics, up to 1.4 hours longer battery life
- H-Series (MacBook Pro): Up to 11% faster CPU, up to 16% faster Intel HD graphics, up to 80% lower silicon power
- S-Series (iMac): Up to 11% faster CPU, up to 28% faster Intel HD graphics, 22% lower TDP (thermal design power)
Apple refreshed the MacBook Air and 13" Retina MacBook Pro with the latest Broadwell processors in March, but the refreshed 15" Retina MacBook Pro released in May remains powered by two-year-old Haswell architecture due to the lack of quad-core Broadwell processors appropriate for the notebook at the time.
Given that Intel announced a trio of Core i7 processors appropriate for the 15" Retina MacBook Pro just weeks later, and both the iMac and Mac mini still have Haswell processors, it is plausible that Apple has chosen to skip Broadwell processors entirely and release Skylake-based Macs in late 2015 or early 2016 -- and the jump from Haswell to Skylake would deliver an even higher performance boost.
Taiwanese blog DigiTimes, which has a hit-and-miss track record at reporting on Apple's upcoming product plans, says that Intel is planning to launch 18 new Skylake processors for notebooks in the fourth quarter, starting in October. The mid-range and high-end processors could be used in the next-generation 12-inch MacBook, MacBook Air and Retina MacBook Pro.