'iPhone 7' Rumored to Be Waterproof, Possibly Adopt Non-Metallic Casing Material
The iPhone 6s and iPhone 6s Plus was just released in first-wave launch countries around the world last Friday, but a few new rumors about the 2016 "iPhone 7" have begun to surface online this morning. According to a source from the Chinese social media site Weibo (via Mac Otakara) [Google Translate], the next version of the iPhone will have a strengthened, waterproof frame and may ditch a metallic casing altogether.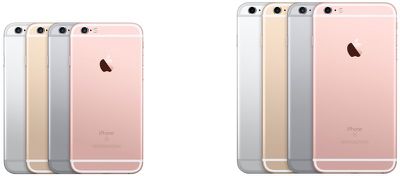 This strengthened body would certainly follow in the footsteps of the iPhone 6s and 6s Plus, which bolstered the weak points of its predecessors and moved to a stronger 7000 Series aluminum alloy. According to today's rumors, however, the so-called iPhone 7 will find its strength in a focus on a waterproof and dust-proof body that would allow iPhone users to worry less about dropping their smartphones in liquids.
This big new upgrade to the iPhone 7 would call for a new frame and casing material, and according to one of the postings on Weibo, Apple is in fact planning on adopting an entirely new material next year for the iPhone 7. If this turns out to be the case, the iPhone 6s and iPhone 6s Plus would be the last in the iPhone line to include a metallic casing for the smartphone.
Mac Otakara also received news from reliable sources stating that the upcoming iPhone would have a "completely flat" LCD screen, but, as with all of today's rumors, it should be taken with a grain of salt given that we're just now under a year away from Apple revealing the device. These aren't the first rumors of the iPhone 7, either, with reports dating back to March concerning the 2016 iPhone's possibility of adopting Intel LTE Chips, including glass-on-glass touch panels, and being the thinnest iPhone yet.