Previous rumors that a smaller-screened "iPhone 6c" had been canceled for 2015 and perhaps now set to launch sometime in 2016 are getting a bit more heft today, with a report from Digitimes suggesting the "iPhone 5c successor" will launch in the second quarter of 2016. The site's sources from within the seminconductor industry also point to the so-called iPhone 6c lineup arriving with new 14/16nm FinFET chips from TSMC and Samsung, which would bring better performance and lower power consumption to the new line of cheaper iPhones.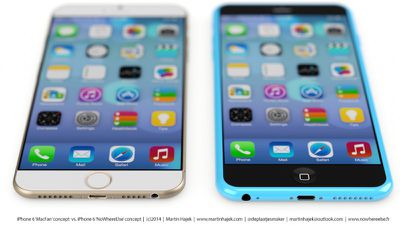 The 14/16nm FinFET chips will be manufactured by Taiwan Semiconductor Manufacturing Company (TSMC) and Samsung, the sources said. The original plan was to equip the devices with chips built using TSMC's 20nm SoC process, said the sources, but the adoption of FinFET processors would enable specs upgrade and lower power consumption.
Releasing an iPhone in the second quarter of the year wouldn't exactly be unheard of for Apple -- the original iPhone, iPhone 3GS, and iPhone 4 all launched in June -- but it would definitely go against the early fall annual launch dates the company has been following for about four years now.
Digitimes has a spotty track record with respect to Apple rumors, although the site has on a number of occasions offered accurate information from Apple's supply chain. At a minimum, today's report adds to those from other source's including KGI's Ming-Chi Kuo stating Apple is planning a new 4-inch iPhone for 2016.
The latest rumors surrounding the iPhone 6c point to a device the size of an iPhone 5s, but in the same hardware vein of an iPhone 6. The smartphone would have an all-metal unibody construction, different from the plastic iPhone 5c that launched the cheaper iPhone trend in 2013.