iOS 12
Apple's next-generation iOS operating system, now available.
By MacRumors Staff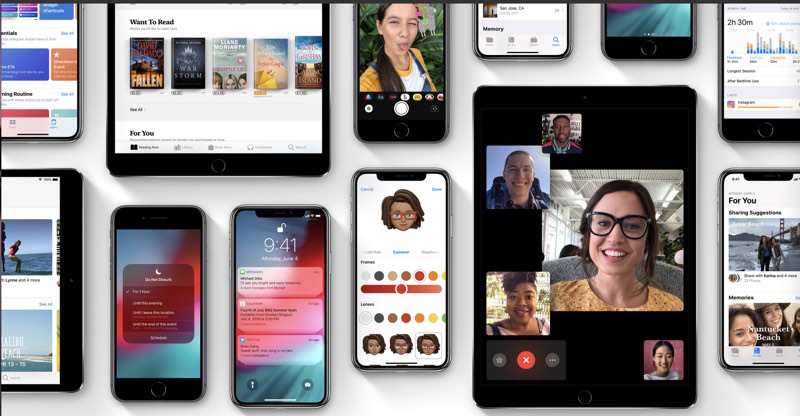 At a Glance
iOS 12, released September 17, focuses on performance and quality improvements, along with new features like Memoji, Screen Time, Group FaceTime, and more. Available now for developers.
Features
Focus on performance improvements
Memoji
Group FaceTime
ARKit 2.0
New digital health features
Better parental controls
Do Not Disturb improvements
Grouped Notifications
What's New in iOS 12
Apple iOS 12, the current publicly available version of iOS, on June 4, 2018 at the keynote event of the Worldwide Developers Conference. iOS 12 is set to be replaced with iOS 13, which is currently being beta tested, in September 2019.
With iOS 12, Apple doubled down on performance, working from top to bottom to make iPhones and iPads faster and more responsive. Apple has made improvements on devices both old and new, and iOS 12 has been designed to run on all devices able to run iOS 11.
With Apple's performance improvements, apps launch faster, the keyboard appears faster, and the Camera is quicker to open. Apple has also optimized the system when it's under load, making iOS devices faster when you need performance the most.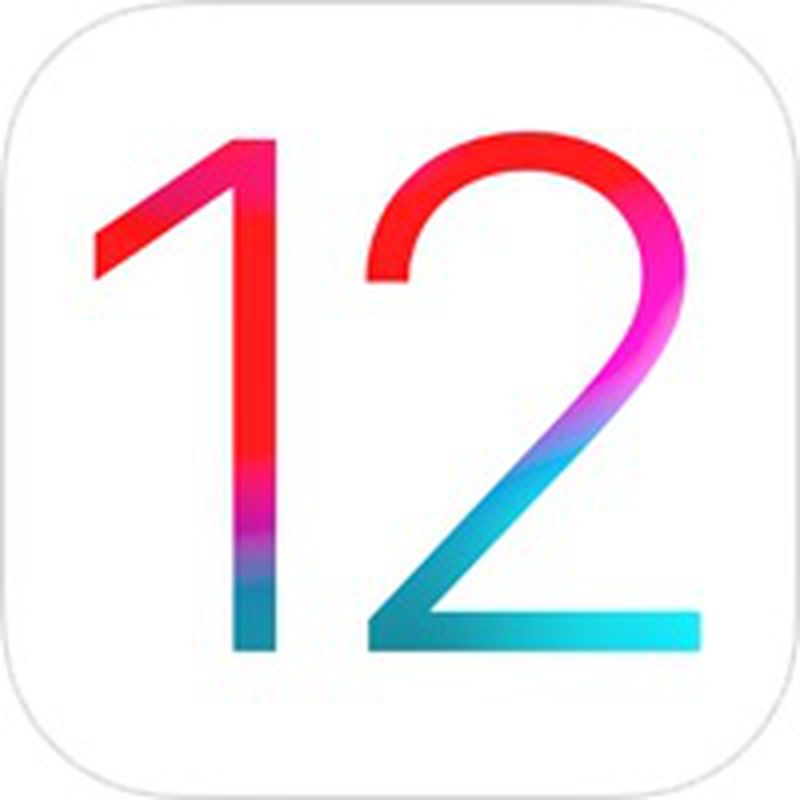 Though Apple focused on under-the-hood improvements for iOS 12, there is a long list of new features in the update that makes this an impressive new version of iOS.
Apple introduced new customizable Animoji called Memoji, which you can personalize to look like you. Memoji, Animoji, and other fun effects can be used both in Messages and with FaceTime through the new Effects camera. A Group FaceTime feature lets you video chat with up to 32 people at one time, but requires iOS 12.1.4 or later.

Siri is a whole lot smarter in iOS 12. Siri can answer questions about famous people, food, and motorsports, and there's a whole new Shortcuts feature that's built on the Workflow app. With Shortcuts, you can build a huge range of automations using first- and third-party apps, which can then be activated with Siri voice commands.
Siri suggestions and Shortcuts show up on the Lock screen and when you pull down to search, with Siri able to do more than ever before with the third-party Shortcuts integration. You can create Shortcuts using a dedicated Shortcuts app available from the iOS App Store, and the app offers dozens of pre-made options to make it easy to get started.
Apple built a comprehensive set of time management and focus tools into iOS 12, starting with a new Screen Time feature. Screen Time provides weekly activity reports detailing how you used your iOS device, including how much time you spend in each app, how often you pick up your phone, how long you spend on the iPhone or iPad, and which apps are sending the most notifications.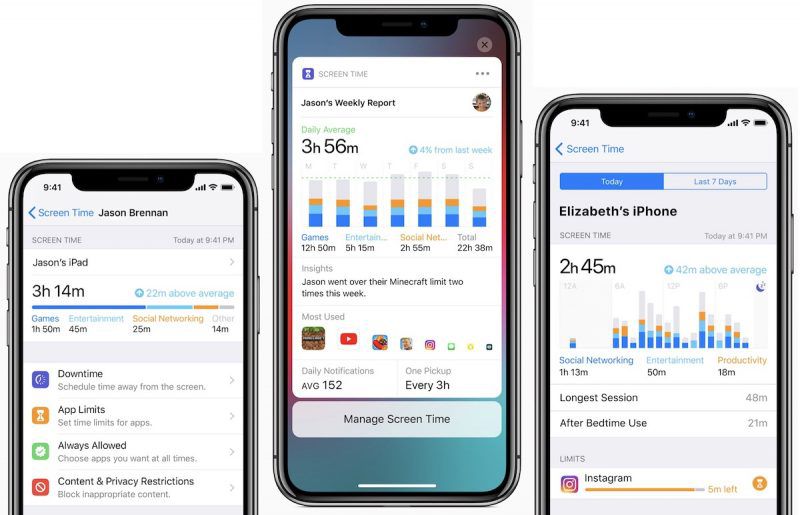 App Limits, a part of Screen Time, lets you set a time limit on apps to remind you to use them less, while new Parental Controls let parents see how much time children are spending on their devices and limit that time with richer, more granular control options.
Do Not Disturb at Bedtime lets you turn off notifications at night so you only see the time, and Do Not Disturb in general is easier than ever to use with DND options that include ending times available in Control Center through a 3D Touch or force press. With these DND features, you can set Do Not Disturb for an hour, while you're at a specific location, or for the duration of a meeting.
Grouped Notifications have been added to make it easier to view and manage all notifications from an app at once, and there's a new Instant Tuning feature for tweaking notifications as they come in. You can press on a notification to turn off notifications for a given app or set them to Deliver Quietly, which sends them to Notification Center but not the Lock screen. Siri also offers suggestions to turn off notifications for apps you don't use anymore, and all in all, notifications are less intrusive in iOS 12.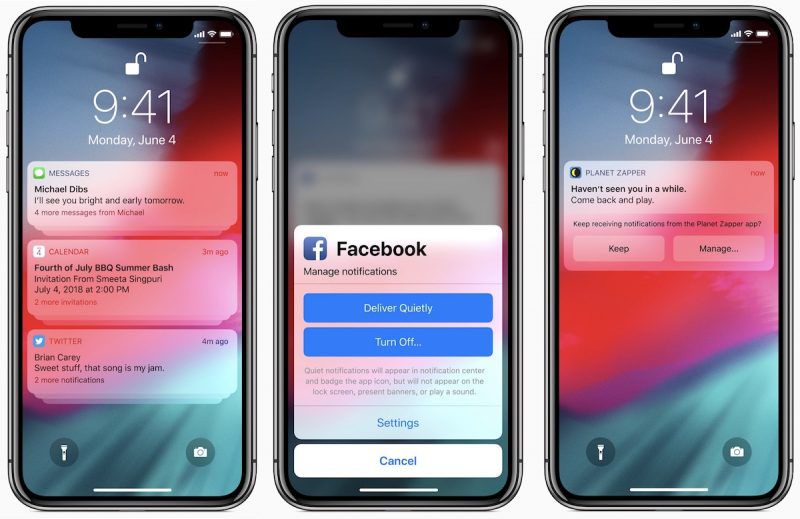 Multiple apps have new features in iOS 12. There's a Browse feature in Apple News and an Apple News sidebar on the iPad, and Apple has entirely redesigned the Stocks app and introduced it on the iPad. Voice Memos has also been revamped and made available on the iPad, and iBooks has been entirely overhauled with a new look, a Reading Now feature for syncing what you're reading across devices, and a new name -- Apple Books.

CarPlay now supports third-party navigation apps like Google Maps and Waze, and Photos features more powerful search capabilities and search suggestions, along with a new "For You" section that offers up photo highlights, editing suggestions, and an "on this day" look at what happened in past years. Sharing is a focus of Photos, and you'll see suggestions to share photos with your friends and vice versa with Share Back.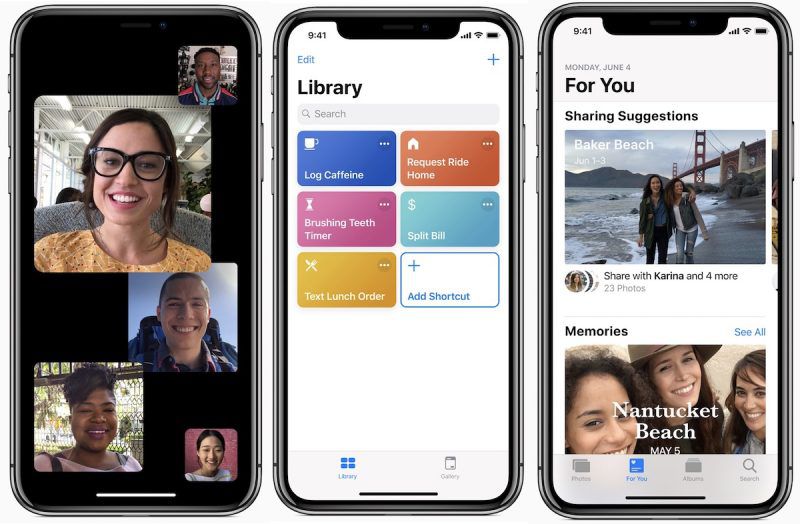 ARKit 2.0 in iOS 12 adds new functionality that has the potential to make augmented reality far more useful within iOS apps. Face tracking and object rendering have been improved, and there's new 3D object detection, but the key changes include shared experiences that let two people see the same AR environment on separate devices and persistence, which allows AR experiences to be built around an object or physical space.
Apple is introducing a new USDZ file format developed alongside Pixar, which allows AR assets to be used across the system, in Safari, Messages, Mail, and more. USDZ lets you place 3D AR objects into the real world within these apps. Apple is working with many companies like Adobe to implement support for USDZ in unique ways.
As part of the new ARKit 2.0 changes, Apple is introducing a new app called Measure, which uses augmented reality capabilities to take measurements of objects, lines, and rectangles, and developers can build richer augmented reality experiences using all of the new tools.
iOS 12 was released to the public on September 17, 2018. It is a free download on all devices able to run iOS 11.
Note:
See an error in this roundup or want to offer feedback?
Send us an email here
.
Current Version - iOS 12.4.1
The current version of iOS 12 is iOS 12.4.1, a minor update that was released on August 26. It is a security update that fixed a vulnerability that had allowed an iOS 12.4 jailbreak to be created.
Prior to iOS 12.4.1, Apple released iOS 12.4, a significant update that introduced new functionality and feature improvements.
There's a new iPhone migration feature that allows you to transfer data iPhone to iPhone when setting up a new device. Previously, the only data transfer option worked over iCloud, so this is a more privacy-focused transfer feature that does not involve the cloud.
Subscribe to the MacRumors YouTube channel for more videos.
Data is transferred from one iPhone to another, including app data, but apps are still downloaded from the App Store.
The update also includes improvements to Apple News, making all downloaded content accessible in the My Magazines section, both offline and online. All publications in Apple News+, including newspapers, are now listed in the catalog at the top of the Apple News+ interface, and there's an option to clear downloaded magazine issues by selecting History > Clear > Clear All.
Performance Improvements
Ahead of the debut of iOS 12, rumors suggested Apple had shelved several features in order to focus on performance and reliability. That turned out to be true, and Apple says that it has worked to make iOS 12 fast and efficient on all devices, including older iPhones and iPads.
On an iPhone 6 Plus, for example, Apple says apps launch up to 40 percent faster, while the keyboard can appear up to 50 percent faster. When opening up the camera on the Lock screen to take a photo, it launches up to 70 percent faster.

Apple has worked to make animations smoother and more responsive across the operating system, so when you perform tasks like accessing Control Center, scrolling in apps, or swiping up when multitasking, everything feels more fluid.
Apple's "deepest focus" in iOS 12 was on optimizing the system when it's under load, and on stage, Apple's Craig Federighi said that apps launch up to twice as fast under load, as does the Share Sheet.
Apple made these improvements by optimizing iOS across its full range of A-Series chips. In iOS 12, when an iPhone or an iPad detects that a burst of performance is needed for something like launching an app, processor performance ramps up instantly and then ramps back down again to preserve battery life.
Screen Time and Limiting Distractions
iOS 12 includes a comprehensive set of built-in features that are designed to help you focus, limit distraction, monitor your iOS device usage, and better understand how you are using your time throughout the day.
Screen Time, a new section built into the Settings app of the iPhone and iPad, collects data on what you're doing on your iPhone to give you an idea of how much time you're spending on your iOS devices.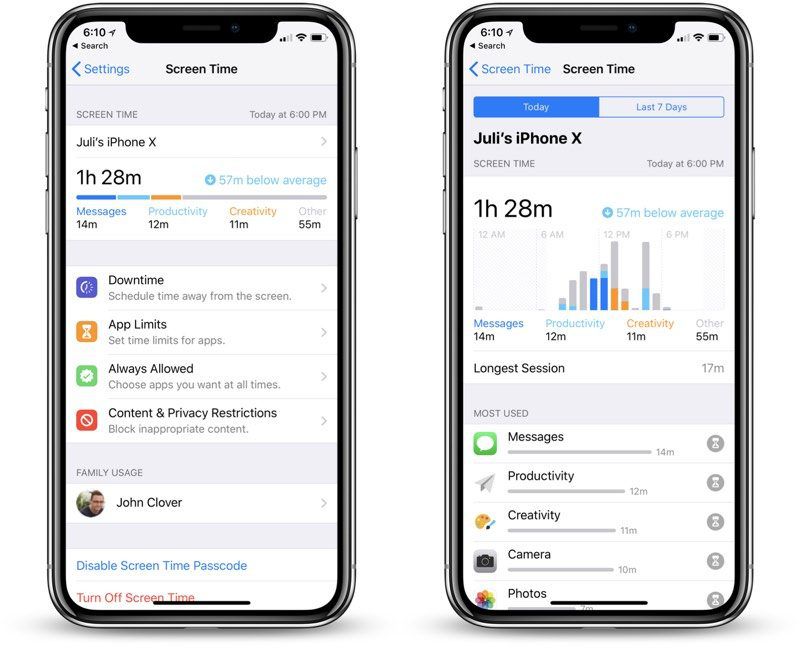 The feature offers deep insight into how much time you spend in different categories of apps, how much time you spend in each app, how often you pick up your iPhone, which apps are sending you the most notifications, the websites you're visiting, and more. This information is aggregated on all of your iOS devices to provide an overall usage picture, with additional details available when you tap on each app in the list.
Screen Time is a super detailed and interesting look into how you're spending time on your iPhone, with Apple providing a weekly Activity Report for you to review. With this info, Apple is giving people the details necessary to make decisions on overall app usage and whether there's a need to cut back. You can see your usage across all of your devices or on just a single device with the available Screen Time options.
You can wait for your weekly reports or check the Screen Time widget in the Today view to see statistics on app usage, notifications, and device pickups. A full usage rundown is also available in the Settings app.
For those who do want to use this info to cut down on the amount of time spent on iOS devices, Apple has added several tools in iOS 12.
Do Not Disturb
Do Not Disturb in iOS 12 has been enhanced in several ways. First of all, there's a new Bedtime mode that's designed to hide all of your incoming notifications at nighttime, so all you see is the time and date.
Bedtime mode is designed to allow you to glance at your phone in the middle of the night without being distracted by notifications. In the morning, Bedtime mode can be toggled off with a tap, allowing all those muted notifications to roll in.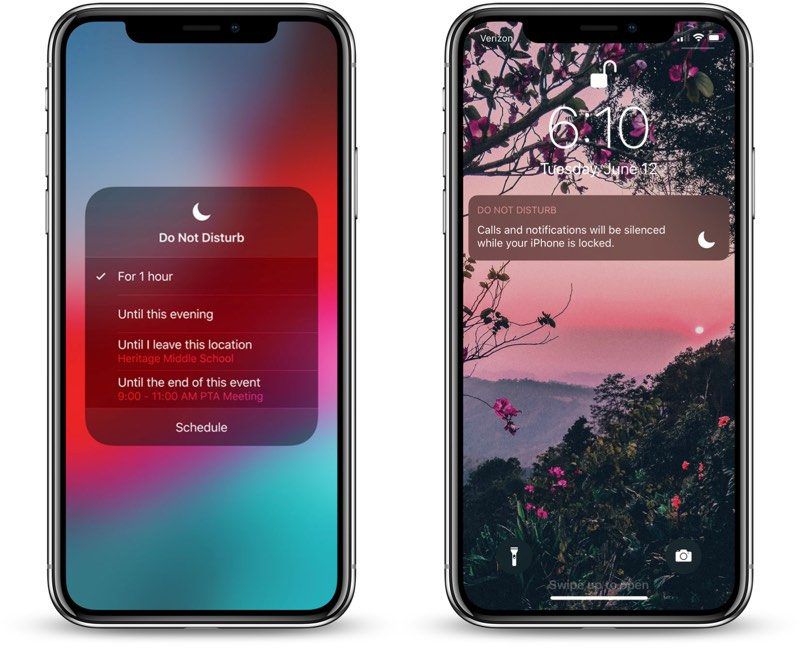 There are also new Do Not Disturb controls in the Control Center on iPhone and iPad. Pressing on the Do Not Disturb icon lets you select options that include turning on Do Not Disturb for one hour, until tomorrow morning, or until you leave a set location.
Suggestions from Siri also include Do Not Disturb toggles for instances when you might want to turn the feature on.
Notifications
iOS 12 brings greater control over the notifications that you're receiving on a daily basis with a new Instant Tuning feature. When a notification comes in on the iPhone or iPad, you can press on it to get options that include Delivery Quietly or Turn Off.
Choosing Deliver Quietly makes it so an app's notifications show up in the Notification Center and create a badge on the app icon, but don't appear on the Lock Screen or display banners.

Turn Off, as the name suggests, turns off all of the notifications for a given app, and there's also an option to go to the Settings app to see a full list of notification controls for each app. For apps that you're no longer using that are continuing to send notifications, Siri offers up suggestions to turn them off.
Apple has also added notification grouping in iOS 12, a highly desired feature that cleans up the Lock Screen by grouping incoming notifications by app, topic, and more, with the ability to tap on a notification group to see individual notifications.
You can also clear notifications by group, which is a useful feature for managing long lists of notifications.
Critical alerts, a new type of opt-in notification, allow select apps to send notifications that ignore Do Not Disturb settings. This is designed to allow you to use Do Not Disturb without accidentally missing important information, such as a notification from a healthcare provider.
App Limits and Downtime
For iPhone and iPad users who want active reminders to spend less time within a particular app, Apple has implemented App Limits.
You can set a time limit on an app category, such as games, and when you've spent the specified amount of time using that app category, your iOS device sends you a notification letting you know that it's time to move on to something else. You can, of course, ignore the warning, but it's a useful feature who need a little help managing their time.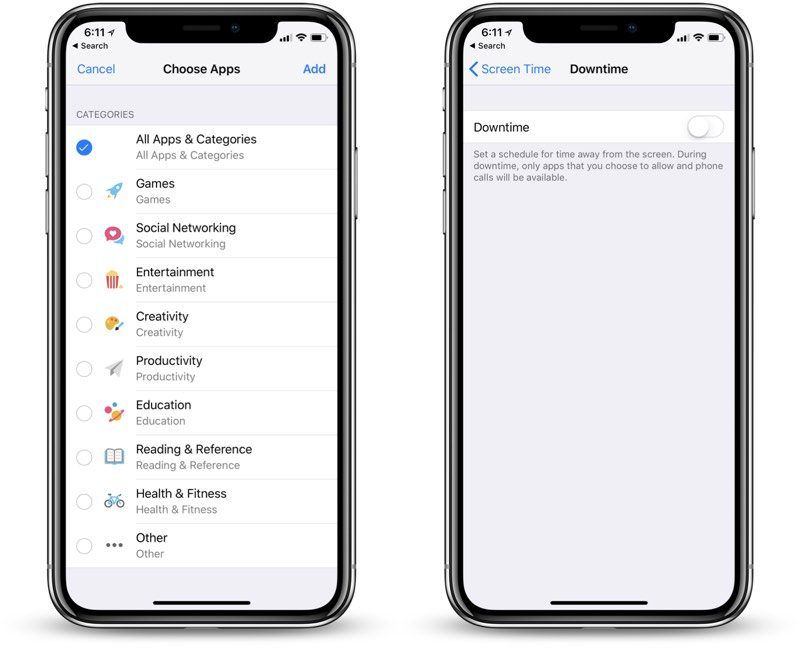 With Downtime, you can set a schedule for times that you want to be away from your iPhone or iPad. When activated, Downtime allows access only to phone calls apps that you choose.
Parental Controls
Screen Time, App Limits, and Downtime, along with Content and Privacy Restrictions, are all available to parents to monitor how children are using their time and set limitations on what's available on a child's iOS device.
Parents can restrict app access with App Limits and Downtime, while Screen Time can be used to see how much time a child is spending on an iPhone or iPad. Content and Privacy lets parents restrict certain kinds of apps, set privacy controls, prevent purchases, disable passcode changes, set content age limits, and more.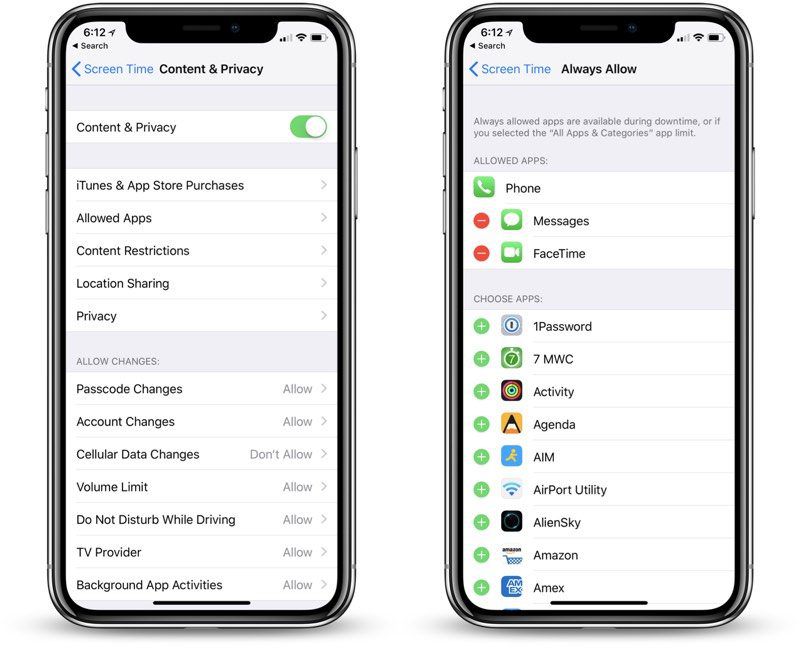 You can, for example, set a child's iPad or iPhone to disallow access to apps in the "Games" category during set periods of the day while leaving access available to the phone and educational apps.
With tools available to set specific app limits for children, Apple's Parental Controls in iOS 12 are far more robust, providing parents with more information on and control over iPhone and iPad usage.
Screen Time and the new Parental Control options all work via Family Sharing, Apple's feature that lets families share content, location information, photos, and more.
Siri
Shortcuts
Apple overhauled Siri in a unique way in iOS 12, incorporating the Workflow app that it purchased in 2017 deep into the operating system.
With a new Siri Shortcuts feature, you can create multi-step shortcuts using third-party apps that can then be activated using a Siri voice command. So, for example, you can create a shortcut to do something like turn on the thermostat at home using the Nest app, text your roommate that you're on the way with Messages, and open up the Maps app with directions home all with a single "I'm going home" Siri command.

Or for something like a surfing trip, you can use a single Siri command to complete several tasks like getting a surf report, getting the current weather, calculating an estimated time of arrival to the beach, and getting a reminder to put on your sunscreen.
Shortcuts are deeply customizable, with third-party apps able to expose a series of quick actions to Siri that can be incorporated into your Shortcut recipes.
With a meditation app like Headspace, for example, you can set up a Shortcut that launches into a 5-minute meditation session with the command "Hey Siri, help me relax." Or you can set up an "Order my groceries" shortcut to open Instacart and place an order.
When iOS 12 was released, Apple is launched a Shortcuts app with a drag and drop editor that's used hub for finding and creating Shortcuts. It includes pre-made Shortcuts options, along with the ability to create Shortcuts yourself. You can also download and share Shortcuts using iCloud, with the Shortcut links able to open up the Shortcut within the Shortcuts app.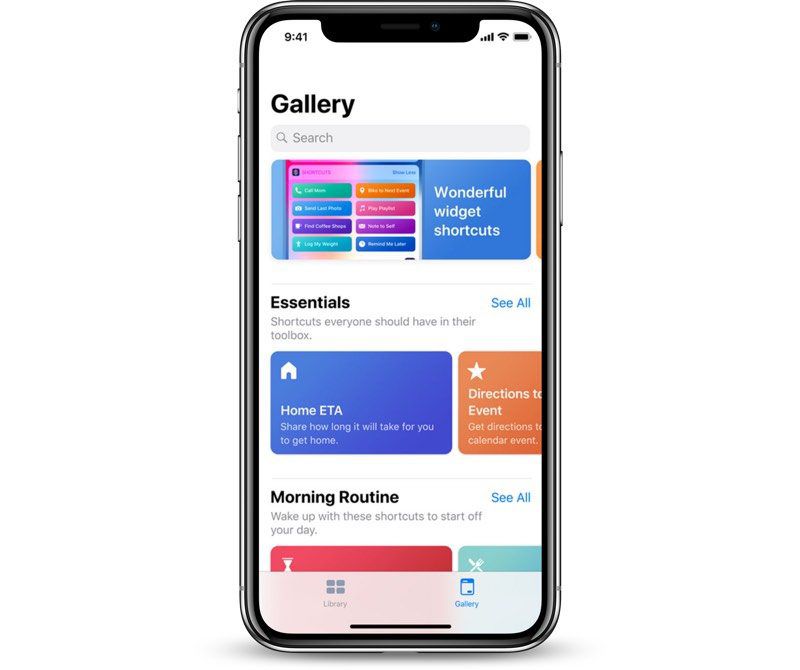 The Shortcuts app includes a Gallery where Apple offers hundreds of Shortcut suggestions for people to use, and Shortcut suggestions are also available in the Shortcuts section of the Settings app to help you figure out what Siri Shortcuts might be useful to you based on apps you've recently used.
For users who already use Workflow apps and have several workflows, downloading the Shortcuts app imports the already-created workflows, so users who can't access the Shortcuts app can get started with Workflow.
Siri Suggestions
Siri suggestions for both Shortcuts and frequently used apps show up both on your Lock Screen and when you pull down on the Home screen to access search.
Siri might suggest messaging people you talk to frequently at a certain time, or offer up a third-party app that you use regularly.

If you wake up and order coffee every morning, Siri might suggest your favorite coffee app on the Lock screen. Or if you use a specific workout tracking app at the gym, Siri might suggest that app when it determines that you're at the gym for a workout.
If you're running late to an appointment you've scheduled, Siri might present an option to send a text message to the person you're meeting with. If your grandma has a birthday coming up, Siri might suggest sending her a text.
Siri suggestions are highly intelligent in iOS 12 with Siri able to suggest more than ever before due to the third-party app access provided by Shortcuts.
Other Siri Enhancements
Siri in iOS 12 can answer questions related to motorsports, food, and celebrity questions, and the personal assistant can provide you access to the passwords stored in your iCloud Keychain.
For motorsports, you can ask Siri for live standings, schedules, rosters, and stats, while Siri's celebrity repertoire allows it to answer questions like "Where was Christian Bale born?" or "Who is Amy Adams married to?"
With new food knowledge, Siri can access information from the USDA database. So you can ask questions like "How much caffeine is in a cup of tea?" or "How healthy is fish?" or "How many calories are in an apple?"
Other new Siri features include an ability to access your passwords, either for a specific app or your entire iCloud Keychain, and the ability to search through photos and memories based on people, places, events, time, and object keyword.
Commands like "Show me photos with cats" or "Show me photos from San Diego" or "Show me photos of cats taken in San Diego" bring up those photos, for example.
Siri can now translate to and from an additional 40 languages, greatly expanding the built-in translation feature.
Animoji and Memoji
For devices with a TrueDepth camera system, iOS 12 brings new Animoji features like tongue detection and better face tracking. With tongue detection, Animoji can now stick out a tongue, and there's also an option for detecting a wink.
Animoji recordings can now last up to 30 seconds, up from 10 seconds in iOS 11, so you can record much longer Animoji messages.

There are also new Animoji options, including Ghost, Koala, Tiger, and T-Rex, plus an all new customizable Animoji experience called Memoji.
With Memoji, you can make a personalized Animoji in the Messages app that looks just like you using a deep set of customization options. You can choose skin color, hair color, hair style, eye color, eyebrows, nose, features like freckles and facial hair, accessories, and headwear.
There's no limit on the number of Memoji you're able to create, so you can add multiples for every look you want to express. As mentioned below, Memoji and Animoji can be used in both Messages and FaceTime in iOS 12.
App Improvements
Apple in iOS 12 has expanded several apps that were iPhone-only to the iPad, including Stocks and Voice Memos, and multiple apps have also gained new functionality.
Messages
Along with new Animoji and Memoji on the iPhone X, the Messages app on all devices offers a new Effects camera that lets you add fun effects to photos using the camera built into Messages.
Tapping on the star on the left of the Messages camera lets you access a selection of filters, shapes, text and text effects, stickers (which can be downloaded from the iMessage App Store), and sketching tools that can be used to enhance photos before you send them within Messages.

You can also apply Animoji and Memoji faces to your own face in the camera, for fun cartoon overlays.
The App Strip within the Messages app has been redesigned with a new look that takes up less space, and a new Photos iMessage app gives you photo-sharing suggestions based on who you're messaging with, what you're talking about, and where you've taken photos together.
Group FaceTime
As part of iOS 12, Apple announced a major new FaceTime feature that iOS users have desired for years -- Group FaceTime, which supports audio and video chats with up to 32 people. Apple initially planned to include Group FaceTime in the release version of iOS 12, but it was pulled from the seventh beta and later released in iOS 12.1.
With Group FaceTime, all of the participants are visible in a tiled view, with the tile size changing to give attention to the person speaking at the moment. You can also use Focus View to double tap on the person that you want to see.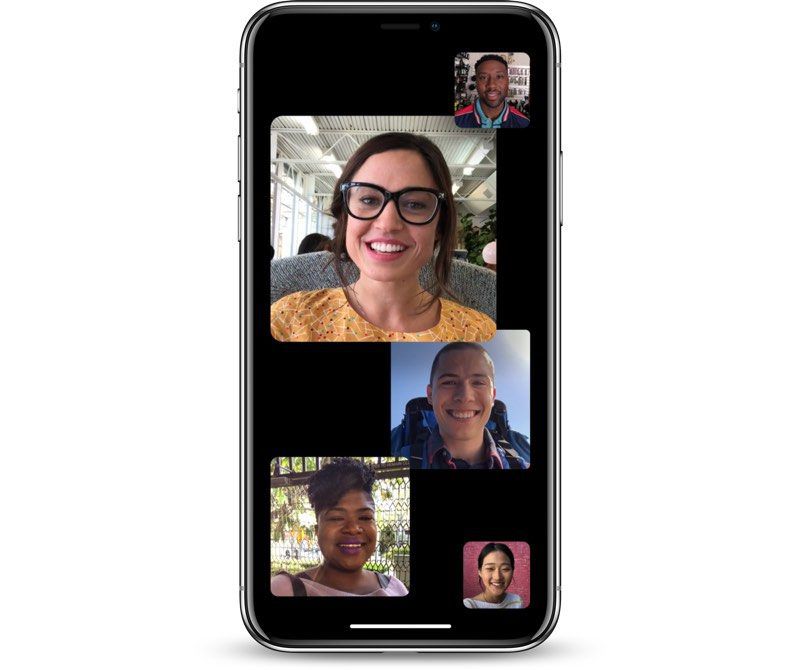 New people can be added to an ongoing Group FaceTime chat at any time, and Group FaceTime calls can be answered on iPhone, iPad, Mac, Apple Watch, and HomePod. With the latter two options, you can only join a chat with audio rather than with video. Group FaceTime calls send a silent ringless notification to participants that can be tapped to join.
FaceTime also includes the same Effects camera that's been introduced in Messages, letting you access Animoji and Memoji, filters, stickers, and more while FaceTiming someone.
FaceTime has been integrated more deeply into Messages, so you can initiate a FaceTime call in either an individual chat or while in a group chat (coming this fall).
Group FaceTime is limited on older Apple devices. On iPhone 5s, iPhone 6 and iPhone 6 Plus, iPad mini 2, iPad mini 3, and iPad Air, it is available in an audio-only capacity with no video.
Group FaceTime was disabled because of a bug in iOS 12.1.3, and to fix the bug, Apple released iOS 12.1.4. Group FaceTime no longer works on versions of iOS earlier than iOS 12.1.4 as a result.
Photos
The Photos app in iOS 12 is better than ever thanks to a range of performance and feature improvements. Search is more powerful, allowing you to search for businesses by name or by broad categories like restaurants, and Apple has added more than four million event references for things like sporting events and concerts, so you can also search by event and find your photos that way.
Search suggestions have been added to help you find content before you even start typing, with Apple offering up suggestions that include Events, People, Places, Categories, and Groups, and you can also use multiple search terms at one time.

A new "For You" tab has been added to the Photos app, offering up a selection of Memories, recent photos from shared albums, photos you took on the current day in past years, and suggestions for adding a new flare to your best existing images through image edits.
There's also a "Shared Suggestions" feature that's designed to take a selection of photos you've taken that involve friends or family and offer up quick sharing options. It recognizes who is in a photo and suggests sharing the images with that person, and then, for that person, it also suggests sending their own photos back to you with a "Share Back" feature, making it easy to exchange photos linked to an event.
Like all of Apple's Photos features, improved search and Shared Suggestions use on-device machine learning for privacy reasons, with Apple also using end-to-end encryption to keep all of your content safe, even from Apple itself.
New importing tools make it easier to import photos and videos from professional cameras, and RAW photos can be imported into Photos on iPhone and iPad and edited on the iPad Pro.
The albums tab in Photos has also been transformed into a list organized by media type to make it easier to find existing albums more quickly, and there is a new option for sharing photos using an iCloud link.
Apple News
A new Browse tab in Apple News is designed to make it easier to discover new channels and topics and to get to your favorites. On the iPad specifically, there's a new Apple News sidebar for more quickly navigating through news topics.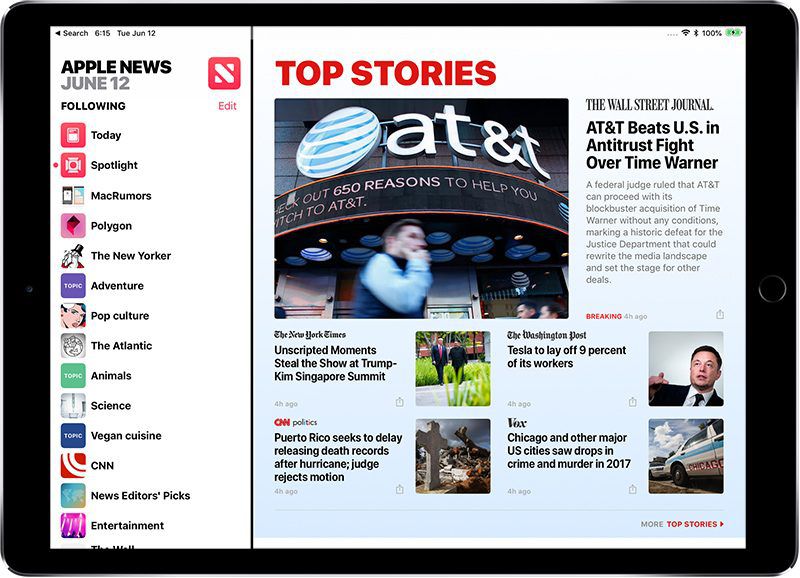 Stocks
Apple overhauled the entire Stocks app and brought it to the iPad in iOS 12. Stocks has a fresh new look with spark lines and after hours performance, along with Apple News integration that features business news curated by Apple News editors.

There's a customizable watchlist so you can keep track of all of the stocks that you follow. You can tap on any stock to get a more detailed view, including after hours pricing, with the app also display relevant news headlines for each company.
Voice Memos
Voice Memos has been rebuilt to be easier to use, and for the first time, it includes iCloud support so all of your voice recordings are uploaded and stored in the cloud. Voice Memos iCloud support was necessary because Apple has also expanded Voice Memos to the iPad for the first time.

Apple Books
iBooks in iOS 12 features a new look and a new name - Apple Books. With a new Reading Now section, you can pick up where you left off on your book on any of your devices, and keep track of your place across multiple books.
Reading Now also includes suggestions on additional books to explore across categories that include editor's picks, award winners, customer favorites, books based on movies, and more.

Your entire collection of books is displayed in the redesigned Library section, which has a clean, distraction-free look, while the revamped Book Store offers up staff picks, new releases, top charts, and an option to browse by genre.
Audiobooks also have their own section within the Apple Books app, and there's a robust search tab for looking for specific titles.
Camera
Apple didn't make many changes to the Camera app in iOS 12, but there are a few improvements.
Portrait Lighting features on compatible devices are better than ever thanks to the Camera's ability to generate a mask when it detects a person, intelligently separating the person from the scene.
QR code reading is improved with a feature that highlights QR codes in the frame, making them easier to scan.
For developers, Apple has added a new Portrait Segmentation API that allows for the separation of layers in a photo. The API lets developers create apps that easily separate a subject from its background for adding unique photo effects.
CarPlay
CarPlay in iOS 12 supports third-party navigation apps like Google Maps and Waze for the first time, allowing CarPlay users to choose to use something other than Apple Maps for navigation purposes.
Apple Music
Apple Music didn't get a huge overhaul in iOS 12, but Apple did introduce a revamped artist's page with larger portraits and the ability to play an artist's discography from a shuffle button on the page itself.
There's also a new option to search for songs via lyrics for Apple Music songs that include lyric information.
Measure
iOS 12 includes an all-new Apple-designed augmented reality app called Measure, which is designed to make it easy to measure objects using augmented reality functionality.
Measure lets you measure lines and detect shapes like rectangles to get specific dimensions with just a few taps on the iPhone's display.
Maps
Apple is rebuilding the Apple Maps app from the ground up using anonymized segments of trips gathered by iPhones, satellites, and the Apple Maps vehicles that have been driving the streets around the world for years now. Apple no longer plans to rely on third-party data from sources like TomTom for Maps, and is instead using its in-house data.
The revamped Maps app launched first in San Francisco and when iOS 12 was launched, covered much of California and Hawaii. Over the course of and 2019, Apple plans to expand the new Maps app to the rest of the United States.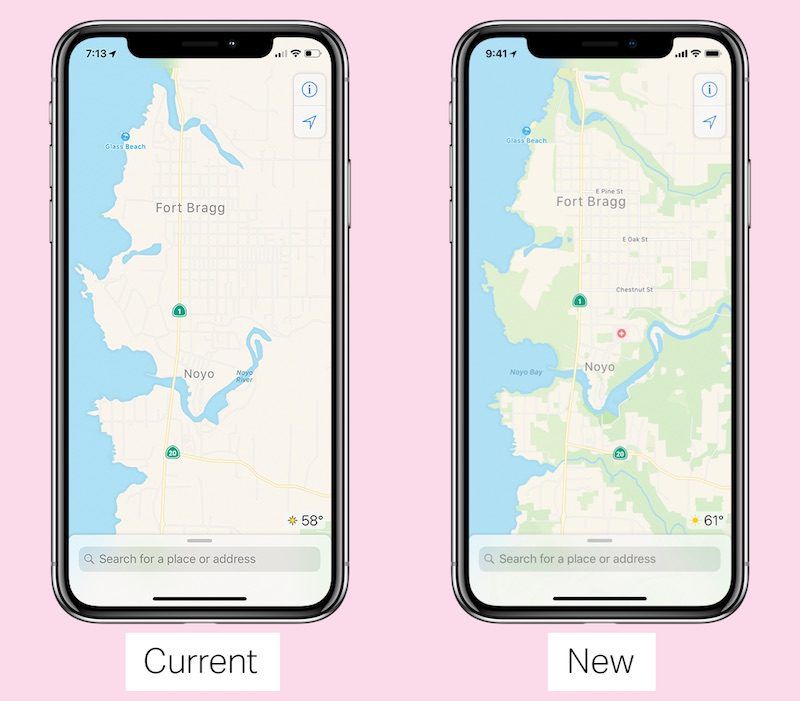 The new version of Maps is more responsive to changes in roadways and construction, more visually rich, and with more detailed ground cover, pedestrian pathways, and more. It is updated more often with information on conditions like roadwork, due to Apple's ability to make changes more quickly to its own product.
Maps features much better traffic information, real time road conditions, new construction details, road systems, and changes in pedestrian walkways. Search is being overhauled to ensure more relevant results, and navigation, especially pedestrian navigation, is being improved.
Many of the changes to Maps are under the hood, and while the new Maps looks more visually detailed, it looks largely the same as the current Maps app. "You're not going to see huge design changes on the Maps," said Apple's Eddy Cue, who is now overseeing Maps.
As with all of Apple's products, Apple has designed the new Maps app with privacy in mind and without using personal data from customers that has not been completely anonymized. Apple, for example, collects some segments of a person's trip, called "probe data," but not enough to say where a person came from or where they went.
For far more information on the revamped Maps app, make sure to check out TechCrunch's overview and Q&A articles on the new feature.
Privacy, Security and Safety Enhancements
Automatic Strong Passwords
In iOS 12, your iPhone and iPad automatically suggest strong, unique passwords for each and every website and app where you need to create a login. All of these passwords are stored on your iOS device, and you can even ask Siri to open up your list of passwords, which are synced across your devices.
Password management apps like 1Password are able to provide passwords for websites and apps through a new Password AutoFill extension that's available to developers.
You can share your passwords more easily in iOS 12 with Password AirDrop options, which let you AirDrop your saved passwords to other devices and other people for quicker password exchanges. Passwords can be shared from nearby iOS devices, from an iOS device to a Mac, and from an iOS device to the Apple TV.

Password Auditing
Apple now lets you know if you've used a password that's too weak or has been used across multiple sites with password auditing features. iOS devices flag inadequate passwords and provide you with an option to go right to the site in question to update it with something more secure.
Security Code AutoFill
Many apps and services offer two-factor authentication, requiring a code texted to your phone number. In iOS 12, Apple detects these incoming security codes from the Messages app and offers it as an AutoFill option so you don't need to leave the login screen to access the code.

Safari
Apple is upgrading Intelligent Tracking Prevention in iOS 12 to make it harder than ever for sites to track you across the web. Social media Link, Share, and Comment buttons and widgets are longer able to track you without your permission.
Apple is also cracking down on "fingerprinting" that advertisers use to track you across websites using your unique device characteristics like operating system, browser version, and more. In iOS 12, Apple provides a simplified system profile when you browse the web, which gives advertisers less data to access.
Advanced Location Data for 911 Calls
In iOS 12, iPhones share precise location data when placing a 911 call in the United States. The updated GPS functionality is provided by RapidSOS's IP-based data pipeline, with Apple only providing the more precise location information to dispatch centers during 911 calls.
Advanced Mobile Location, a similar feature for some European countries, was implemented in iOS 11.3.
ARKit 2
iOS 11 brought ARKit, Apple's augmented reality platform that allows developers to create augmented reality experiences within iOS apps and games, and in iOS 12, new features and improvements make ARKit more powerful than ever.
Apple designed a new file format, USDZ, in partnership with Pixar. This new file format, which is optimized for sharing while retaining 3D graphics and animations, is able to work across the iOS 12 operating system. What this means is that you can now see augmented reality assets in Safari, Messages, Mail, and more.
In Safari, for example, a website can display an augmented reality image that can be projected right into the real world, a game changer when shopping for furniture. Apple is working with multiple companies to implement full support for USDZ, such as Adobe.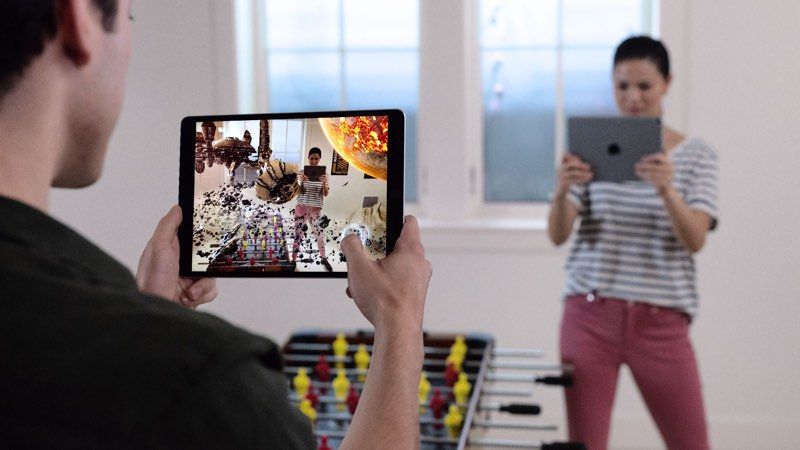 ARKit 2.0 introduces improvements that include better face tracking, realistic rendering, 3D object detection, persistent experiences, and shared experiences. These last two additions make the biggest change in AR apps.
With persistent experiences, an AR experience can be tied to a real-world object or area and then accessed time and time again, without the need to start fresh each time you open an app. Apple demonstrated this with an ARKit-compatible LEGO set, building a virtual world around the set that could be altered and saved with each gameplay session. Think of persistence as saves for your AR experiences.
With shared experiences, you can play augmented reality games and use augmented reality apps alongside your friends for a true multiplayer augmented reality experience. You and the people around you can see your own perspective on a common virtual environment. So, using the LEGO example above, two people can view and manipulate the augmented reality LEGO world at the same time on their own devices.
3D object recognition, another new feature, lets ARKit recognize objects and how your device is oriented to them, with that information then used to trigger AR experiences. Augmented reality is also more lifelike, with virtual objects able to better reflect the real-world scene in your camera thanks to scene reflection improvements.
Along with all of the major features that are outlined above in each roundup section, there are dozens of smaller "hidden" tweaks and features in iOS 12. We've gathered up a list of these tidbits, which can be found below:
Contactless Student ID Cards - Student ID cards can be stored in the Wallet app, letting students use their IDs for access to dorms, the library, campus events, and more. ID cards can also be used to pay for laundry, snacks, and dinners on participating campuses.




iPhone X App Switcher - You no longer need to hold down on apps to close them. Swiping up like on the iPhone 8 and older works.




Siri Voices - In the U.S., there are new Siri Voice options for Irish and South African accents in both male and female genders.




Multiple Faces in Face ID - In the Face ID Settings, there's an option to "Set Up an Alternate Appearance" which appears to be aimed at people who may need to drastically change their appearance on the regular or those who want to unlock Face ID with two faces.






Face ID Rescanning - After Face ID fails, you can swipe up from the bottom of the iPhone X to initiate a rescan.




Screen Time Widget - In the Widgets section, accessible by swiping to the right on the Home screen, there's a new Screen Time widget where you can see how much time you've spent on your iOS device lately, and what you've been doing. You can also see your full Screen Time usage metrics in the Settings app.






Automatic Updates - iOS 12 introduces an option to turn on automatic software updates under General -> Software Update. This updates your version of iOS automatically when an update is available.






Messages Shortcuts - If you tap on a person's name in the Messages app, there are now shortcuts to initiate a FaceTime audio call, initiate a standard FaceTime video call, or get info on the contact. This is also how Group FaceTime calls are started from the Messages app.






New iPad Gestures - Apple tweaked gestures on the iPad to better match the iPhone X. You now swipe down from the top right of the iPad to bring up Control Center, rather than swiping up from the bottom. Swiping up from the dock goes to the Home screen.




iPad Menu Bar - The menu bar at the top of the iPad has been redesigned. The time, day, and date are located on the upper left hand side of the screen, while the right shows Wi-Fi or LTE connection, Bluetooth, and battery life.





Wallpaper - There's a new iOS 12 wallpaper available.






Lock Screen Options - There are new options to disable access to Wallet and USB Accessories when an iPhone is locked with a passcode. With USB Accessories disabled, you need to unlock the iPhone to allow USB accessories to connect when it has been more than an hour since your iPhone was locked. This setting makes it more difficult for law enforcement and malicious actors to access locked devices with USB tools like the GrayKey box.






Voice Memos - Now that Voice Memos is also on the iPad and Mac and has iCloud support, there are settings for Voice Memos in the Settings app. You can choose when to delete Voice Memos, choose audio compression quality, and set a default recording name.




Markup Colors - There are a lot more colors available when using Markup for editing screenshots, marking up images, editing PDFs, and more.






Safari Icons - There's an option in the Settings app to enable Favicons for Safari tabs, a new feature in iOS 12. There are also several new Experimental WebKit Features that Apple is testing.




Podcasts - You can set custom durations for the Forward and Back options in Podcasts. The two options are separate, and durations from 10 to 60 seconds are available.






Battery Info - In the Settings app, the battery usage chart shows usage for the last 24 hours or the last 10 days instead of the last 7 days. There's also a whole new chart that displays battery usage information.






Siri in Low Power Mode - You can use "Hey Siri" with Low Power Mode turned on in iOS 12.




3D Touch - There are new 3D Touch options for the Camera and Notes apps. With Camera, you can 3D Touch to scan a QR code, and in Notes, there is a shortcut to scan a document.




New Dictionaries - There are new language dictionaries that include an Arabic and English bilingual dictionary, a Hindi and English bilingual dictionary, and a Hebrew dictionary. There's also a new English Thesaurus.




TV App - The TV app in iOS 12 sends notifications when a new episode in a TV series in the Up Next list is available to watch.




iPad Multitasking - On iPads with 2GB RAM, up to three apps can be used at once in iOS 12 by pairing two apps in Split View with one Slide Over window. When attempting this in iOS 11, the two Split View apps were not usable while a Slide Over window was open.




Accidental Screenshot Prevention - In iOS 12, accidental iPhone X screenshots are less likely to happen through a new feature that prevents a screenshot from being taken while the iPhone X's display is turned off. With the change, the screenshot feature is deactivated until the iPhone X's display is activated. iOS 12 also prevents screenshots from being captured and the camera from working when an iPhone or iPad has been restarted or powered back on after being shut down.
Compatible Devices
iOS 12 is compatible with all devices that are able to run iOS 11. This includes the iPhone 5s and newer, the iPad mini 2 and newer, the iPad Air and newer, and the sixth-generation iPod touch.

iOS 12 How Tos
iOS 12 Timeline